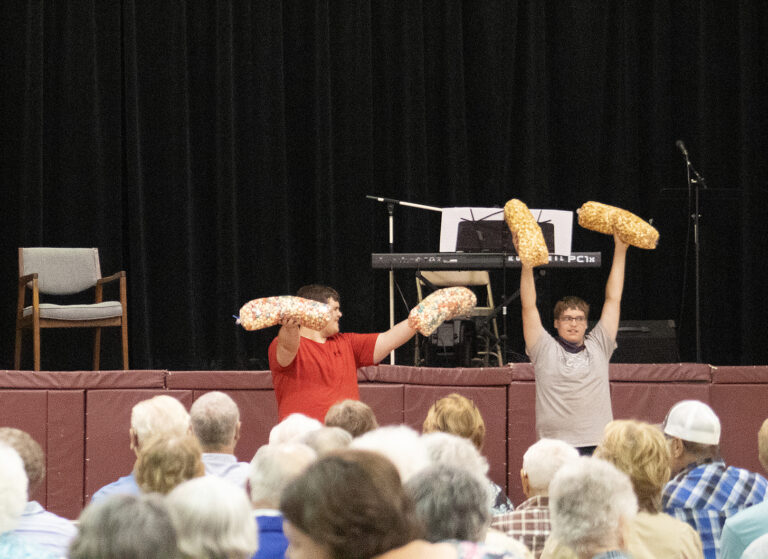 news
2021 MCC RELIEF SALE GENERATES $30K PLUS
JEREMY WALTNER  – PUBLISHER
Organizers faced multiple questions heading into last Saturday's South Dakota Mennonite Central Committee Relief Sale. Would the weather allow for the outdoor event as planned or would they be forced indoors? How many would show up? Would people be eager to be out and about or were some still operating out of an abundance of caution on the backside of the pandemic? And just how much money would be raised? That is, after all, at the heart of this benefit for all that MCC stands for — worldwide relief.
Well, now they know.
Rain earlier in the day on Saturday did, in fact, impact the sale. The threat of moisture already Friday night prompted organizers to cancel the morning bike ride and move the sale from the Prairie Arboretum grounds and into the Pioneer Hall auditorium.
The crowd was descent in size but could always be bigger.
And the money raised? Well, that's the brightest light of the whole affair.
Edie Tschetter, who has worked closely with the sale since it debuted in 1987, told The Courier Tuesday that the sale generated $30,000, with more in cash donations still coming in.
"It kind of blows my mind," said Tschetter, who notes the funds came in from the silent auction, food sales — even though this year's event didn't have the wide variety of choices as has been the case in previous years because of lingering concerns over COVID-19 — the My Coins Count project and cash donations. "People were just very generous. Financially, I was amazed."
While the rain quit by afternoon, Tschetter said moving the sale indoors was the right move; "It would have been a muddy mess."
And she said people were having a good time.
"Everything went very smooth; I can't think of anything that was a problem once we got going," Tschetter said. "It was nice to be together in that environment again with all those good folks."
The relief sale won't meet again for a few weeks when they will begin thinking about 2022, but she expects there will be plans to return to a larger sale. And who knows, she said: It's possible that elements of the reimagined sale of 2021 — like the event's musical entertainment — might continue in the years to come.
"I'm sure we will talk about that," Tschetter said. "I don't think any planning that happens anywhere now hasn't been affected by Covid."