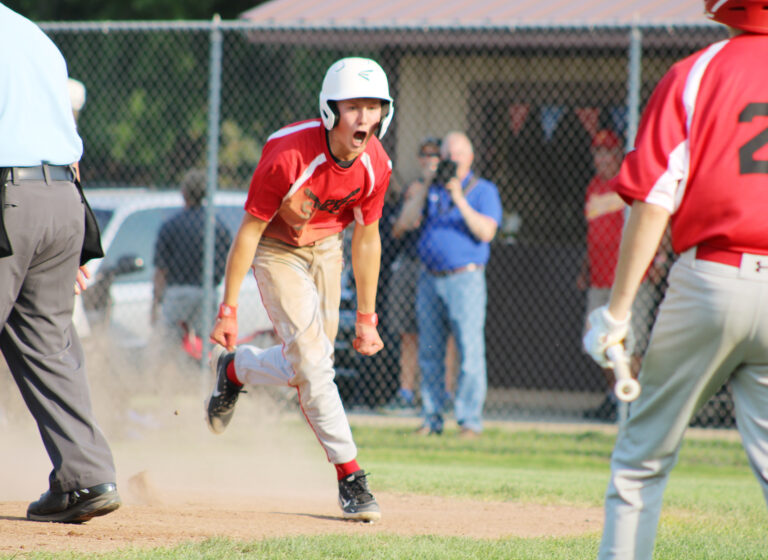 news, sports
IMPROBABLE!
The Canistota/Freeman Sticks didn't just host the 2021 Class B VFW State 14U Baseball Tournament last weekend.
They won it.
Taking part in their first-ever state tournament at the Teener level, the Sticks finished on top in improbable fashion by knocking off three-time defending champion Canova Sunday evening, July 25. Canistota/Freeman used an 11-run fifth inning to dramatically turn around what had been a 1-0 deficit and barely gave an inch thereafter, finishing on the winning side of a 14-3 final. The Sticks' three-game sweep also included a 5-1 win over Baltic Friday night and a 12-1 win over Clark on Saturday. All tournament games — 11 of them played July 23-25 — were held at Merchants State Bank Field in  a tournament organized and run by the Canistota/Freeman Sticks community.
"Pinch me, because I'm dreaming," said Brad Miller, a coach from Canistota who established the Sticks program with Freeman coach Dustin Tschetter in 2015. "I mean, let's be honest …"
Indeed, Canistota/Freeman struggled during Region 5B play and would not have qualified for state were it not the host team, as is per tradition. And, in addition to Canova coming in with a 14-2 record, last weekend's eight-team state tournament included traditional powerhouses Salem, Parkston and Mt. Vernon/Plankinton (MVP), which entered play with a combined record of 43-5.
But Freeman, which went in with an 11-9 record, benefitted from a favorable draw and faced a Baltic team with a 9-7 mark in the opener on Friday. They also benefited from an upset on the other half of the bracket when a 17-10 Clark team came from behind and stunned Mt. Vernon/ Plankinton 16-14 in an extra-inning thriller.
Still, luck of the draw aside, Miller said the coaching staff — which also includes Larry Wipf — knew what their players were capable of, even though they struggled some this season, particularly early on.
"When Dustin and I decided to put this bid in (to host the tournament) a year ago, we knew this was going to be a good team," he said. "They fought through a lot this year. They've tested our patience; we did everything that we could physically and mentally think of to get them to play like they played this weekend, because we knew they had the ability."
Miller believes there may have been some complacency among the players given the fact that, because the Sticks were the host team for state, they were an automatic qualifier.
"In all honestly, I really think that the kids just thought, 'We're going to be in the state tournament, so we don't have to work hard,' and it showed. We had good games and then we had really bad games."
"The first half was rough — really rough," added Tschetter, who remembered back to a players' meeting before the Canova game on June 9 that started turning things around. "And we played Canova to an 8-4 game; we gave up a grand slam in the sixth, but it was a very close game. From then on they were a little more focused — we saw a little better effort."
Path to the title
The Sticks knew that if they were going to stave off losses both Friday and Saturday and get through to Sunday, they needed strong pitching and solid defense, the latter of which wasn't always the case during the regular season, especially early.
"Those unearned runs, that's what kills a team," Miller said.
Playing in the nightcap on Friday — truly a nightcap given the extra-inning, high-scoring battle between MVP and Clark that preceded the final game and lasted four hours — Canistota/Freeman got the job done thanks to those two key components. Starting pitcher Brady Scott gave his team six innings of solid ball, giving up just three hits and striking out six in the 5-1 win, and the Sticks played a relatively clean game in the field with just two errors.
As for the bats, they were enough. Easton Miller and Tate Sorensen each knocked in two runs and Sorensen and Jackson Donlan both had multiple hits to lead the attack, with Donlan plating two of the Sticks' five runs.
Canistota/Freeman followed suit on Saturday against a solid Clark team that, one day earlier, had handed MVP its first loss of the season. This time the Sticks committed only one error and it was Evan Scharberg pitching a complete game, allowing just one hit and striking out six in the 12-1 win. With Clark's run unearned, that meant Scharberg walked off the mound with a 0.00 ERA.
As for the bats, they were a-plenty. Scharberg helped himself on the mound by tallying three RBI on two hits and scoring three runs while Donlan matched his teammate with three RBI, and Rocky Ammann added two. Riley Tschetter also scored twice for the Sticks, who had runs in every inning, including five in the fifth that ended the game by the mercy rule.
THE CANOVA GAME
Even with big sticks in Canova's lineup, Canistota/Freeman's coaches felt like they had a shot going into Sunday's championship game against the three-time defending champions. Canova's top two pitchers were used up because of pitch-count regulations, the Sticks had at least two left in Easton Miller and Riley Tschetter, and the Sticks had played solid games the two days prior and had built some momentum.
"We knew they were going to be a good opponent," Miller said. "That is a championship baseball team that we played; they've been in the championship game year after year after year and they've always come out on top. But we felt pretty confident going into the game."
The Sticks had a few miscues early on but got out of situations that could have led to trouble, keeping the game in hand through four innings and giving the Sticks a chance. After four innings played, Canova clung to a 1-0 lead.
"Get a run," Tschetter told the team before they went to bat in the fifth. "Get a run."
The Sticks got 11.
In a half-inning that lasted nearly an hour and electrified players and local fans on hand at Merchants State Bank Field, Canistota/Freeman sent 16 batters to the plate, recorded seven hits and took advantage of three Canova errors to turn a 1-0 deficit into an 11-1 lead.
Twelve batters reached base in 13 plate appearances.
"I was thinking, 'Keep putting the pressure on them,'" Miller said. "I don't know that (Canova) has ever been put in a situation like that. It seemed like everybody that came up to bat that inning put the bat on the ball and made them make a play. They made a couple of them, but they didn't make enough.
"We put a lot of pressure on them and they probably haven't been in that position a whole lot," said Tschetter. "We were very, very aggressive on a few plays; a couple plays at home turned out our way — they were close — and they just didn't make the plays once the pressure was on them."
Canistota/Freeman's seven hits coupled with Canova's three errors that inning proved to be the difference in the game. Canova got back a pair of runs in the bottom of the fifth, but Riley Tschetter shut down any threat in the final eight at bats, giving up just two hits while striking out four to secure a Sticks' title made possible thanks to a remarkable team effort.
Eleven different players scored at least one run and seven players tallied multiple hits in the three games played. Miller, Tschetter, Scharberg and Donlan had five hits, Scott and Sorensen both added four, Ammann added a pair and Sawyer Wipf accounted for another — a 2 RBI single — to lead the offensive attack.
The Sticks trailed just once all tournament — 1-0 against Canova — and that lasted just four innings.
BUILDING ON THE WIN
Sunday's championship should only fuel a fire that has been burning hot since not long after the Sticks program was established. Canistota/Freeman won the VFW 10U state championship in 2018, was the state runner-up at both the 10U and 12U level in 2019, won another 10U title in 2020 and, earlier this month in Webster, this year's 12U team finished third at state in a competitive 20-team field, losing only 6-4 to eventual state champion Parkston.
"Like I told the 12U kids two weeks ago, they are a special group of boys," Tschetter said after Sunday's championship win. "This team right here? It's a special group of boys. They were whooping and hollering in the dugout, they were into it, they were cheering for everybody. Just in general, they love each other and they love to play baseball."
Indeed, the future looks bright.
The coaching staff is planning on both a 13-14 and 15-16 Teener team next year; a number of the 14U players will move up to 16U and the 12U players will join the 14U team. And there's a strong possibility that there will also be a high school baseball team through the South Dakota High School Baseball Association.
"The mindset is just keep doing what we're doing — keep building," said Miller. "It starts at that 8U level, and hopefully there were kids who were watching and will now take that drive and that passion home with them, thinking maybe they'll be in a game like this one day themselves."