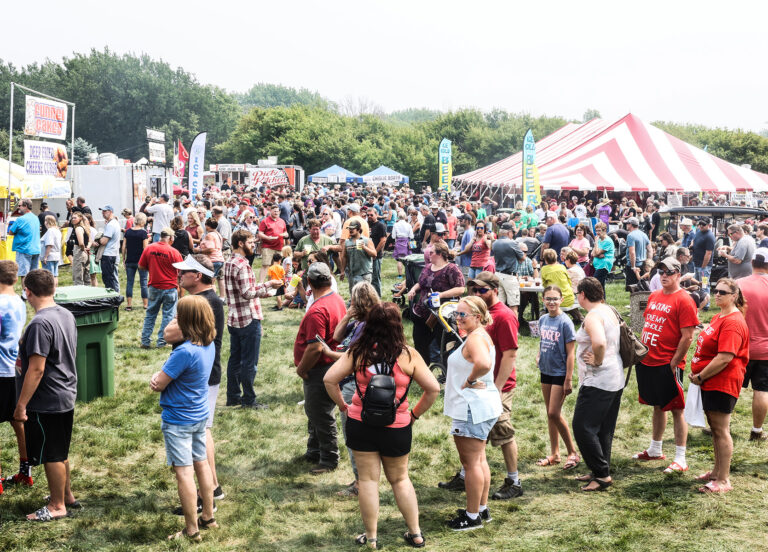 news
S.D. CHISLIC FESTIVAL: THOUSANDS STRONG
JEREMY WALTNER  – PUBLISHER
Joann Smith and other organizers of the South Dakota Chislic Festival stood in awe as they gazed out the east windows of the Freeman Prairie Arboretum visitor's center late Saturday morning, July 31. Just beyond them, hundreds upon hundreds of men, women and children of all ages had clogged the festival's main artery past the food booths and into the beer tent, and turned the grounds of the 40-acre site into one giant ant farm.
Just a few hours later, as Smith made her way from the visitor's center into the throat of the friendly beast, she stopped.
"I'm still gobsmacked," she said, looking around shaking her head. "This is unbelievable."
"Unbelievable" is one of multiple adjectives that could be used to describe the 2021 South Dakota Chislic Festival, which unfolded over 11 hours on the southwestern corner of Freeman last weekend.
Keith Breedlove, a celebrity chef from Sacramento, Calif. who attended the festival at the invitation of Abby Streyle, a member of the chislic festival board of directors, used two others: "amazing" and "incredible."
"It's so well put on — so well organized," said Breedlove, who has appeared on Food Network, Hallmark's "Home & Family" and in two television series: Bar Rescue and Comedy Kitchen. "The patrons have been wonderfully nice, the vendors have been wonderful — I'm blown away. I feel like I walked into a TV show. This park, this town — I love it."
If it was a TV show, the cast would include between 10,000 and 12,000 actors; that's the number organizers are estimating patronized this year's South Dakota Chislic Festival, which is based in part on the amount of garbage collected and data obtained from the Powers' portable toilet system.
People started rolling in shortly after 10 a.m., and by 11:30, lines were long and the food/beer area had become crowded. While there was a lull toward the middle of the afternoon, never did crowds thin to where there wasn't a line somewhere, and by the closing hours of the festival come evening time, the rhythms and pace of the activity were pleasantly steady but relaxed.
"I was like, 'oh, a festival in Freeman; it's probably not going to be very big,'" said Sioux Falls resident Chelsey Slendy, who came on Saturday with Ryan Murray, her boyfriend of 14 years. "But I was wrong. This is awesome."
"This gives me goosebumps," board member and volunteer coordinator Ann Pankratz said late Saturday morning, when the crowd really began to swell. "You imagine what it's going to be like, and then you actually get to see what it's like. In a sense you are in awe of the amount of people who are here today. I never in my wildest dreams expected it to be like this at this time of day.
"This is crazy."
Pankratz believes the large crowd was largely a result of the isolation and cabin fever spurred by the coronavirus pandemic that looks much different in the summer of 2021 than it did the summer of 2020.
"I think it goes back to people wanting to be out and about and doing fun things," she said. "There are 200 people out there just standing in line, and they're being patient. They're not crabby, they're not upset, everybody is so excited to be here."
The ideal weather no doubt had something to do with it. Whereas it was hot earlier in the week — temperatures soared past 100 degrees on Wednesday — and rainy on Friday's set-up day, Saturday was comfortably warm, inviting and perfect for an outdoor summer festival.
As was the case in 2019, this year's chislic festival featured vendors selling several variations of chislic and other carnival-like fare, beer under a big tent, and non-food vendors and activities for children on the opposite side of the festival footprint. There was also a bean bag tournament, bingo, history lessons and a chislic competition. That was won by SSS Chislic of Tripp in the "traditional" category, and, in the "new age nosh" category, Pietz's Kuchen Kitchen and Specialties of Scotland, which created and sold a chislic-inspired pizza just for the festival.
"Food is something we all need to have and to plan for," Breedlove said of its ability to bring people together. "And food is unique to different parts of the country. Since I've been here I've learned about chislic and kuchen and all this other good German food; I mean, you all are not little people around here and I love it."
"I love seeing the culture of food in different communities and really seeing the pride," he continued. "That's one thing I've noticed about the chislic festival; how much pride you all have in your product."
"I think it's a big deal to our whole community," said Kerry Kepplinger, owner of Kepp's Foods out of Scotland and has been one of the premier distributors of lamb and mutton the past 12 years. "Everybody here is all about chislic, chislic, chislic."
When Kepplinger says "community," he of course means the larger Chislic Circle, which includes about two dozen small towns in Hutchinson and bordering counties.
"It really is unique to our area," he said. "You go anywhere else in the United States, it's unheard of. That's one of the main reasons they were able to legislate it in a way that it became our official state nosh. We are the only state in the union that actually has a state nosh, and (former South Dakota Legislator Stace Nelsen, who introduced the legislation that passed in 2018) felt it would be a good thing for us to start with the idea that other states may follow."
Colleen Schultz, a member of the chislic festival board, said chilsic has allowed the Freeman community to do what it does best and show hospitality.
"I've always believed in the potential of this town, and the people here who want to do good, do good," she said. "We do it when we invite people in, when we are inclusive, when we broaden our horizons, when we seek to share the pride and the culture we have here, and it just so happened the state of South Dakota decided to name chislic its state nosh. That was a gift for this community."
For festival organizers, the inclusion of other communities that appreciate chislic and the tradition that goes with it is important.
"It's not just Freeman, it's the greater chislic area," said Smith. "It's Marion, Menno, Parker, Scotland and others; everybody has contributed to make this happen."
Building on tradition
Following the cancelation of the event in 2020 because of COVID-19, there was little question among organizers that the chislic festival would return in 2021, and no question that it would once again be held at the Prairie Arboretum. That was a game-changing move following the first-ever South Dakota Chislic Festival of 2018 that unfolded on the softball park complex — a location that ended up being woefully inadequate for the number of people who showed up and flooded the place.
The arboretum proved to be perfect both two years ago and again on Saturday.
"The crowds are loving it, the vendors are loving it, the entertainment is loving it; it sounds great out there," said Jay Hofer, who has been involved with the festival from the beginning and currently serves as board president. "Merchandise is doing well, kids are jumping around — I think a lot of people are having a lot of fun."
"I really think this was made for us," Andrea Baer, a member of the chislic festival board, said of the arboretum. "Talking to people, that is one of the first comments they make: What an incredibly beautiful location."
And while the 2021 festival looked similar to that of 2019, there were several changes that only added to the experience.
Music filled the air
Live music filled the air the majority of the day with five different bands taking the stage at the Prairie Rose Amphitheater: Uncle Roy and the Boys (featuring Freeman's own Doug Uecker on the drums), Sioux Falls Country Tempo, Maggie in the Meantime (featuring Freeman High School music and theater instructor Iwona Lewter on several songs), the Jim River Band, and headliner Mogen's Heroes, a 2018 inductee into the South Dakota Rock and Roll Hall of Fame. Sound was provided by Glanzer Pro Audio, owned and operated by Freeman native Chris Glanzer, a gold sponsor for this year's festival. He was assisted by Ben Carlson, also a Freeman native who recently returned to the community with his wife.
Beer sales
The Freeman Volunteer Fire Department and Ben's Brewing of Yankton teamed up underneath the beer tent, with the FVFD slinging 16 oz. cans of domestic beer and Ben Hanten and Samatha Dlugosh, one of his bartenders, pouring four varieties of craft beers, including one called Slic, brewed exclusively for the 2021 festival.
"When you create a beer, of course it needs to taste good, but the story is almost as important," said Hanten, who has owned Ben's since 2005, when he was 23 years old, and started the brewery in 2017. "So, when we were asked to sponsor this event and be a part of it, it was, how can we bring the chislic story to the event and have anybody care?"
The idea behind Slic, he said, was to create a beer that had a trace of cracker, which is traditionally served alongside chislic.
"We knew that a lot of the crowd here today would probably like a light beer, something that was quenchable, something easy," said Hanten, who brought twice as much craft beer as he thought he'd sell and was out by early evening. "But if they were going to be sitting there with a stick in their hand, they might want something salty. So I put that to my head brewer and he really nailed the cracker flavor."
As for the FVFD, their effort underneath the tent was a selfless contribution to the festival, because 100% of the beer sales revenue went back to the festival itself. The only money the fire department made came through tips thrown into one of several firefighter boots setting on the beer sales counter. Consider it a warm-up for the department's primary fundraiser later this month — its eighth annual Firehouse Rib Cook-Off scheduled for Saturday, Aug. 14 at the Swimming Pool Park.
Telling the story
With an increased awareness of — and growing popularity for — chislic the past decade or so, local historians have worked hard to also tell the story of the unique dish and its history that dates back to the late 1800s and the North Caucasus Mountains of Russia, the country from which German immigrants migrated beginning in the 1870s, leading to the establishment of communities like Freeman and Menno.
Among those leading that effort has been Marnette Hofer, executive director and archivist at Heritage Hall Museum & Archives. Several years ago Hofer established a relationship with Ian Tuttle, an Omaha resident who had lived in the Caucasus region for many years and has a keen interest in the traditions surrounding chislic.
Tuttle, who also serves on the chislic festival board of directors, offered three presentations on its history at the festival in 2019 and, this year, was joined by Hofer in an expanded educational component called, "From Russia With Love: The History of Chislic," and shared four different times on Saturday.
Here are a few snippets from Tuttle:
While living in Pyatigorsk (Russia), I learned so much about the region's history, local cultures, their traditions and the various culinary gems native to these highlands, such as chislic's granddaddy, shashlik.
Chislic is the Germanized word for shashlik. Shashlik is grilled meat, traditionally lamb on a long, blade-like skewer or shampur, that is cooked over an open flame. Depending on preferences and religious observations, shashlik can be made with a variety of meats, such as lamb, chicken, beef or pork, though lamb is the most common protein for this dish.
Traditional shashlik is a simple dish to make, but one must have the best ingredients. The cut of the meat is very important; leg, neck, rib and shoulder pieces being the preferred cuts. The meat should be cubed, so that six to eight pieces of meat can thread onto a single shampur.
The cooking of shashlik for guests is one of those time-honored traditions in Circassian culture. The atmosphere during a shashlik cookout is a unique experience, one I wish I had many opportunities to observe, participate in, and learn from … The atmosphere is very festive, whether the occasion is in celebration of an event, such as the Victory Day holiday, commemorating the end of the Second World War, a birthday, or just a weekend hangout in the highlands with friends.
On Saturday mornings … we'd find a nice spot to set up shop, get our coals going and thread the meat on shampurs, while taking turns watching the meat, rotating the shampurs so that the meat was evenly cooked … Once the meat was ready, the themade or "toast maker," usually the host or the family's patriarch in a formal setting, initiated the feast with a toast to the health of his honored guests. After this, the friends would drink, feast and throughout the evening toast one another and the host for their gracious hospitality.
And a few snippets from Hofer:
… It is somewhat surprising that more of the hundreds of thousands of Germans from Russia that came to America in the late 1800s didn't bring with them the tradition of shashlik. For whatever reason, this area of southeast South Dakota is the only one that we know of that enjoyed a slight variation of the shashlik experience.
In 1872, the first of the Germans from Russia arrived in southeast South Dakota and in the years that followed, sod houses and rough-framed homes began to appear on these treeless prairies. In 1876, Johann Hoellworth came to this community, settling in the area between Freeman and Menno known as Heilbronn …
No one knows for sure, but we believe that Johann got to experience that Russian tradition of shashlik during his years living in Mariental on the far eastern edge of the Crimean peninsula, where it's not unlikely that he traded goods or services with the Crimean tatars that lived in his area. He brought that knowledge to this community and he wanted to replicate that experience.
But how would you grill the meat for hours when you live on a treeless prairie? How would you skewer your meat with shampurs when you're a farmer without a spear?
The mutton was easy to find in the small diverse farms that dotted the countryside. The rendered tallow from the fat of the sheep, became the cooking oil. And the shampurs were replaced with carefully whittled canes from the willow thickets found nearby …
The thick German brogue of the early settlers could be difficult to translate to English, and in early newspapers, one finds a variety of spellings for this tasty dish, but over the years chislic came to be a popular staple in this community. And just as a pebble thrown into a pond creates a ripple effect, chislic began to spread …
Even 100 years after it was first brought to the Dakota prairies, you'd rarely find chislic much beyond an area we know as the Chislic Circle – about a 30-mile radius around Freeman. But today, you find it in many of the restaurants in Sioux Falls and other cities across South Dakota. You'll see it served in a variety of ways — many that are far from the original chislic served, but it still brings together family and friends in a way that is unique and quite tasty.
Odds and ends
Other attractions on Saturday included a bingo tent operated by volunteers that drew people of all ages throughout the day;
A display set up by the Menno Pioneer Power Show, which will hold its 35th annual event Sept. 25 and 26;
Helicopter rides by Ride the Sky out of Sioux Falls, which took guests on flights as far as 15 miles out all day long, the thunder of the chopper flying over the festival grounds upon its descent adding additional energy and awe to the festival;
The Freeman Lions Park took advantage of the festival by holding its annual pork BBQ fundraiser on Friday night, and Saturday morning started with a Mutton Run hosted by the Salem Mennonite Home;
And a strong presence from Heritage Hall Museum & Archives, which borders the festival grounds to the north. In addition to offering premier parking, the museum attracted festival-goers through signage, a new-look front and expanded hours, drawing in more than 200 guests throughout the day.
Team effort
Ask any of the board members and they will say the South Dakota Chislic Festival would not have happened — and certainly would not have been the success that it was — were it not for the others and for all the volunteers who played a part.
Smith who is not part of the board but came on as a volunteer in 2019 to help establish the festival's infrastructure, said from Thursday through Saturday, nearly 400 had stepped in to help. And it wasn't just men and women from the Freeman area; the Parker football team and FFA, for example, came in "for the heavy lifting" and Parker and Marion Ambulance Service provided EMT service.
Volunteers helped direct traffic, drive trolleys, staff the festival's chislic stand, work the merchandise tent and kid zone, call bingo numbers and check IDs, not to mention the exhaustive setup and teardown.
"It takes a village to put something like this together and we had an amazing team effort," Smith said. "And we have an amazing board of directors who worked very, very hard to put this together."
"The team we have working together just meshes in the perfect way, where we can almost read each other's minds," said board member Andrea Baer. "Selfishly there is satisfaction that this team made this happen, but also awe and amazement that there is such a draw to Freeman and that there are thousands of people who are seeing what this town has to offer. It blows my mind and makes me so excited for what's to come in Freeman."
The bigger picture
So what is to come?
"First we need a nap and then we'll all reconvene next week," Baer laughed. "We'll talk about things that went well, suggestions that we've gotten throughout the day and reformulate for next year. We know we can't do this without the support of the community, and knowing that we have that love and that support makes you feel even better about it."
Said Smith: "The future for this festival is to keep getting bigger and bigger and bigger. The possibilities are just endless. It's going to continue to grow organically; there's just so much to offer."
In many ways, she said, this festival is built for Freeman.
"I'm an adopted child of this community; I married into it," said Smith, whose husband is KC Hofer, brother of the late Ted Hofer. "But I know that this is a community that doesn't know how not to get things done. Once we decide we're going to do something, people work together to get it done. They do what it takes. They just don't stop."
Schultz, the granddaughter of the late Butch and Marianne (Lammers) Hofer, was born here but grew up and lived in the Twin Cities before returning home in 2014. Even though she spent most of her life elsewhere, Schultz knows that there's something special and unique about Freeman that goes back 140 years.
"I have deep appreciation for our ancestry and want to build on that, share it with the world and grow this community," she said. "I always felt like Freeman could be more acknowledged. Not that it has to be bigger — as in exponential growth — but just that it has an X-factor to offer. And I believe this festival, this day, these things, are part of that. Kind of like its destiny."