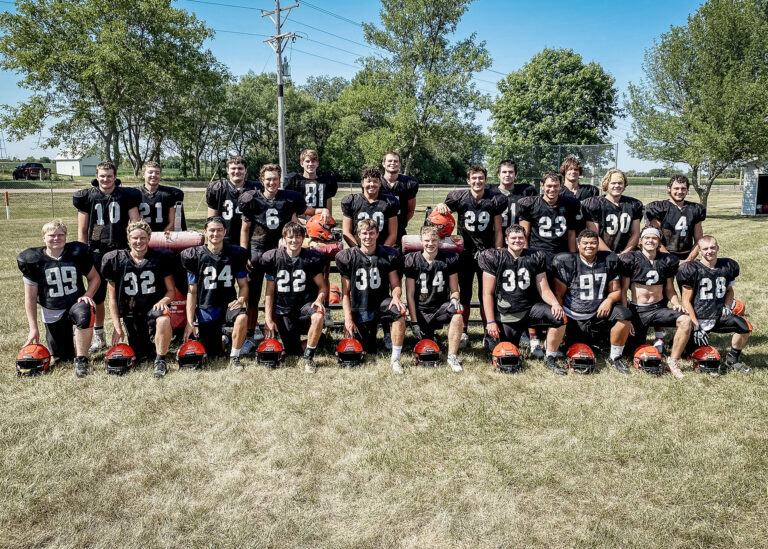 sports
CANISTOTA/FREEMAN FOOTBALL: MOVING TARGET
BY JEREMY WALTNER
The Canistota/Freeman football team won't have to wait long for its first test of the season.
In fact, it's coming right away courtesy of Platte-Geddes, the defending Class 9AA state champion that will host the three-time defending 9A champion Pride Friday night, Aug. 20 in the 2021 football opener. The Black Panthers are ranked No. 1 in the preseason South Dakota Media Football Poll; the Pride are No. 2.
"We've got a tough freakin' schedule," said head coach James Strang, whose team has moved from Class 9A to Class 9AA after offseason realignment. "Not only are we moving up a class, but we've got to make that trip to Platte to take on the defending champion that returns a heck of a lot of players."
Not only that, but the Pride have never faced the Black Panthers.
"It's a whole new challenge for us," said the coach. "But it's a great opportunity to go out and actually see what we're capable of."
The entire 2021 season, really, will be a series of tests for a Pride football team that has won three state championships in four years as a cooperative but must overcome the loss of a number of key playmakers on both sides of the ball.
"Our entire schedule is an absolute gauntlet; there's not a dog on it," said Strang, who is working alongside assistants. "We expect that out of the Cornbelt, but even the non-conference teams …"
He references traditional 9AA powerhouse Elkton-Lake Benton in the second game of the season and Garretson on Sept. 24, a team that is returning to Class 9AA after playing 11-man the past few seasons. The Blue Dragons were the ones to hand Canistota/Freeman its only loss of the season in 2018 — a 42-22 defeat that cost the Pride what has been an elusive Cornbelt Conference title.
"That's a team that we want to see on the schedule," Strang said. "We've got them at home this year, so it will be fun to see what happens."
Given the move from 9A to 9AA, strength of schedule and the absence of key contributors from last season — nine were lost to graduation, including all-state selections Tyce Ortman (also the Cornbelt Conference MVP and 9A Player of the Year), Clayton Smith, Cole Papendick and Logan Katzer — this season could be the most challenging for the Pride since that first year of 2017.
But don't sell them short. Backed by an established and systematic approach to coaching and another solid roster, Canistota/Freeman is poised to once again compete at a high level and — as always — has its eye on the Cornbelt title.
"We're 33-3 over the last three seasons, have three state championships and we've got no conference title to show for it," said Strang, whose team surrendered the Cornbelt championship after losing to Garretson in 2018, Viborg-Hurley in 2019 and Howard in 2020. "That's going to a major point of emphasis for us; we have to go out and compete in the Cornbelt, and if we can go out and get that title, good things are going to happen for us."
A roster of 32 in grades 9-12 makes up this year's team, 21 of whom are in the sophomore and junior classes.
"We've got a nice group — a big group," said Strang. "We're pretty athletic across the skill positions with lots of speed and a pretty good unit in front of them that will hopefully get the job done at the line of scrimmage."
The coaching staff is expecting big things from Isiah Robertson, the speedy senior who last season ran for 11 touchdowns and caught two more; his 67.1 rushing yards per game was second on the team behind Ortman's 105.7
"He's player No. 1 right now," Strang said. "He's coming into his third year as a starter in one way, shape or form, and handling the ball really well right now. He's running with a lot of anger and a lot of aggression. He's a go-to-work kid with plenty of fire who likes to go downhill, and that's a good thing to see."
Robertson, who was a 9A All-State selection in 2020, is coming off a late-season ankle injury suffered in that thrilling win over Howard in the semifinals late last year that rendered him largely ineffective in the championship game.
"I don't think anybody was more upset than he was about not being able to get out there and play, but he was one of the reasons we were in that Howard game late," Strang said. "He's excited to be healthy and contribute and work toward that conference title."
The head coach also points to another senior, Riley Heiberger, who will lead the team on the line. The big No. 98 wrapped up 24 opponents for solo tackles and was in on another 18 to help lead the defensive effort last year. He also had two sacks and 6 ½ tackles for loss.
"He stayed lean throughout the summer and worked hard," said Strang. "He's coming in with plenty of attitude and is ready to hammer some people."
He also points to junior Trace Ortman as somebody who will be dangerous for the Pride.
"He's coming back after being a second man across the line and looks pretty strong right now," Strang said. "Hopefully those boys on the line can communicate and make sure they're efficient. If the backfield can hit the gap they create, good things can happen for us."
Ortman is also a candidate to fill the quarterback position, which has also been occupied by fellow junior Will Ortman the first two weeks of practice.
"We're working to see which one of those boys is the best fit," Strang said late last week. "They're both athletic, they're both young and intelligent kids, so I think they're going to be successful players wherever they end up."
Strang said Canistota/Freeman may not have the depth in the senior class that they had last season, but he's expecting good things from the leadership that is in place, as well as a junior class that "can make some things happen."
"It's been great," he says of what he saw in the offseason and what practices have shown. "The kids have bought into what we're doing here, which is the best thing in the world."
"They're very, very hungry for that opener," he continued. "You don't have to press it and hype it up more than it is, because they're ready to play the game." And he continues to be excited about the program as a whole.
"When we get junior high out here, we've got around 50 kids playing the game that we all love," Strang says. "Hopefully those boys are going to be real successful in the future."
Coach Dustin Tschetter coming in to work at that level will only be of benefit.
"His success in the Junior Football program shows; he's a very intense guy and holds a high expectation for kids, and that's great," Strang said. "It's exciting to see what's coming — what might be next for us."