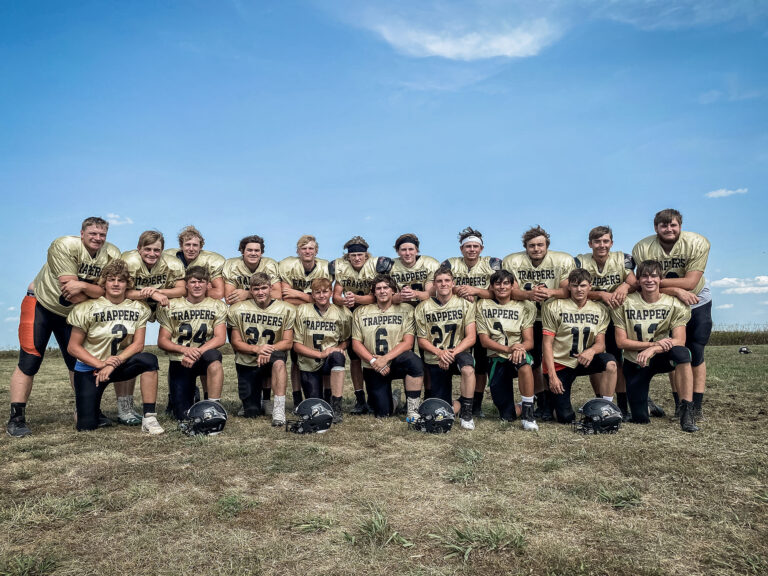 sports
JIM RIVER FOOTBALL: WELCOME TO A NEW ERA
BY JEREMY WALTNER
Who the heck are the Jim River Trappers?
That's a question that will likely be asked this fall by those not familiar with one of South Dakota's newest football cooperatives — a partnership established in January between neighboring towns Menno and Scotland.
Head Coach Ryan Robb has a response to that question, and it's one that Menno Superintendent and assistant coach Tom Rice loves.
"They're going to know who you are by how well you'll play," Rice said, echoing comments from the Scotland coach. "I'm like, 'Rock on, I'm good with that. Oh, Jim River? That's Scotland/Menno. Those boys can play.'
"That's the idea," Rice said. "We're building a brand."
So far so good for what is expected to be a strong and healthy relationship between two communities that have typically been rivals. Not only are Menno and Scotland working together on the football field for the first time this fall, the communities got a taste of what it's like to play together this summer when they took the field for both high school and legion baseball — an effort instigated by Menno Principal Kory Foss.
"The kids know each other already for the most part; they played baseball together and we live 15 miles apart," Robb said on Monday. "Everybody is really getting along; we just try to preach that family culture, and for only being a little over a week in, it feels really good."
The cooperative between Menno and Scotland has been talked about informally going back to last year, even as Menno was playing its final season with Marion as the Razorbacks — a co-op established in 2013 that, in the end, was largely doomed by the distance between the towns. Menno and Scotland moved together swiftly toward year-end to work out the details, but were surprised to discover that a miscalculation in the numbers, coupled with the realignment by the South Dakota High School Activities Association (SDHSAA) being used the 2021-22 school year, meant the Trappers would be playing 11-man football.
An appeal to stay 9-man by Rice in January was denied by the SDHSAA.
"One of the fears has been going from 9-man to 11-man," said Rice, who has committed to working as an assistant coach for one year to help get the new cooperative through the transition. "My experience with football, many years in 11-man at the bigger high schools and at the college level is, two more kids are getting on the field. Moms and dads should be happy about that."
He admits there is an adjustment; while the game doesn't change in terms of offensive positions, the difference is on the line.
"When we are running the offense, the kids are getting used to, 'Oh yeah, there's a tackle out there and getting outside might be a little tougher on a sweep,'" said Rice. "You do have to get a little more creative. The spacing on the field is a bigger deal and they're learning how to deal with that."
Robb just kinds of shrugs.
"To me, football is football," said the coach, who is now in his ninth year at Scotland. "You're playing under the lights on Friday night, so put the football down and let's play."
So what's that going to look like for the newly-trimmed Trappers?
Well, a roster of 34 freshmen through seniors are breaking in the new partnership, with 22 of those being juniors and seniors.
"We've good numbers; guys who have played quite a bit of football on Friday nights," said Robb, who in addition to Rice is working with Calvin Hunhoff as the defensive coordinator; special teams coach Ken Bruckner, who Rice said "is back for his 785th year," Tom Sattler, "who is doing a little bit of everything," and Dylan Lehr, who is working primarily with the junior high.
Robb said having those numbers is already paying dividends. Scotland was without a junior high program last season and had fewer than 20 players competing at the 9B level.
"It's hard to have a good practice with that," he said. "Having 30-plus guys this year, and being able to give our first guys a good look, makes it a lot of fun."
While there are still a lot of questions, Robb said the Trappers will be looking to Menno senior Treyton Sayler to anchor the line. An honorable mention all-state selection at linebacker last year, "he's got big shoulders and is a big, strong kid," said the coach. "He's going to need to give us leadership on both sides of the ball."
And Robb said Jim River will be looking to Scotland senior Dawson Bietz to once again run the show from the quarterback position.
"He's got a very good head on his shoulders; he's going to have to provide some leadership on the offensive side," said Robb. "After that it's going to fall to the rest of our juniors and seniors — guys who have played and have good experience. It's going to come down to the whole team."
Team speed and general athleticism will be a strength, the coach says, while overall size will be something to contend with.
"We're not very big," Robb said, "but there are a lot of things you can do to overcome that."
And bringing two programs together to learn the same scheme will continue to be a work in progress. "That's not something that just happens in a few weeks."
As for how the season will play out in terms of wins and losses, nobody is really sure. The Trappers will have to contend with top-ranked Winner, an 11B powerhouse who defeated Bridgewater-Emery/Ethan 18-4 in a thrilling championship game last November, as well as Woonsocket/Wessington Springs/Sanborn Central, who is ranked No. 5 in the preseason South Dakota Media Football Poll.
Winner and Bridgewater-Emery are ranked No. 1 and 2 in the preseason South Dakota Media Football Poll.
But the coaching staff believes Jim River can be competitive in its inaugural season, which begins Friday night, Aug. 20 in Flandreau and continues in Scotland on Aug. 27 against Baltic and at Jim Woehl Field in Menno on Sept. 10 against Woonsocket/Wessington Springs/Sanborn Central on Sept. 10. The Trappers will get Winner the following week for homecoming.
While challenges lie ahead, excitement and a good attitude is ruling the day for now, which was on full display when the Jim River players suited up for the first time for a scrimmage late last week.
"That was awesome," he said. "We had the guys come in an hour-and-a-half early — put the helmet decals on, get the jerseys and pads out — and to see them getting on the field on Friday night, underneath the lights, was pretty cool."
"To be honest with you, most of the worries, the fears, have been on the adult side," Rice said. "What I can tell you is this: the Scotland and Menno boys get along fine. You see them doing stuff together because of baseball, and now we're doing football. It's no longer a Scotland kid here and a Menno kid there. It's, 'Hey, man, that's a Trapper.'"