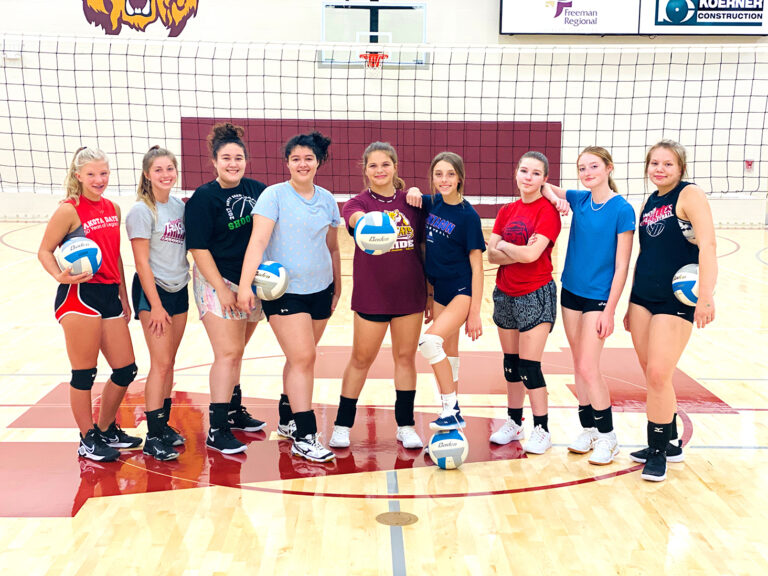 sports
FA/M VOLLEYBALL: BUILDING FOR A FUTURE
It's been almost three years since the Freeman Academy/Marion volleyball team has won a match, the last time being in the first round of the Region 5B Volleyball Tournament on Oct. 29, 2018. The Bearcats went 0-14 the following season and finished the 2020 campaign 0-27.
Kenneth and Haley Schroeder, the husband-wife duo now taking on the task of leading the 2021 volleyball team, know this. They know that with a young team they've got their work cut out for them.
They also know they're excited to help turn things around.
And — most importantly — they know that the girls are, too.
"We've had two-a-days for the last week-and-a-half and it's been a mountain-high learning curve, but they are ready to take on the challenge," said Kenneth, who is in his second year on staff at Marion Public working as the preK-9 PE teacher, ninth grade health and K-5 computer teacher. "They've worked hard. They like structure and that's something we bring. The philosophy we've been building around is attitude and effort. Those are two things you can control in life, and they've really bought in, so it's been good."
The Schroeders were last-minute hires, signing on for the volleyball coaching positions at the beginning of August, but it's been a really good start.
"We're very young, but we've got good leadership," said the head coach, who played intermural volleyball and city league while a student at South Dakota State University, and volunteered at the middle school level as a student-teacher in Vermillion and Beresford. "It's good balance. I feel like we're building for the future and working toward a consistent program, which isn't something these girls have had. That will benefit them tremendously.
"There will be a learning curve," he continued, "but hopefully our work will show later in the season."
This year's Bearcats team includes just two seniors — one of whom has not played before — and two juniors, but nine returning letter-winners in all, which will give the team a nice foundation on which to work. Kenneth will work with the girls on their game technique while Haley, who went to school and played at Mt. Vernon and recently completed graduate school, will take on the task of strategy.
"Technique is my forte but she brings a much higher IQ to the table," he said. "We balance each other out pretty well."
Freeman Academy/Marion opened its season this week at an early bird tournament in Alexandria, which will be a good opportunity for the Schroeders to assess where the team is at.
"We'll find out what we need to work on more," he said. "We have a pretty good idea, but it will be good to get a few games under our belt. As coaches, it will be important to learn what we need to do differently, too, because being a good coach is being able to change your approach when necessary to reach all players."
Staying positive will be as important as ever as this Bearcats team enters a new era that will include continuing to come up short.
"Isn't that the ultimate question? How to rebound from a loss?," Kenneth says. "They've experienced that the last two years so they know what that feels like. But they like the structure we have brought and are excited to take what we've been teaching them out onto the court. They're motivated."
And the coaches will be quick to remind the players that, not only are they playing for themselves, they're playing for each other.
"We talk about leadership and how you might not think of yourself as a leader, but you could be a leader to somebody else," Kenneth says. "People respond to different things — to example or to voice. Somebody is going to bring the energy in a way that they might not even recognize."
And, he says, these girls are playing for a program.
"We just want to have a positive influence and create a positive environment, because we are building this team for now and for the future," he said. "If other people see that this is fun, that we're positive, then we'll get more kids and it won't be such a struggle.
"Build for us," he continued, "but let's build for other people, as well."