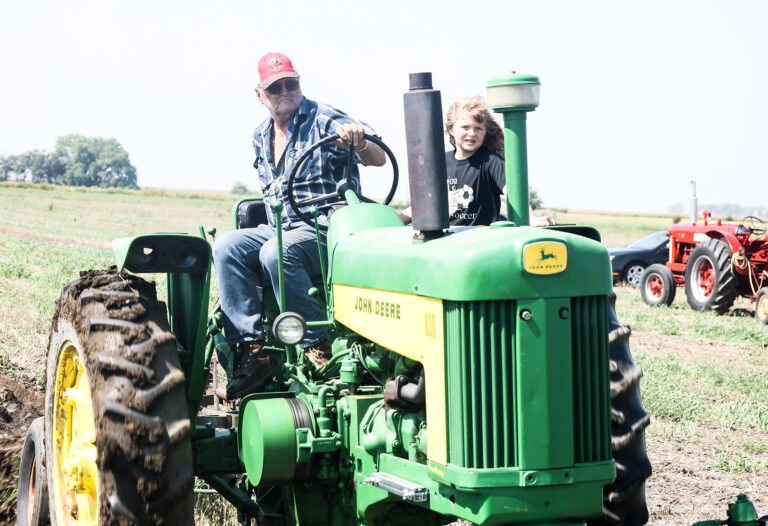 news
PLOWER POWER
With the sound of Highway 81 traffic whizzing by and the putter of old tractors not far off, Freeman resident Charles Duerksen and Menno's Donald Kirschenman were chatting when they walked up to examine the recently plowed furrow cut into land that is part of the Steve Friesen farming operation three-and-a-half miles north of town.
That's when Everett Waltner passed by on his Super M Farmall manufactured in 1953 — the same year he was born — and exchanged a friendly wave with the men. It was a symbol of the good-natured, friendly environment that encompasses Freeman's annual Labor Day Plowing Bee, held again Monday afternoon, Sept. 6.
"It's about the friendship — the camaraderie," said Roy Pfeiffer, who has headed up the organizational effort in recent years after taking over for Larry and Loren Tschetter and has been a participant, as well. On Monday he drove an early-60s era Oliver 1600 and a John Deere 4-bottom plow. "It brings back memories from the good old days."
That was certainly the case for Duerksen, who drove out from his Freeman home to watch before being joined by Kirschenman, who was passing by when he saw the activity and stopped to take it all in.
"There's a lot of nostalgia here," said Duerksen, who grew up on a farm outside of Marion and started plowing when he was 10 years old; he farmed for 18 years before moving to town with his wife, Evelyn, in 1974. "It takes you back 50 years when this was the thing to do. It's something the younger farmers don't know about; they were never brought up this way."
The old-fashioned plowing bee has been rooted in nostalgia for a long time. Maurice Waltner remembers one of the first ones held a mile south of Freeman, near the corner that takes drivers west on gravel toward Valley View Golf Course, when he was 18 years old.
"That's the first one I remember going to," he said. "I'm 50 now, so we're looking at 30 years."
But it wasn't always a Labor Day tradition; that was started by Larry and Loren Tschetter, along with Dewayne Graber, in 2000.
"There's a bunch who have old tractors," Loren told the Courier in 2006. "What do you do with them other than go to parades? It does them good to work."
Waltner said the same thing on Monday.
"It's a good chance to give all the old equipment a workout," he said. "Otherwise they just drive through parades and sit in sheds. This is what it takes to get them some action. That's fun to see."
And he likes the relaxed atmosphere as opposed to competitions like the one held near Kaylor last month.
"That's way different than this," Waltner said. "There, they stop every 10 feet and adjust every little thing they can. "This is just a bunch of good old boys having a lot of fun."
Among them was Dennis Ranschau, who lives at Bancroft northwest of De Smet and came to know Pfeiffer through his daughter, Denise Pekron, who was the manager at Total Stop Convinence in Freeman. Ranshau has been coming to the plowing bee the past few years and on Monday was joined by his granddaughter, Faith.
"It's fun," said Ranschau, who drove a 630 John Deere and pulled a 3-bottom John Deere plow. "I enjoy getting together with a bunch of guys and plowing like it used to be done."
Pfeiffer estimated that about 30 of Friesen's 40-acre field got plowed by the time things wrapped up later in the afternoon. While some who had participated left after a few hours, "some of the diehards hung around."
"It's nice to see," said Friesen, who was on hand to watch the action and had a bit of experience plowing himself using a 630 as a boy growing up near Henderson, Neb. "It sure looks nice when they're done."
He noted how helpful the recent rains have been in making the soil turn over nicely — he said he received between 4 ½ and 5 inches of moisture during a 10-day stretch last month — and he was quick to praise the organizational effort by Pfeiffer.
"This is Roy's day," he said. "He loves it. I told him that next year we have to have hot dogs and something to drink for the guys when they come out here — something a little extra to keep them going."