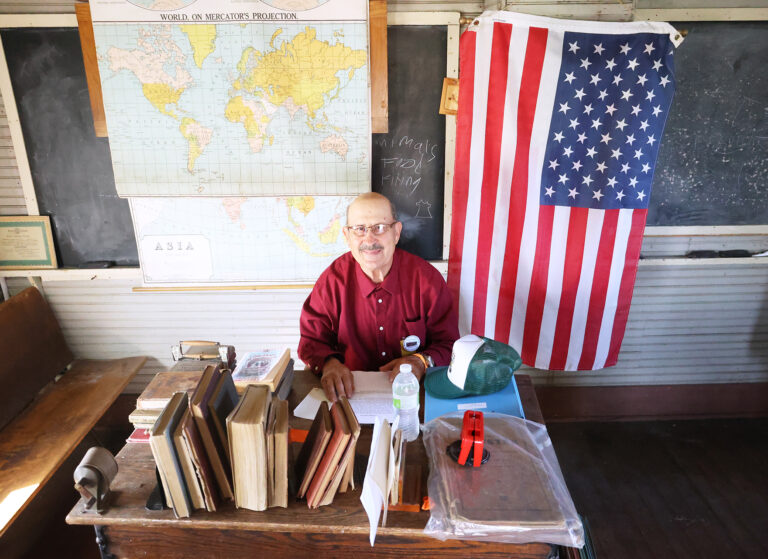 news, photo day
HISTORY REPEATING
BY JEREMY WALTNER  |  EDITOR & PUBLISHER
If the goal of the Menno Pioneer Power Show is to demonstrate to today's generation what life was like once upon a time — and make no mistake about it; it is — then you have to look beyond the massive Minneapolis-Moline or the complicated workings of the corn-shelling operation to get the complete picture.
So let's go back in time by stepping inside the Little Red Schoolhouse built in 1904 for $243 which today sits on the grounds of Pioneer Acres, where every year thousands of men, women and children stop by for the family-friendly, something-for-everybody Power Show. The Walz Schoolhouse No. 87, as it is formally  known, was located 6 miles north and 1 mile east of Menno and served students until 1964, when many country schools began closing because of district reorganization. But thanks to a preservation and restoration effort by the Oscar Carter family, who had a small museum of buildings south of Highway 18 and 81, it eventually found its way to Pioneer Acres and has been part of its campus of historic buildings since 1996.
It's Sunday, Sept. 26, the second day of the 35th annual Power Show, and Kermit Schamber is a volunteer seated at the front desk where the teacher once sat. He remembers this when it was a working schoolhouse — it was located about a mile-and-a-half from his boyhood home — although he didn't attend. He went elsewhere, but the experience was likely very similar.
"What I remember about the one I went to is we didn't have any running water; we had a two-holer outside," he says, laughing. "I think we had an oil-burner to keep us warm. We brought our lunch every day and I think the teacher brought the water.
"We had school even on stormy days," he remembers, thinking back to getting a ride through the weather on a two-wheel trailer pulled by his dad's Ferguson tractor.
Schamber's memory tells him there were 15 students in his schoolhouse, four in his class, even fewer in other grades, and he remembers being a good student.
"I think so," he says. "I passed, anyway."
Want an ever more in-depth history lesson? Let's go back to school in 1872 and review the teacher's rules, according to a sign hanging on a wall inside the Little Red Schoolhouse.
1. Teacher each day will fill lamps, trim the wicks and clean the chimney.
2. Each morning, teacher will bring a bucket of water and a scuttle of coal for the days session.
3. Make your pens carefully. You may whittle ribs to the individual taste of the pupil.
4. Men teachers may take one evening each week for courting purposes, or two evenings a week if they attend church regularly.
5. After 10 hours in school, the teacher may spend the remaining time reading the Bible or any other good books.
6. Women teachers who marry or engage in unseemly conduct will be dismissed.
7. Every teacher should lay aside from each pay a goodly sum of his earnings for his benefit during his declining years, so that he will not become a burden on society.
8. Any teacher who smokes, uses liquor in any form, frequents pool or public halls, or gets shaved in a barber shop will give good reason to suspend his worth, intention, integrity, and honesty.
9. The teacher who performs his labor faithfully and without fault for the year will be give an increase of 25 cents per week in his pay, providing the Board of Education approves.
The teacher's rules for 1872 is certainly a sign of the times, as is the building next door to the Little Red Schoolhouse — a log cabin also with ties to the Carter family. The 16 foot x 15 foot cabin was built using lumber from cottonwood trees by Christian Carter — Oscar's grandfather — in the 1880s. Christian and his wife, Olava, raised nine children in the home, and the cabin served as refuge for 20 students and a teacher who got caught in the great blizzard of Jan. 12, 1888.
A sign on the outside of the cabin reads: "Not having bedrooms for so many in the log cabin, hay was carried in and put on the floor for bedding. They kept warm by fire all night by twisting hay for fuel."
Step into the cabin and find old family memorabilia, the original land-grant papers issued to Christian, who arrived in Dakota Territory from Norway in 1869, the chair used by Oscar's mother to rock her children to sleep, and the cradle in which they slept. There's a cornhusk mattress, and pigeonholes that once held mail, with many of the slots filled with Indian relics.
In the back room, which appears to be used as a study and/or living area, a sample ballot from the Nov. 6, 1900 election hangs on the wall. There's an American flag next to a South Dakota flag issued special as part of the bicentennial year of 1976 and, on a bookshelf, a bound set of McClure's Magazine, an illustrated monthly periodical published from 1893 to 1929. There's also a series of books titled Public School Methods and a number of novels, including The Man From Brodneys by George Barr and Chip of the Flying U by B.M. Bower.
Elsewhere, a stove. A scale. A family tree.
All, once upon a time.
Step across the Pioneer Acres grounds and into the Women's Building, which every year features a display of artifacts targeting the female audience. The ladies behind the building say that, years ago, they decided a softer touch was in order to counter the muscle of the Power Show, and in 1997 that led to the debut of the Women's Building and its very first feature, "Old Hats to New Hats." A different theme has been featured every year since, from "Wash Day" to "The Color Green," and last weekend the building featured photography, both past and present.
This, in an email from Donna Zeeb:
"We have always been so thankful to the people in our community who are willing to help us every year."
If there is a single thread that runs through the fabric of the Power Show, other than a nod to history, that it is — people willing to step in and lend a hand, be it Kermit Schamber volunteering inside the schoolhouse, the Carter family offering Pioneer Acres their family's preserved log cabin or the woman inside the former Utica depot, which is also part of the family of buildings on the Power Show grounds.
Her name is Susan Fejfar Schrader and she's a Z&T Scale Model Train enthusiast who works with all sorts of miniatures, from tiny working locomotives complete with a working engine powered by an electric track using micro-amps of power, to pulled-apart Hallmark ornaments to create various scenes and stories.
"I love the smallest working miniature I can find," says Schrader, a 67-year-old designer and engineer who grew up in Utica, today lives in Tabor and is part of the Missouri Valley Railroad Club in Yankton. Enthusiastic and talkative, Schrader happily admits she's a unique kind of person, and attributes her personality to her dad, Clem Fejfar, who was carpenter, tinkerer and known as Mr. Fix-It at his CC Camp in the Black Hills.
Clem took possession of the Utica depot following its mid-20th century closing; it had been built in 1886 as part of the Chicago, Milwaukee & St. Paul Railroad line, which aimed for stops every 10 miles and played a key role in the naming of the towns. Train service was discontinued in 1956 and Clem bought the building the following decade, moved it two blocks to the west and closer to his giant garden, and started using it for his carpentry work.
The building resided in Utica until 1997, when the Clem Fejfar family gifted it to the Menno Pioneer Heritage Association and the Pioneer Acres grounds.
Susan remembers her dad, who passed away eight year ago at the age of 94, honing his carpentry skills inside the former Utica depot and is almost as enthusiastic about the building as she is her miniatures — almost.
And she loves to tell the legendary story about a 1924 bank robbery that took place so close to the Utica depot that one of the bullets from a 100-round spree of gunfire lodged itself in the corner of the building, only to be discovered after it was reclaimed.
"Growing up, we always heard this story about the banker's daughter who wanted to run away with this guy her dad didn't really like," she explains. "They decided if they were going to run away, they needed some money, so this guy and the banker's daughter decided they were going to do an inside job and rob the bank."
It was after midnight on Oct. 23, 1924 that the couple hooked up with a group of bandits at the depot one block east of Utica State Bank; they were said to have cut the telephone and telegraph wires — which later proved to be untrue — before attempting the robbery, only to be run out of town by the people of Utica.
"We don't know what happened to the banker's daughter," Susan says, "but it must have been pretty exciting for that little town."
The account of the bank robbery is preserved on newspaper pages that hang on the depot wall in a story written by the late Bob Karolevitz, an author, historian and longtime columnist for the Yankton Press & Dakotan. In it, he calls the Utica State Bank robbery of 1924 "South Dakota's version of the shoot-out at the OK Corral."
History. Preserved history. Behind every door, on every wall and in every crack, when it comes right down to it, that's what the Menno Pioneer Power Show is all about.
"It's fun to see families coming in and learning about the past," says Daniel Harnisch, president of the Menno Pioneer Heritage Association Board of Directors. "That's part of our organization's mission. A lot of our T-shirts say, 'Teaching the Future about the Past.'"
It's certainly not their fault, but Harnisch says people of today and even of recent history simply don't understand how things once were done.
"They don't understand the power of steam; they don't understand the handwork that goes with it," he says, using the demonstration his family is most involved with — hay — as an example. "We demonstrate a hay loader that's pulled on a rack; you have to fork the hay onto the rack, and fork it off and into the press, and hand-tie it. They don't understand what went into the process of doing things back them that we take for granted today."
As important as the auxiliary attractions like the schoolhouse, log cabin, depot and other outbuildings on the grounds of Pioneer Acres, it's those live demonstrations that are at the heart of the Power Show, what most come to see.
"Like everything out here, this demonstrates how things were done back in the day," said Jai Walter, who operates the sawmill with his dad, Mike. "We've got some tractors here that have the pulleys that are big enough to run this, but the steam engine makes it a little more authentic."
Some of the raw wood used is gathered by Power Show volunteers, while other logs are brought to the site by those in need of lumber, in exchange for a donation.
"The best part is when somebody brings it in; that makes it easy on us so we don't have to quit work and go out and cut wood," says Mike, who runs a welding and machine shop in Menno and got started by working on the 100-plus-year-old mill that came from Fairview shortly after it was brought onto the site 15, 20 years ago "and somehow they wouldn't let me leave."
Jai says it takes every bit of the 65-horse Case to run the mill, where raw logs are brought in — cedar works very well — rolled onto a carriage and run through a 54-inch blade to a predetermined width, usually a 1×4 or 1×6.
"Once we get the belt going, we need about 400 rpm at the blade to make it work right," he says. "If you go too slow the blade gets hot and it warps and cuts crooked."
After the lumber is cut, the board is taken off the mill and finished through an edger and a plainer to make a nice board. Much of the wood is donated; one recipient is the Mike Dufree State Prison in Springfield, where the wood is made in to toys for children.
Even better.
Everything.
That was the response from Dave Thompson, a retired farmer from Beresford, when asked what can go wrong at the corn-shelling demonstration he operates with his son and right-hand man, Jerry.
"The engines quit running for whatever reason; they're kind of particular once in a while," says Dave, who learned to run the operation as a hobby with his dad back in the day. "Chains and gears on the sheller can jump off, and check valves can give us more trouble than anything else in the world. All this stuff is 100 years old so, yeah, everything can go wrong."
But when it goes right, it's a well-oiled machine — literally.
"After getting the engines restored, for lack of a better word, it's just a matter of keeping them greased and oiled," he says. "These old machines were built to last forever so they're still running just like they were when they were new."
The Johnsons use Sandwich Manufacturing implements once made in Sandwich, Ill. to provide muscle to the process, as ears of corn are moved by hand onto an elevator, into a husker and then through a Sandwich two-hole sheller and into a wagon.
"I just like getting things out and working with them and showing people how they're meant to be used," says Jerry. "We go to a lot of shows throughout the year; we used to sit there and run our engines and people who have never seen them before wonder what they were used for. How do you explain to them that they ran a burr mill or a corn sheller or a speed jack on an elevator or a water pump?" You don't tell them, Jerry knows; you show them.
It is, after all, the Pioneer Power Show.
You show them in the sawmill and the hay threshing, the corn demonstrations and the steam engine plowing, the flour mill and the huge Coriliss engine running in the steam building, the antique tractor and car show and other exhibits that in 2021 featured Allis Chalmers, Buick and Maytag — a parade that typically draws between 120 and 140 entries.
You eat along the way; there's ice cream, food stands operated by two youth groups and the traditional Sunday-only pancake and sausage feed organized by the Menno Community Club. You shop the vendors and the flea market, peruse the small working engines of the toy show or pick up a Power Show-branded souvenir inside the larger of two schoolhouses at Pioneer Acres.
And you have a little fun; kids ride the still-new carousel, play mini golf, take a ride on the barrel train and/or go round and round on the small ferris wheel, while the kids still at heart enjoy the sights, sounds and smells of Menno's biggest annual event. All of this, in the name of history.
Show after show, year after year, everywhere you look around Pioneer Acres, the past comes to life through regular people doing extraordinary things. It's a grown-up show and tell and Menno's biggest claim to fame.
And it will be again next year, when history repeats itself once again.