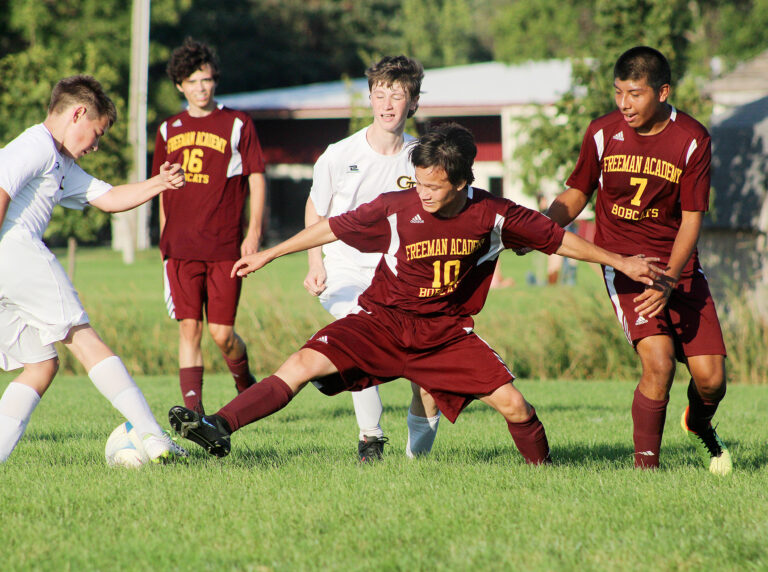 sports
FA SOCCER: MOMENTUM FOR 2022
JEREMY WALTNER – PUBLISHER
Scott Dent knew what he was up against heading into the 2021 soccer season at Freeman Academy — that is, low numbers to start, inexperience among the players and a group of teenagers most of whom were on the field together for the first time.
All of that makes the growth that he saw in a short period of time all the sweeter.
"We saw a lot of development in the younger kids; a couple of kids who didn't have a lot of experience really came alive in the last couple of games," said Dent. "A lot of them hated that the season ended when it did. If we had another two or three weeks, we would have seen a lot more growth."
Freeman Academy's season started later than other fall prep teams and ended earlier, giving the Bobcats — which includes players from Freeman Public and Marion — just 3 ½ weeks of competition. During that time the team played a combination of varsity and junior varsity games and finished with a 2-6-1 record. Perhaps nowhere is the growth of the team more evident than in its battle with Groton Area. When the Bobcats hosted the Tigers on Sept. 18, they lost 8-1. In the final game of the season last Saturday, Oct. 2, Freeman Academy lost 4-3 after holding a 3-2 lead with 15 minutes to play.
"Not bad for a season-ending game," Dent said. "The really fun part was, on the ride home Saturday, I heard the kids on their own making some group text messages so they could get together and practice on their own in the off-season. And that's what has to happen."
Dent is excited about the future. The Bobcats will lose just one senior on this year's team — Malachi Myers — and should return the majority of the 17 who made up this year's roster. That will help the team better establish itself going forward.
"We spent the year trying to figure out an identity," said Dent, who in addition to traditional students from all three schools, also coached players from France, The Congo, Equator, Mexico and India — all of whom brought various styles of play to the field. "I don't think we ever established that. We were playing multiple versions of soccer at the same time, so that's something we'll work on — trying to figure out who we are."
Dent is looking forward to seeing Jonathan Lopez, a sophomore from Marion, return as one of the Bobcats' primary offensive threats, and the possible arrival of a new goalie in Freeman Academy sophomore Liam Ortman, who stepped into the box late in the season.
"He played the last game-and-a-half with some really natural stuff, and he's excited about it," said the coach. "That's encouraging."
"We're going to get older; some of the schools we're playing are getting a lot younger, so it's a good time to transition for us," Dent continued. "We're a long way from being one of the top teams, but we'll be able to win some games and have some fun."
All in all, the final report from the first-year coach is a good one. Not only did they learn to play together, they grew together.
"They play together as one team, and that's what's fun for me as a coach," he said. "They don't care what school they go to when they get out there; they just want to play soccer."
Seeing that is what motivates Dent.
"Just love for the sport — love for the kids — personal growth in the kids more than the sport," he said. "How can you challenge the kids to be bigger and better than they were at the beginning of the season?
"If I can see growth, I'm happy, and we definitely did."