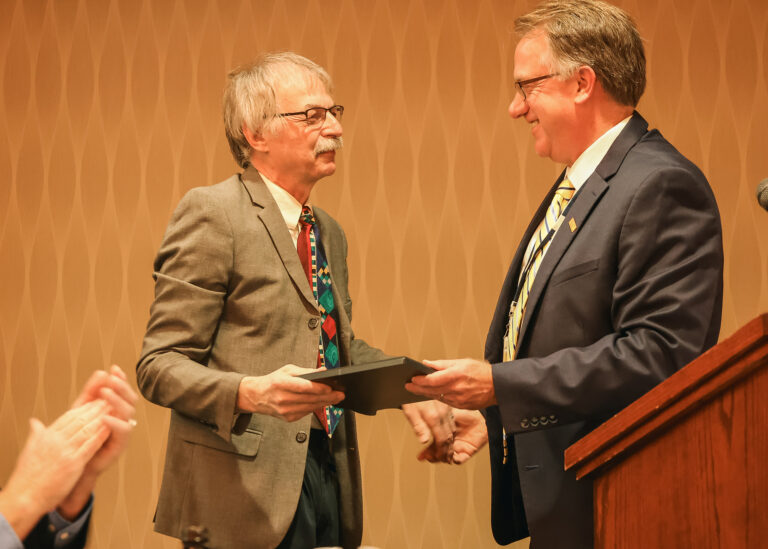 news
FORMER PUBLISHER HONORED FOR FIRST AMENDMENT WORK
JEREMY WALTNER – PUBLISHER
Tim L. Waltner, who first started working for the Freeman Courier in 1973, was named editor in 1977 and published the weekly from 1984 to 2016, was honored last week by the South Dakota Newspaper Association (SDNA) for his many years of service as chair of the South Dakota First Amendment Committee.
Waltner was recognized with a SDNA Distinguished Service Award at the banquet that was part of the joint convention of the South Dakota and North Dakota newspaper associations at The Lodge in Deadwood Friday night, Oct. 15. He is stepping down as the first and only chair of the First Amendment Committee to date.
Mark Watson, managing editor at the Black Hills Pioneer and a member of the committee, will take his place.
"I'm thrilled by the transition; we need a reboot and I'm confident that Mark will help facilitate that," said Waltner, who was "surprised, honored and humbled" when presented with the award last Friday night. "While I'm pleased with what we've accomplished, there is much more to do. This is important work and it needs to continue and expand."
In his introductory remarks, Dave Bordewyk, executive director of the South Dakota Newspaper Association, noted that Waltner chaired the first-ever meeting of the SDNA First Amendment Committee on Aug. 23, 2001 at the offices of the Argus Leader in Sioux Falls and has been at the helm for the majority of the past 20 years.
"The First Amendment Committee has been SDNA's longest-running committee in the association's recent history," Bordewyk said. "It's no coincidence that Tim has been chair of the committee for most of those years."
He continued:
"I'm not sure that Tim — nor anyone else — would have envisioned that when Arnold Garson, publisher of the Argus Leader and president of SDNA in 2001, appointed him to be committee chair, it would be 20 years later before he stepped down.
"Tim has wanted to step away from the committee chair position for quite some time now. Being retired from the newspaper business, he has many other interests to keep him occupied these days. But, honestly, Tim has been so good at his job as committee chair that no one wanted him to give it up.
"The First Amendment Committee has done a lot of good work over the years. Most of it focused on open government, cameras in the courts, free press and First Amendment issues in South Dakota. The SDNA Eagle Award — which honors an individual or organization for their work to champion open government or First Amendment issues in our state — has been a centerpiece of the committee's good work.
"The committee's work is a credit to the dedication and commitment of its members who serve on it, as well as the entire SDNA membership. SDNA members have been very supportive of this important committee.
"But I will tell you that the success of the SDNA First Amendment Committee through the years has Tim Waltner's fingerprints all over it and we are all very grateful for his dedicated service and leadership."
"We've made some important progress in the past two decades by raising the profile of the First Amendment in South Dakota," Waltner continued. "We've put some tools in place – the Eagle Award and our 'editorial board' visits with candidates for governor and attorney general, for example. We've served as a legislative committee for SDNA, particularly on open government issues. We've initiated legislation and monitored legislation that has First Amendment/open government implications. We had some success in those efforts. We've pursued projects to provide visibility including sharing opinion pieces with SDNA members and committee members have been available to testify and comment on, and to speak to groups, about open government issues.
"But let's be clear: any credit for the success we've does not go to me but to Arnie Garson, who established the committee in 2001; the dedicated members of the committee – some of whom have served on the committee from the start; and David Bordewyk, our SDNA General Manager who keeps us on track.
"And that's why I'm so pleased that Mark is moving into a leadership role.
"Mark will bring new energy and focus to our efforts. Mark and I visited at the Thursday evening reception; he said he'd like me to continue as a committee member and I agreed to do that. I pledge my support and have no doubt the committee members will do the same.
This is another step in the process; I'm honored to have been part of it and I look forward to where it takes us."