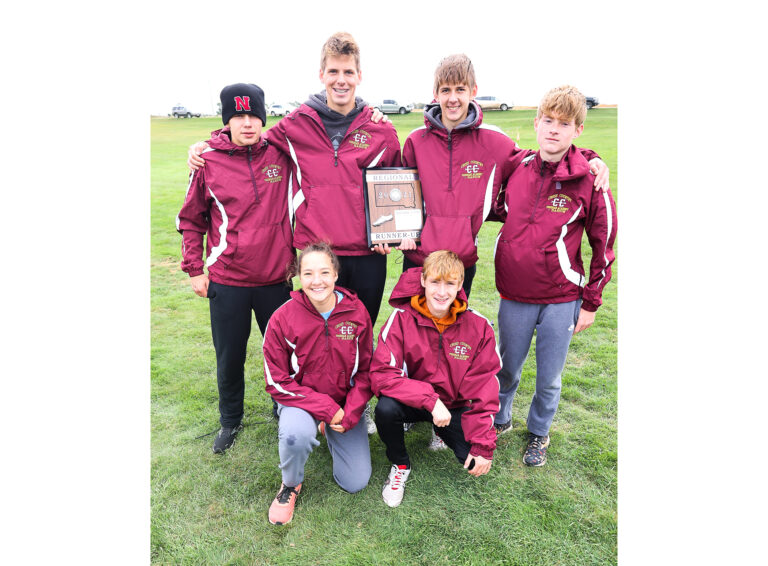 news, photo day, sports
REGION XC: JUST ANOTHER DAY AT THE OFFICE
JEREMY WALTNER – PUBLISHER
Another cross-country season, another Region 3B meet and another outstanding showing from the Freeman Academy/Marion boys, who last week finished second in the team standings. It was the ninth time in the last 10 years that a Freeman Academy boys team finished in the top two in the region and the 10th year in a row they've been in the top three.
Oh, and they've finished in the top four at state seven times since 2012, four of which were runner-up finishes. Based on their history and uncanny propensity to keep producing outstanding distance runners, it's not unreasonable to think the Bearcats will do well again when another state meet commences at Yankton Trail Park in Sioux Falls Saturday afternoon, Oct. 23.
But this year, not only will eyes be on the Freeman Academy/Marion boys, the focus will also be on Jada Koerner, an FA junior who has her eyes set on what would be the biggest victory of her career — a state championship.
Koerner has finished in Class B's top 25 every fall since she was a seventh grader and was third at state a year ago, when she didn't bat an eye at a snowy 5,000 meters at Rapid City's Hart Ranch. Moreover, she hasn't lost much this season, and when she has it's been to runners from bigger schools competing in larger classes.
So, yeah. A state championship is clearly in the cards.
"She has said from the time she was a little girl that she wants to win the state meet," says Suzanne Koerner, her coach and mother, who will watch Jada run with the 116 others in the Class B field in a race that starts at 12 p.m. "She's competitive and always wants to be better and this year has become a lot more consistent; that's been different from any of her other years."
Suzanne says she sees a sense of power in the way Jada is running this season, which may be perhaps the biggest sign that she has reached a turning point in what has been a successful but uneven prep career.
"It's been gradual," she says of Jada's growth as a runner and her desire to win. "It has to come from within, and when I see that it does, that's when I can come alongside and help do what it takes."
The coach also says her youngest daughter feels pressure.
Suzanne herself was a three-time state cross-country champion at Freeman Academy from 1981 to 1983; Jada's oldest sister, Lillie, won the Class B title in 2010; and her other sister, Clara, turned in an inspiring, out-of-nowhere performance at state her senior year in 2014, placing fifth after finishing 64th the year before.
Still, says Suzanne, "this year she's ready to take a stab at it."
Jada will take the top returning time from last year's state meet field to Yankton Trail Park on Saturday and, this year, not one runner is the clear-cut favorite, "so that opens up the opportunity," Suzanne said. "All of these things are coming together."
Mostly, the coach is proud of her daughter.
"It takes a lot of vulnerability to say, 'Yeah, I'm going to try to do this,'" Suzanne says. "You just don't know what the day is going to feel like and you don't know what that competition is going to feel like. But you have to have that mindset going in.
"It's easy to say, 'I want to medal,"' she continues. "It's very difficult to say, 'I want to win' and to put yourself out there like that."
As for the boys, who on Saturday will run at 1:30 p.m., this year's success has been somewhat of a surprise. Not only did the Bearcats finish second at last week's region meet, they also ran away with the conference title at Burke in late September — all without Titus Roesler, the team's stellar distance runner who graduated the spring before.
Sophomore Tavin Schroeder has replaced Roesler as the team's best runner, but accounting for a large part of the team's success in 2021 has also been the arrival of Malachi Myers, a rookie in his senior season.
"You hate to single out one runner," says Koerner. "They're all so vital to the team, even if they're not a scorer; they help in other ways. But without Malachi we're just an average team."
Myers finished fourth at last week's region meet and just one place and 2 seconds behind Schroeder to put FA/Marion in the running with Kimball/White Lake, while the Bearcats' third runner, Finley McConniel, locked up 11th.
McConniel, a Marion freshman, is another example of a runner who stepped up big this season.
"He's got that hunger," Koerner says. "A big goal of his this season was to be our No. 3 runner, and when you achieve that, it's like, 'now what? What can I do next?
"Now he knows now who he needs to stick with."
The Bearcats' fourth and fifth runners are senior Tim Epp and senior Thalen Schroeder, who last week finished 14th and 24th and were part of the effort that nearly gave the FA/Marion boys another region title. The Wildkats edged the Bearcats 15 to 18 in the team standings.
But Koerner is certainly not complaining, especially considering the uncertainty of the year and the slow but sure growth the Bearcats saw.
"It took the whole season to get where we are," she said. "I'm happy that we arrived at the right time.