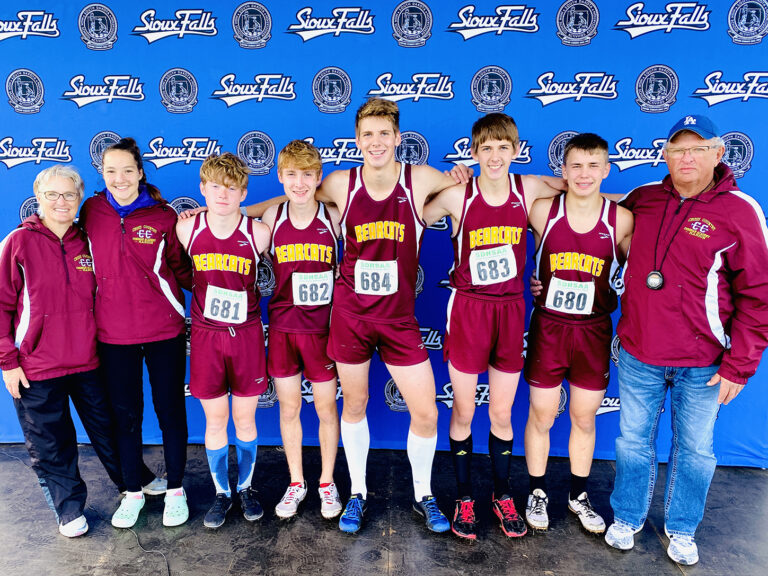 sports
FA/MARION BOYS 3RD, KOERNER 4TH IN SIOUX FALLS
Freeman Academy/Marion turned in another outstanding showing at the 2021 State Cross-Country Meet on Saturday, with the boys finishing third in the Class B team standings and junior Jada Koerner finishing fourth in the Class B girls race. It wasn't the win Koerner had been hoping for, but her time of 19:58.57 was the best she has clocked in any of her five state meets; she was 19 seconds behind winner Ella Boekelheide of Nortthwestern. 
Six of the seven top finishers in the Class B division were eighth graders.
The FA/Marion boys were paced by Tavin Schroeder and Malachi Myers, who finished eighth and ninth in 17:31.24 and 17:32.48. The Bearcats' push came from Marion freshman Finley McConniel, who placed 56th in the field of 116 runners with a 19:08.58. Also running for the boys was Tim Epp (70th, 19:31.71) and Thalen Schroeder (95th, 20:28.52).
For Freeman Public, seventh grader Rylee Peters and freshman Peyton McCune represented the Flyers; Peters finished 60th in 22:17.16 and McCune placed 86th in 23:14.30.
Competing for Menno was Ashton Massey — 108th in 24:32.57 — and Kadeyn Ulmer — 59th in 19:15.25.
The Oct. 23 state meet was held at Yankton Trail Park in Sioux Falls.
The Kimball/White Lake girls defended their Class B championship while Miller won the boys title.