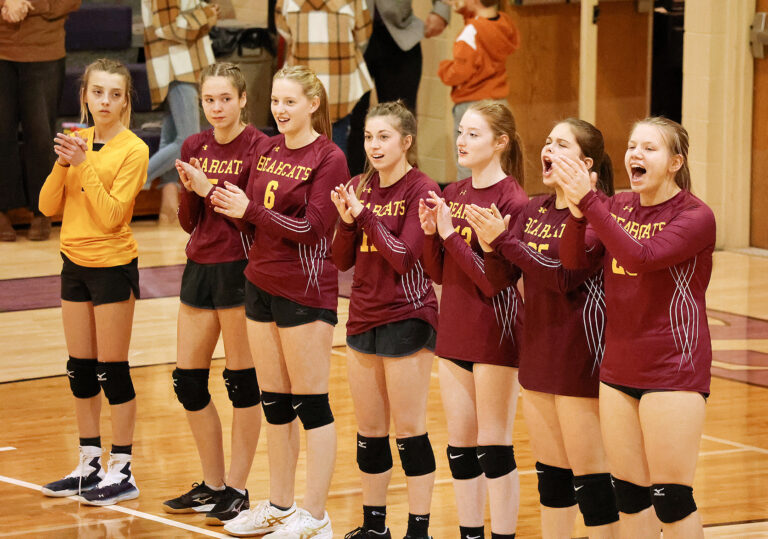 news, sports
A SEASON'S SILVER LINING
JEREMY WALTNER  – PUBLISHER
It was the third set of Freeman Academy/Marion's Region 5B match at Centerville on Monday night and the Bearcats were winning. Players were covering the court, connecting at the net and cheering each other on, smiling through a lead that stood at 9-4, then 12-7, then 15-11.
And then? Then it was over.
Centerville, the region's No. 8 seed, came back to take down the No. 9 Bearcats 25-21 in that third set, complete a three-game sweep and move on to Tuesday's second round. Freeman Academy/Marion was left with nothing more than a bus ride home — at least that's how it appeared from the outside looking in.
But Monday night saw the end of a season that was about far more than the team's final 4-25 record, and about even more than that touchstone moment on Oct. 2, when the Bearcats snapped an almost three-year losing streak with a win over Colome, and then another against Mitchell Christian less than a week later.
Ask the first-year coaches, the husband-wife team of Kenneth and Haley Schroeder, and they will tell you this in no uncertain terms, but first they have to fight through the emotion.
"I have been part of a lot of volleyball teams in my life and I have never been prouder than I am of this one," said Haley, the assistant coach who was part of a successful high school program at Mt. Vernon and played on Junior Olympics traveling teams with players from other high schools during the spring. "The girls have come so far. We got this job a week before the season started and they had never been taught some of the things we taught them."
The Schroeders knew what they were up against when the season dawned late last summer. They signed on as coaches late — just a week before practices were set to begin — and joined a program that lacked stability. Youth and inexperience were the team's reality, with 10 of the 14 on the roster underclassmen.
And the Bearcats had not won a match since October of 2018; not only that, they went through the 2020 season without winning a single set.
Kenneth said the coaches' first order of business was to change the mentality.
"Attitude and effort — that grr mentality — that's something we tried to instill right away," he said. "That means that you have to think of every ball as your last ball; that's where the effort has to come from."
It was a process. The coaches say they were teaching their players the ways of the game they hadn't known before, which meant understanding Xs and Os was part of the education, as well. And the girls bought in. Even before the team played its first match, Kenneth told The Courier he sensed chemistry, energy and an eagerness to learn.
"I feel like we're building for the future and working toward a consistent program, which isn't something these girls have had," he said in late August. "That will benefit them tremendously. There will be a learning curve, but hopefully our work will show later in the season."
Schroeder was right. There was a learning process. The Bearcats lost their first 15 matches without winning a set, but as the season wore on, they got closer and closer. Against Irene-Wakonda in the middle of September they dropped a set 25-27 and then lost a set to Andes Central/Dakota Christian 23-25 in a match on Sept. 23.
The FA/Marion girls finally got on the other side of the score with a set win against Sioux Falls Lutheran one week later, and then against Colome at a tournament in Gayville, the Bearcats broke their losing streak, taking the Cowgirls down 25-21, 25-21.
"It was insane," Kenneth said. "We had girls crying because they knew what they had done. It was monumental and they were hungry for more."
The Bearcats got three more wins the rest of the way. They took down Mitchell Christian 25-16, 25-18, 25-18 in the match following the victory over Colome and then beat Marty in straight sets on Oct. 14 and tallied another 3-0 win over Mitchell Christian to close out the regular season on Oct. 26.
"The girls came to practice every day and worked hard," said Haley. "You have your ups and downs, but they always looked to each other to fight back; they came to practice every day to fight for everybody, not just themselves. That's how we got better."
That positive mentality was evident in Monday's region game against Centerville. The Bearcats fell behind quickly in the first set but came back to tie it at 15-15 surrendering 10 of the final 16 points to drop the first set 21-25. The Tornados held the momentum for much of the second set en route to a 25-18 win and 2-0 match lead, but Freeman Academy/Marion looked strong in that third set, fighting for every ball, cheering loudly on every point and encouraging each other, just like the coaches asked of them.
Centerville ended up being four points better in that final third set and walked off the court with the win, but the Bearcats should feel proud. That's what Tornados coach Bridget Hansen told Haley after approaching her at the conclusion of the match.
And that's the takeaway from this season — that hard work and commitment generated results.
"You can be as mediocre as you want, but if you have heart and play with as much fire as you can, there really is no losing," Haley said. "And that's in everyday life: if you give your all for your job, your life, your love, you can't lose."
But even more than that, the coaches say, it's the relationships that were formed that will long be remembered.
"The girls enjoyed being with each other and that's what matters," Haley said. "We were a real team."
Kenneth fought back emotion when asked about his ultimate takeaway.
"The relationships with the girls," he said. "That's what means the most to us."