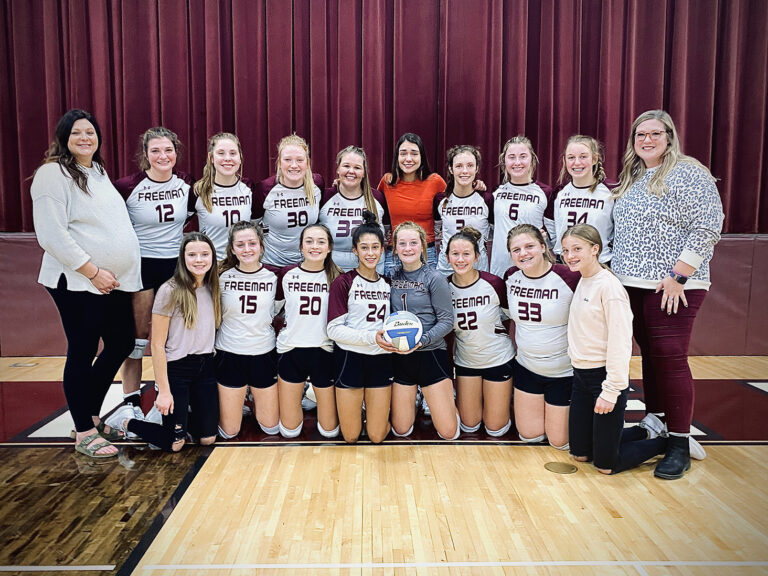 news, sports
FLYERS MOVE ON TO SODAK 16 AFTER THRILLER WITH EAGLES
An upset-minded, senior-heavy Irene-Wakonda played really well against Freeman Public on Thursday night.
The Flyers played just a little bit better.
Competing for a spot in next Tuesday's SoDak 16, second-seed Freeman rallied from multiple deficits to outlast the third-seed Eagles in five sets. The Flyers lost the first set, won a dramatic second set that went into overtime, won a win-or-go home fourth set and then survived a match point in the fifth and decisive set to come away with a thrilling win.
Set scores were in Freeman's favor 19-25, 28-26, 19-25, 25-22, 18-16 to send the Flyers into their fourth SoDak 16 in as many years with a 20-9 record. Freeman is ranked No. 14 in the SoDak 16 and will play No. 3 Arlington (29-5) at Sioux Valley Tuesday, Nov. 9 starting at 6 p.m.
Irene-Wakonda finished the season 15-12.
"These girls are resilient and tonight just proved it," said Kendra Peterson, who has taken the Flyers to the round of 16 in each of her years as head coach. "We got into some situations that didn't look very good for us, and we persevered, we pulled through and they never gave up."
While the Eagles maintained the momentum for much of the night, the Flyers won critical points when they mattered most. That included at the end of the second set, when Irene-Wakonda threated to go up 2-0; the fourth set, when the Eagles threated to win the match in four; and the fifth set, when they were one point away from winning, only to see Freeman take the final three points of the match.
The Flyers' effort included contributions from six starters and three critical players off the bench, five of whom are underclassmen.
"I tell these girls all the time that this team is made up of every single one of them," Peterson said. "It's not just those six who might start, it's also about those who come off the bench and do their job, or those who are on the bench doing theirs. It takes every one of them, and everybody has this past week, and it's been amazing to watch."
Freeman benefited from a solid showing all-around:
Junior Kate Miller had 23 kills, 28 digs, and 3 aces while sophomore Ashlin Jacobsen tallied 17 kills and 33 digs. Both had two blocks.
Senior Ava Ammann had 45 set assists, 26 digs and 2 kills; senior Lily Wipf had 7 kills, 20 digs, 2 aces and a block; and sophomore Zenovia Butler added 7 kills, 18 digs and an ace.
Additionally, sophomore Cami Fransen had 23 digs and 2 aces, freshman Emily Mendel had 26 digs; and freshman Ella Waltner had 2 kills and 9 digs for the Flyers.
Freeman's volleyball team has been to one state tournament — in 1998, when they finished fourth.