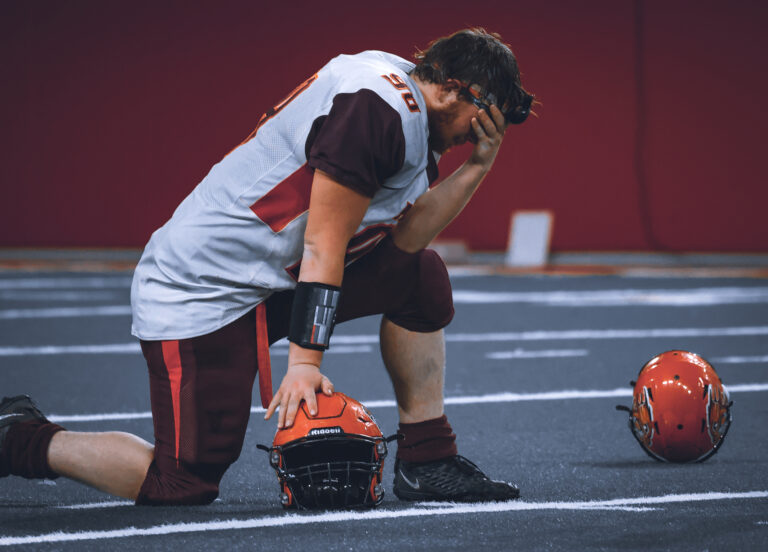 news, sports
PRIDE COME UP SHORT IN 9AA TITLE GAME
JEREMY WALTNER  – PUBLISHER
The Canistota/Freeman 2021 football season will be remembered largely for its peaks and valleys — exciting come-from-behind victories, losses that should have been wins, setbacks and surprises, and the raw emotion that goes with both expectations and reality.
In that regard, last week's Class 9AA championship game was a microcosm of the past three months — a hard-fought battle in which fans clung tightly to hope, relished in optimism, were never too comfortable, and nervous about how it all might end.
The end? 
That came quietly for the Pride and loudly for their foe, the Platte-Geddes Black Panthers, who scored a touchdown with 3:33 left in the game to take their first lead of the night at 14-8, and then hung on for the dramatic win at the DakotaDome for their second-straight 9AA state title Thursday night, Nov. 11.
READ THE PUBLISHER'S TAKE ON THE TITLE GAME
The defeat sent Freeman and Canistota home with their first-ever state championship loss in the modern playoff era. Since 1981, Freeman has gone 5-for-5 in state title games, Canistota has gone 4-for-4 while Canistota/Freeman, playing as the Pride, had won three-straight championships at the Class 9A level before last Thursday's loss.
After the game, head coach James Strang talked about the guts of the players and how they battled hard just to get back to the Dome.
"Tremendous group; tremendous guys," Strang said of his team. "Amazing courage to face adversity and continue to fight. We had an up and down year and we had an up and down championship game. 
"This hurts; there's no doubt about it," he continued. "But they've got a lot of guts and they're going to do a lot of great things in their lives."
To Strang's point, for many across the Canistota/Freeman football community — and beyond — this year's deep postseason run came somewhat as a surprise. Not only did the Pride lose most of the heart and soul from last year's state championship team after the graduation of nine seniors, but a one-year realignment by the South Dakota High School Activities Association bumped them up to the largest class in 9-man football.
With just three seniors providing the most experience on the team, Canistota/Freeman took the field in its 2021 opener the third Friday of August — and lost. It was the first time in the five-year history of the cooperative that the Pride had a sub-.500 record.
A tough regular season ensued, and the cooperative found itself in an usual spot: losing as many games as they won. The Pride finished the season 4-4 and took a No. 11 seed into the playoffs.
But good leadership from the coaching staff and hard work from the players resulted in an inspiring postseason run. Canistota/Freeman knocked off a one-loss team in No. 6 Florence-Henry 22-20 on Oct. 21, blanked a one-loss team in Ipswich 14-0 in the quarterfinals on Oct. 28 and then won a thriller over No. 2 Parkston 24-20 on Nov. 5 to earn another trip to the state final, where Platte-Geddes stood waiting with a 10-2 record.
Clash with Platte-Geddes
Friday's championship game was a rematch with the Black Panthers, who took advantage of five Pride turnovers to beat them 16-8 in the season-opener on Aug. 20. But the November Pride were a much different team from the August Pride; case in point was a postseason that resulted in back-to-back-to-back upsets over higher-ranked teams.
Canistota/Freeman had a lot of momentum heading into the DakotaDome, was playing largely mistake-free football, and was taking advantage of a playoffs surge from speedy junior wide receiver Will Ortman, who had become quarterback Tage Ortman's favorite and most prolific target.
So when Will Ortman went down and out with a serious knee injury on the very first play of the Nov. 11 championship game, there was cause for concern.
"We lost a vertical threat," Strang said after the game, "and they were able to key on other locations."
Indeed, the loss meant that Platte-Geddes could do a better job targeting senior running back Isiah Robertson and containing the play of the Pride's sophomore quarterback, who posed a threat both through the air and on the ground. And the Black Panthers succeeded, holding Robertson to just 58 yards on 12 carries and Ortman to 56 yards passing on 9-of-18 completions. He also threw three interceptions.
"I'm not going to say we got one dimensional," Strang continued, "but we definitely got a little shorter in our ability to stretch the ball."
Yet the Pride held the advantage on the scoreboard for most of the game. After playing to a scoreless first quarter, Ortman found seams through the Platte-Geddes defense and into the end zone for a 13-yard touchdown run early in the second frame, and a pass to Cayden Scott for the two-point conversion made it 8-0.
Platte-Geddes responded with a touchdown of its own in the closing minute of the first half, but the Canistota/Freeman's defense shut down the two-point attempt, and the Pride maintained the advantage at 8-6.
"Will's had an amazing playoffs (and losing him) was hard, but we battled and took a two-point lead into halftime," Strang said. "We just couldn't hold on long enough."
With the Pride's sound defense doing its job for much of the second half — including a key 4th-and-1 stop in Canistota/Freeman territory in the fourth quarter that gave the team the ball back with eight minutes to play and still with that 8-6 lead — they struggled moving the ball down the field.
After that scoring drive in the second quarter, the Pride were never in the red zone again. They managed just 3.8 yards per play, 170 yards for the game, punted three times and turned the ball over on four occasions — and they still almost won.
But Platte-Geddes made the big play it needed late when quarterback Aiden Bultje fired a 9-yard bullet to Dawson Hoffman for the Black Panthers' second touchdown of the game, and a successful two-point conversion made it 14-8.
Canistota/Freeman's final chance to drive the ball down the field and score a game-tying touchdown and potential state championship-winning two-point conversation was stopped on downs, and that was the game.
"We could have maybe spun some things to help ourselves out, and we didn't really do that," Strang said afterward. "But they've got tremendous courage."
Even though it was an up-and-down season, Strang knew the whole time what kind of players he and the other coaches were working with.
"We knew they were talented; it was just a matter of putting the pieces together," he said. "They're a great group of kids that works hard. We lost our discipline at times, here and there, and that was a negative for us. But they were always trying to make plays — always doing their best."
It's that resilience that Strang will remember most about this year's team — "the way they didn't stop. When you enter the playoffs at .500 it takes a lot to go on the road and win. We shook it up and I think we proved one more time that we deserve to be here.
"Platte-Geddes is a heck of a football team," he continued. "I think it's tremendous that we got to this point. I don't like losing, but that's the way it goes. They've got nothing to hang their heads about."
The Pride lose just three seniors off this year's team: Canistota's Robertson and lineman Riley Heiberger, and Freeman's Jacob Swensen, who was a key part of the defensive line and had four solo tackles and five assists in the championship game.
"We had a tremendous group of seniors that I'm going to miss — just three of them — but they worked really hard," Strang said. "And we've got a great group of younger kids coming up so hopefully there will be a bright future."