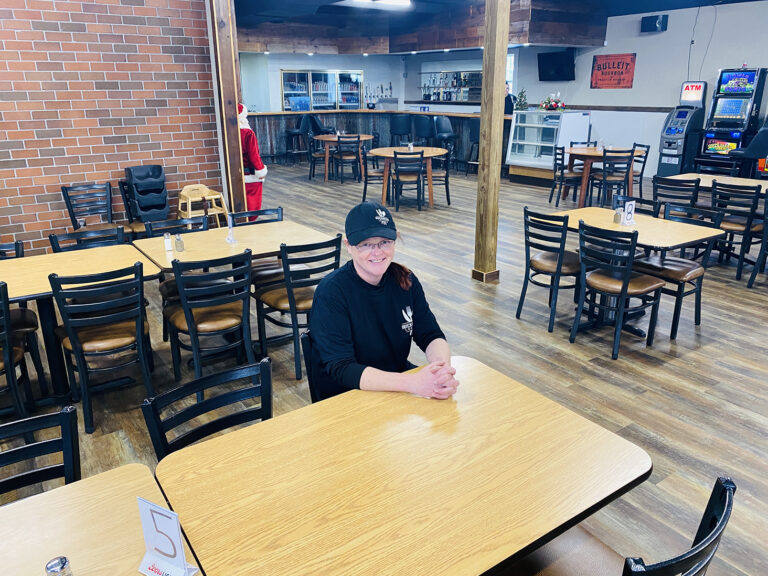 news
LOVE FOR FOOD SERVICE LEADS DUFFEL TO BRICKHOUSE LOUNGE
JEREMY WALTNER – PUBLISHER
Given that she has spent much of her life working in the food service industry, it only makes sense that Tobi Duffel would one day open her own restaurant.
That day has come.
Freeman's newest eatery under the 47-year-old's leadership, BrickHouse Lounge, is now open for business in the former Blue's Family Restaurant on Third Street one block west of Main Street — a building that was originally built in 1964 to serve as home to the Freeman VFW.
BrickHouse Lounge held a soft opening last Thursday, Dec. 9 and survived its first real test two nights later, when a Saturday crowd filled the place.
"Saturday night we got hit," said Duffel, who thinks that would have been the case on Friday were it not for the winter storm. "About 5 o'clock it just started and before long the whole place was packed. But everybody was sweet and really patient with us as we figured some things out."
Figuring things out has been the constant for much of this year as the Monroe resident has prepared to open her own restaurant. That process started in February when she learned of the availability of the building through Christa Helma of Priority Real Estate, who was working with the building's former owner, Rick Blue.
Duffel began putting a business proposal together in March and eventually entered into a partnership with the realtor in which Helma purchased the building with the intent to lease it to Duffel for her restaurant.
"She's all in," Helma told The Courier in the 5-Minute Interview published in October. "She's got restaurant experience, she's got family supporting her, and she's got a good head on her shoulders when it comes to preparing a menu."
For the first half of the year Duffel was making her plans without a name or a look. It wasn't until later in summer that a new identity emerged out of nowhere.
"I had been thinking of a name — maybe putting my kids' initials together," she recalls. "One day I was talking to my son on the phone about it and he goes, 'Well, I haven't seen the place yet, so I don't know.' And I said, 'It's a big brick building, like a brick house. And he goes, 'BrickHouse!' And it just fit. It was perfect."
Duffel made her first appearance before the Freeman City Council on July 26 and the council approved her on-sale liquor license the following month.
Throughout the late summer and early fall months, a significant renovation took place and Helma's direction and vision led to a significant upgrade in appearance — including two brick walls in the main dining area that are the signature of the interior. They also removed the drop ceiling without replacing it, choosing instead to paint the metal above and leave it open — a major change.
"Christa did a wonderful, wonderful job," Duffel said. "It was amazing just to see it all unfold, from when we started tearing down the walls to painting the ceiling and all the steps in between. It was awesome. Everybody — Christa, (her husband) Jordan, my husband, friends and family — all worked together and everybody worked very hard."
But it's still a work in progress.
With this her first full week of operation, she will still be training her nine part-time staffers and working with the kitchen to nail down an impressive menu that, per Duffel's hopes, "has something for everybody."
That includes broasted chicken, which she reasoned early on would be a hit.
"That's different than fried chicken and something I thought would go over good with the community," she said. "If people work, don't want to cook on weekends, whatever, they can call and get some chicken to go."
The menu also features specialty burgers — something Duffel says she would like to expand — sandwiches and wraps, salads, starters and baskets.
Her favorite? The Southwestern Melt.
Bonnie Watson is BrickHouse Lounge's daytime cook but, as of early this week, Duffel was still looking for somebody to lead the kitchen at nights and on the weekends. That will be an important hire, she said, "especially with the menu we have."
'Feel so privileged'
Duffel, who is originally from Mitchell and lived in Letcher for 25 years before settling  in Monroe, started working as a dishwasher when she was 14 years old at the Town House Cafe at First and Main in downtown Mitchell, a business that included a cafe, lounge and bar and Majestic Hall, which hosted banquets and weddings, where she helped out as a waitress.
"I just really liked it," said Duffel, who went on to work as an assistant manager at Godfather's Pizza in Mitchell and was working with Hot Stuff Pizza in Parker in her last food service job before establishing BrickHouse Lounge.
"I've always been in management positions, and I've always wanted to own my own place," she said. "And here we are."
Duffel asks for the public's continued patience as they work through the kinks, is grateful for her relationship with the Helmas and is eager to serve the Freeman community in a positive way.
"I just want to say thank you for this opportunity — for the patience and support," she says. "Hopefully that will continue as we get the menu down and we get our training in. It's still a work in progress on that.
"I just feel so privileged."
For BrickHouse Lounge hours and phone number, see the ad on page 3B. A menu is posted on the business Facebook page.