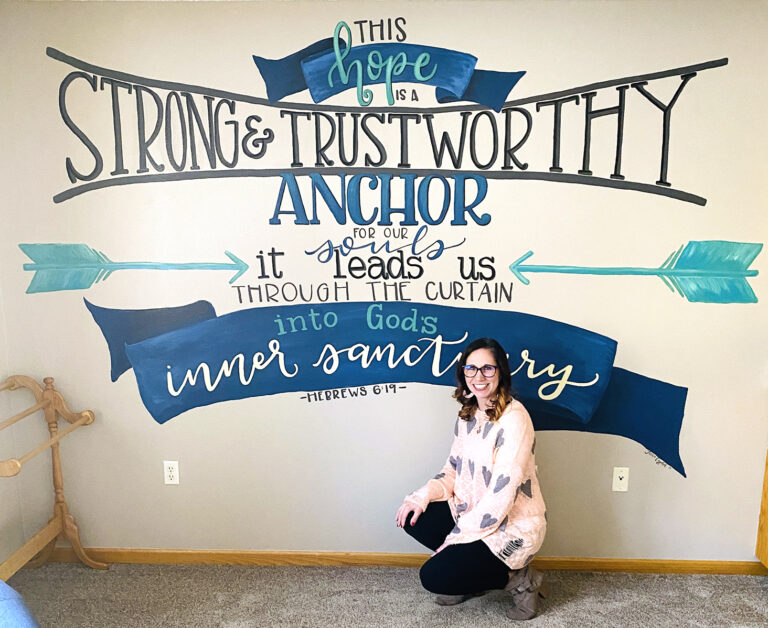 news
NEW: HOME OF HOPE
JEREMY WALTNER – PUBLISHER
A framed print hanging on the wall behind Amanda Dent's desk inside a Parker building that once served as an assisted living home quotes a short passage from Hebrews, a book that appears toward the end of the New Testament:
"We have this hope as an anchor for the soul, firm and secure."
It's a belief that serves as the foundation for Dent's work and the promise of a new day — a better day — for those whom she works for; that is, those looking for relief from a challenging homelife through Hope Harbor, a non-profit Christian organization serving teens age 12 to 17 and their families.
Dent is the site director at Hope Harbor in Parker, a full-service boys home away from home that has been in operation for two years. There are two other Hope Harbor locations, in Marshall and Winona, Minn., which were established in 2005 and are homes for girls.
"We are a ministry, so everything we do is Biblically-based and Christ-centered," said Dent, who is one of eight full- and part-time staff members who work at Hope Harbor in Parker. "Our mission is to equip teens, empower parents and to help those in need to further the kingdom of God.
"We want to build strong families and anchor them in the hope of God's promises."
Hope Harbor is a voluntary placement, privately funded, all-in-one stop for those accepted into the program that can accommodate up to 12 boys at a time. There are stipulations for acceptance, Dent says. Hope Harbor won't take in violent teenagers or those with dependencies — not, that is, until they have received treatment at a licensed rehabilitation facility like Keystone.
"There are some things that we're just not equipped to handle," she says, noting Hope Harbor is a non-takedown, hands-off facility. Staff members won't give a hug or even lay a hand on a shoulder without permission to do so.
"Based on their situation," Dent says, "there can be some trauma that comes along with that."
What Hope Harbor is equipped to do — and does exceedingly well — is provide a safe, comfortable, 24-7 environment that meets the spiritual, emotional and physical needs of the teenagers who live there — and, by association, the larger family unit.
"The parents also have to commit," Dent said. "It's not just, 'I'm going to drop my kid off and then you're going to fix them.' It's not about fixing. It's about repairing and restoring."
"If you're looking for placement, something isn't working," she continues. "There's a disconnect there, and we want to help reconnect."
Hope Harbor does that, first and foremost, by establishing the rules and expectations from the start so both the teen and parents are aware and buy into the restorative work that will take place.
"We lay it out so it's not a surprise," Dent said. "And we make sure the teen knows it's not just him who we are working with here. His mom and dad are going to be working, too."
Hope Harbor operates out of a building just southeast of the Turner County Courthouse that once was home to Parker Assisted Living — a facility that had been operated by the Tieszen Memorial Home of Marion.
And the 17-bathroom, six-bedroom facility has everything a teenager needs. A full-service, recently renovated kitchen and dining room. Classroom space for learning and a dedicated teacher for teaching. Space set aside for spiritual nourishment and private counseling. A weight room that means business. A large game room — with huge windows facing the east — called The Lighthouse. A meeting room for parents called The Dock.
"We want to make sure they're comfortable," says Dent. "I mean, this is their home."
RACHEL AND BRADY
Fight or flee.
Those were the only two options Rachel felt she had when her youngest son, Brady, got angry, and if there's one thing Brady got, it was angry.
The Sioux Falls woman — who asked that their last name go unidentified — says this with both brutal honesty and a quiver in her voice, fully admitting that emotion can often get the best of her.
"I didn't know if he was going to hurt himself or somebody else; maybe even me or his brother," Rachel says. "There was so much anger there — so much aggression."
That's when she learned of Hope Harbor, the ministry in Parker that deals with both behavioral issues in teens and families that aren't necessarily equipped with the resources and knowledge to deal with those challenges. She was immediately interested, she says, but also concerned with what would be a major disruption in life as they knew it, because the Hope Harbor journey is a year-long one.
"I remember sitting on my couch thinking about the fact that it would be a year — I mean, that's just crazy," Rachel says.
And she remembers being scared during her first visit to Hope Harbor, when they were still considering what to do.
"We walked into this thinking, 'If we don't do something now, what's the next step for him?" she said. "Fear was driving me."
Their first impression was a good one.
"We felt comfortable right away; could tell that this was a Godly place and very oriented toward the Bible," Rachel said. "They acknowledged that sometimes boys and girls at this age need a little extra help, that I wasn't alone, and that they could help us.
"We weren't sure how Brady was going to react," she continued, "but when we got into the car he said, 'I think I need this program.' He could see that this was a good place for him.
Brady was 14 years old when he started at Hope Harbor on June 1, 2020, and the his family spent about a year fulfilling their commitment to the program — a year getting better.
LIFE INSIDE
Hope Harbor is highly individualized and works with families as needed, embracing the fact that every situation is different. While there are certainly expectations that need to be met — school assignments must be completed as required, use of the game room and weight room is during a prescribed time only, the boys are expected to help cook and clean, and parents must attend classes once a week and counseling every two weeks — there is very much a "grow at your own pace" mentality.
The work that is done at Hope Harbor uses four primary tenants:
1. Spiritual: "We have had kids who say, 'I don't believe,' and that's OK. It's not our job to make them believe. It's our job to walk alongside them and show them who Christ is through our walk. It's planting that seed."
That is done through scripture memorization, daily devotionals, weekly Bible study and Sunday visits to area churches, "and we just pray that it is instilled in them in some way."
2. Life skills: These are the basics, Dent says, like helping cook, completing chores and exercising. Hope Harbor is a no cell phone, limited computer environment, and the one gaming system that is available is a basic Wii.
"You do see behaviors that come with devices, but more than that, it's removing them from the environment they were in before," Dent said. "It's stripping everything away, because we want them to focus on themselves and their relationship with their parents, and then slowly adding it back."
3. School: Classes at Hope Harbor are taught by a single teacher and required year-around, "because a lot of the kids are behind and this gives them the opportunity to catch up," Dent said. "And those who are caught up, it gives them a chance to get ahead."
4. Biblical counseling: This is offered once a week and teaches skills that include social behaviors, identification with Christ, financial responsibility and the development of coping skills that work for them.
"And if we find that something isn't working," Dent says, "we take that off the list and try something else.
"You coach them in the beginning, and then it becomes natural, and it's really cool to see that process."
All of the growth at Hope Harbor is gradual and measured by a three-phase approach.
Phase 1 is orientation, with no off-site in-person contact with parents. A weekly phone call and visit is permitted, but Dent says the idea is to acclimate the teen into a new environment entirely, without any outside forces at work.
"We just want to help them adjust to the rules here and the expectations," she said. "It's basic life skills and creating good habits. It's up to them to decide how long that no-contact period of time lasts; we try to get them there, because we know they can do it, but it's ultimately up to the teen.
The second phase is practicing going home, where the teen alternates between living at Hope Harbor and at home. During this time the parents fill out evaluations in response to the child's behavior so the Hope Harbor staff can readjust their oversight and guidance accordingly.
"Their behavior is going to look different at home than it is here," Dent said. "We want to help them practice positive behavior all the time, regardless of where they are."
In the third and final phase, the teen is home every weekend — 5:30 p.m. on Friday until 5:30 p.m. on Sunday, with extended weekends when it is appropriate. It is also during this time that Hope Harbor works to reacclimate the teen with the school which they will be returning.
While Hope Harbor is not accredited, it works with an education platform called Lighthouse Christian Academy, a dual enrollment program that offers year-round classes and allows for the transfer of credits.
"We want to make sure we're setting them up for success in the future," Dent said.
There is no prescribed timeframe in which these phases are completed.
"It's a case by case, program by program deal," said Dent. "Just because one program works for one doesn't mean the next one is going to look the same, because it's not."
Once all the requirements are met — which includes a salvation plan and testimony that is developed with guidance from the Biblical counselor on staff — the families can decide if their time at Hope Harbor has come to an end.
"Once that is done the parents can say, 'Yes, we're ready for them to come home — we see that they're ready to go home' — then we set a date and then we celebrate."
Dent says that celebration is called Setting Sail.
Brady set sail about a year after joining the Hope Harbor community and today is a junior at Beresford, which is where his dad lives. His mom says Brady's time at Hope Harbor was transformative for everybody involved; he learned to manage his anger and Rachel was given a new lease on parenting.
"We learned how to process our emotions and our experiences," she said, "and just learned how to forgive people and forgive yourself."
Brady still gets angry, Rachel says, but he now has the skills to deal with it appropriately — to walk away and return later to talk about it.
"I just commend him so much," she says. "He decided early on that he was going to learn, to study, to commit and to do the program well. And they gave him everything they needed — above and beyond.
'THIS PLACE
CALLED HOPE HARBOR'
Amanda Dent and her family moved to the area from Georgia in 2014 when her husband, Scott, took a calling at the Church of God in Marion. Today, that family includes three daughters who attend Freeman Public; Alyssa is a junior, Ryleigh is a freshman and Presley is a kindergartener.
Amanda says her work with Hope Harbor is God's calling — she doesn't have any doubt about it.
Consider:
Dent had been working as a paraprofessional in the Marion School District before resigning in May of 2019 to become a full-time student studying elementary education and special education through Dakota State University's online program.
"That was it; I was going to go to school fulltime and I was going to work at the church as a secretary and janitor, just to help," she says. "That was the plan.
"That's when a friend reached out and said, 'Hey, there's this place called Hope Harbor and they're opening up in Parker and they need a teacher,
' and I said, 'But I'm going to school fulltime."
Dent ended up looking up Hope Harbor and inquiring about the job, but was told not to bother.
"They were not looking to hire a female," Dent said. "Being a boys home, they naturally wanted to hire a male. But I was rather persistent, and through my persistence I ended up getting the job.
"I just felt like this was something I was supposed to do," she says of that persistence.
Dent took on the role of teacher when Hope Harbor opened in November of 2019, but also continued with her online classes, posting As and Bs along the way. But by the time the 2019 fall semester ended, the weight of a full-time job, full-time school and — in theory — full-time parent and wife became too much.
"I was like, alright, I am not meant to be in school right now," she said. "If I'm supposed to finish, then I'll finish. If that door opens, then I'll know when it's open. But right now it's closed, and I'm OK with that. Because I love what I do."
Dent, who will be 40 in May, moved into her title of site director last November — two years after Hope Harbor opened.
She didn't initially want to.
"I was comfortable," she says. "I knew how to be a teacher; that's something I've always wanted to do. But it was God saying, 'Whether you get this position or not, go through the process.' It was more to challenge myself in growth than anything."
And, through her work at Hope Harbor, Dent has seen and felt that growth personally. She has learned to appreciate new things and has gained confidence in her ability to do something she maybe thought she couldn't.
"When you're told, 'You won't enjoy that' or 'You're not supposed to do that,' or 'You can't do that,' and then you try it and it's 'But I do,' or 'I can.'
"Here I am, an adult, overcoming that," she continues. "I feel like, how can I tell these boys, 'You can do this,' if I'm not trying to grow myself?"
With all that comes both challenges and rewards, but Dent doesn't hesitate which is greater. It's the reward, she says, "even on the worst day."
"You just find the positives — find the wins," she said. "Maybe you had a breakdown that didn't last as long, or maybe somebody comes in who says they ran into so-and-so and asked them about their time at Hope Harbor, and they say that's where they accepted Christ.
"To me it's planting that seed; it's walking alongside them and loving them and teaching them, regardless of where they are at in life.
"That's ultimately what we are all called to do."