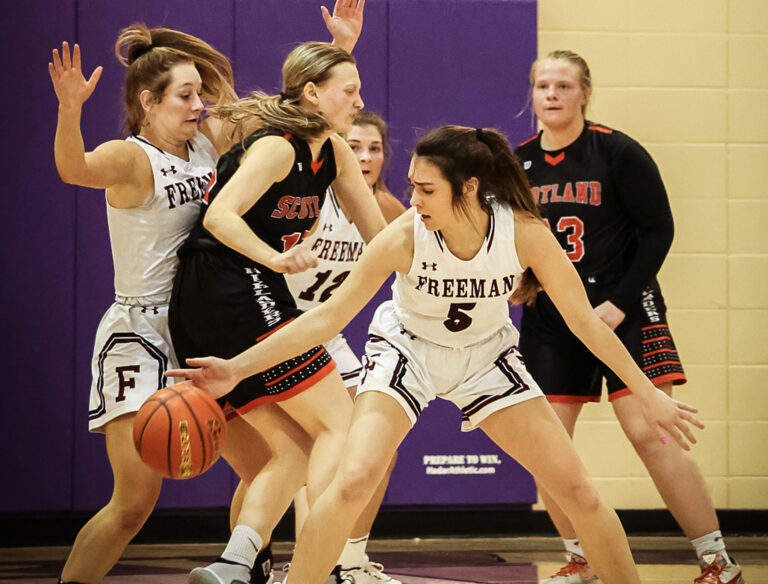 news, sports
FULL REPORT: FLYERS OUTBATTLE HIGHLANDERS
A game that looked like it might go down to the wire ended up swinging in favor of Freeman late and the Flyers emerged from a physical battle with Scotland claiming a win in the second round of the Region 5B Tournament Tuesday night, Feb. 22.
Freeman, the No. 4 seed, beat the No. 5 Highlanders 38-31 in a game played in Centerville, and will now face top-seed Centerville Thursday, Feb. 24 in Scotland with a trip to the SoDak 16 on the line. Tipoff is set for 6 p.m.
The Flyers' victory over Scotland on Tuesday wasn't pretty, but not all wins are. Neither team shot particularly well — Freeman was just 9-for-22 from the free-throw line and Scotland shot just 19.5% from the field — and the Highlanders were whistled for 22 fouls, including a flagrant in what turned into a physical fourth quarter.
But the Freeman girls did what they needed to do in the second half to slowly build momentum after what had been a slow start for both teams. The game was tied 5-5 after the first quarter and the Flyers trailed 18-16 at the half.
"Offensively we got off to a slow start; we couldn't really find our flow or get into anything," said Flyers head coach Jenny Peters. "We adjusted a few things at halftime and had better ball movement in that second half."
Peters said her girls also stepped up their defensive intensity in the third and fourth quarters, taking Scotland out of any sort of half-court rhythm and allowing the Flyers to better control the boards. Not only did Freeman's defensive prowess help create momentum for the Flyers, it also frustrated the Highlanders, leading them to commit multiple offensive fouls away from the ball that helped Freeman extend its lead in the second half of the fourth quarter.
"I told the girls we were going to have to play with intensity because Scotland is an up-tempo, fast-paced team," Peters said. "I told them we were going to have to take it up a notch."
The Flyers' early struggles offensively were largely due to Scotland's ability to clog the lane and prevent Kate Miller, Freeman's leading scorer on the season, from getting much done. Early points came, in part, from a three-pointer from freshman Peyton McCune and a layup in transition from seventh grader Rylee Peters, but there wasn't much done by way of dribble-penetration or ball movement — something the Flyers can do well.
But Scotland wasn't finding much success, either, thanks to a diamond press and stingy half-court defense that limited high-percentage shots. The net result was a low scoring, back-and-forth first 16 minutes that set the stage for a second half that appeared to be anybody's for the taking.
Down two, Freeman had the ball first to start the third quarter but turned it over — one of 11 giveaways for the Flyers on the night — and Scotland responded with a bucket that gave them a four-point lead, the largest of the night up to that point.
But junior Erin Uecker responded with three-pointers on back-to-back possessions that turned a 16-20 deficit into a 22-20 Freeman lead with under 6 minutes left in the third quarter; Uecker had three three-pointers for the game and led all scorers with 17 points.
"Those two quick threes from Erin got us going," Peters said. "We realized that we could do this — that it was now or never."
But turnovers and missed opportunities the rest of the third period prevented the Flyers from extending their lead and the game went into the final frame with Freeman leading 25-24.
It was 27-25 early in the fourth quarter on a 10-foot jumper from Uecker in the lane, but the Highlanders countered with a field goal of their own to tie it up, after which Freeman sophomore Ashlin Jacobsen got free inside for a bucket to make it 29-27 with 5:40 to play, and the Flyers led the rest of the way.
A steal by Peters on Scotland's ensuing possession led to a sweet Peters-to-Miller layup that gave Freeman a 31-27 advantage, and that's when things started to get physical. Scotland senior forward Audrey Sayler was called for a flagrant foul on Miller on Freeman's next possession, and by the 3-minute mark the Flyers had opened up a 35-27 lead.
Scotland had closed the gap to 38-32 with 40 seconds left and had a good look at a three-pointer that would have made it 38-35, but it rattled out and sophomore Cami Fransen finished off the scoring with a free throw to bring the game to its 39-32 final.
"We just came out with a different intensity (in that second half)," Peters said. "They had more of a will to win."
Scotland, which had defeated Freeman 49-36 during the regular season, finishes the year 10-11.
The Flyers take a 10-10 record into their game against 19-2 Centerville, which won over Freeman 47-33 during the regular season.
Erin Uecker – 17 points, 9 rebounds, 4 blocks, 1 assist, 1 steal; Kate Miller – 9 points, 7 rebounds, 3 blocks, 2 assists; Peyton McCune – 5 points, 4 rebounds; Rylee Peters – 4 points, 1 rebound, 2 steals; Ashlin Jacobsen – 3 points, 4 rebounds, 2 assists; Cami Fransen – 1 point, 2 rebounds