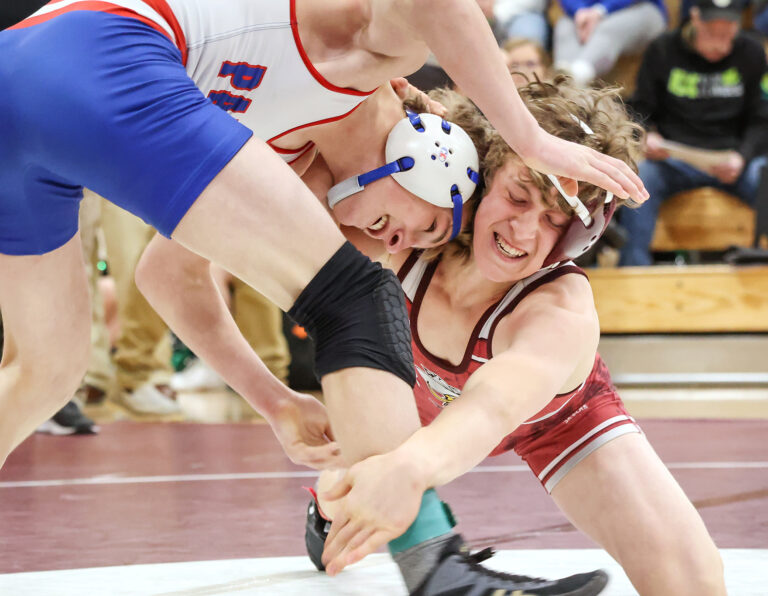 news, sports
NEW: TSCHETTER EARNS RETURN TRIP TO STATE
JEREMY WALTNER  – PUBLISHER
As a seventh grader a year ago, Riley Tschetter was probably thrilled just to make it to the State Wrestling Tournament in his rookie season wrestling at the varsity level, never mind that he lost both of his matches in the 106 lb. weight division.
This year?
"I'm just going out there planning on winning," he said.
Tschetter will get his chance starting Thursday, Feb. 24 when he and Menno junior Owen Eitemiller represent the Marion/Freeman Rebels at the 2022 State Wrestling Tournament at the Premier Center in Sioux Falls. Action starts at 9 a.m., continues all day Friday and then concludes with the dual competition on Saturday.
The eighth grader earned his spot in the field by finishing second in the 132 lbs. division of the Region 2B Tournament hosted by Freeman Public Saturday, Feb. 19.
Tschetter, the region's No. 2 seed, had a first-round bye; pinned Parker freshman Michael Even; and then lost to Canton junior Kale Ask, the region's top-seed and second-ranked wrestler in the state at 132 lbs. in the championship round.
"When he's on the attack and gets going, he's a tough kid to beat," head coach Chris Sayler said of Tschetter, noting he has faced — and done well against — older and more experienced competition throughout the season. "He did some good things during the year to get him in this position."
Tschetter is seeded eighth in the state in his weight class and takes a 29-17 record into this week's tournament. He is the only middle school-aged wrestler in the 132 lb. field and will face Lyman sophomore Kellen Griffith (30-9) in his opening match — a kid he pinned earlier in the season.
"Hopefully that can happen again," Sayler said, "but we don't take anything for granted."
"I just really need to look at it like any other match," Tschetter said. "I have to wrestle a little tougher; a little more physical. I think (a lot of success) has to do with your work ethic and how you prepare."
Tschetter will be joined by Eitemiller, who finished fourth in the region competition at 152 lbs. to claim the last spot in the 2B field. It will be the first trip to state for Eitemiller, who takes a 23-22 record into the tournament and will battle Canton senior Luke Richardson in the opening round on Friday.
"He's got a tough first-round match, but I think we learned a few things from Saturday," Sayler said. "State's goofy; there are upsets in the first round every year. Kids look ahead and an underdog comes in and knocks them off."
A win for Tschetter and/or Eitemiller would put them in the quarterfinals starting at 3 p.m. on Thursday. A loss would mean a spot in the first-round consolation bracket, which will unfold at the same time as the quarterfinals.
Back-to-back losses would eliminate them from competition.
Should Tschetter and/or Eitemiller survive Thursday — meaning they win twice — they would compete again on Friday and be guaranteed a top-eight finish. Semifinals and third-round consolation matches begin at 9 a.m. on Friday, with fourth-round consolation matches to follow. The medal round begins at 3 p.m.
Tschetter is excited to be joined by Eitemiller in Sioux Falls.
"I can learn a lot of things from him," Tschetter says of his teammate. "He works really hard; it's nice to have someone older in the room."
Region 2B Tournament
Marion-Freeman nearly added more to its state tournament representation at the region competition on Saturday, but a number of other candidates didn't quite get the job done with a top-four finish.
At 106 lbs., seventh grader Brody Gossen won twice but was eliminated in a close 4-2 match in the round that would have earned him fifth place.
At 113 lbs., seventh grader Josh Popkens, and freshman Keaton Preheim at 120 lbs., both won a pair of matches in the consolation round to take home fifth place.
At 126 lbs., freshman Finley McConniel scored a win after his first-round loss but was defeated in a close fifth/sixth place match 12-9.
In a tough 145 lb. field, junior Zac Sayler picked up a 12-3 major decision in the consolation round but couldn't get any further.
And at 160 lbs., senior Tim Epp pinned a tough No. 4 seed in the quarterfinal round, but dropped a match that would have taken him to state; instead he finished fifth, winning the final match of his career 3-0.
"He's worked hard for four years," Sayler said of Epp, the only senior on the team. "It would have been great to see him get through; he would have been the first FA kid to qualify for a state tournament. At least he put himself in a position to get there."
That was true of most of the Marion/Freeman lineup on Saturday.
"Everybody won a match," said the coach. "We only wrestled eight guys — we had injuries and were down three people — but going into the blood round we had one kid qualified and six more still alive with chances to get in."
Sayler said he hopes that serves as motivation for the years to come, especially when it comes to effort during the season.
"There were kids who got beat (on Saturday) and that's the most upset I've seen them all year," he said. "We can't just work hard that last week; we've got to work hard all year."
As for Freeman Public playing host to the Region 2B Tournament for the third time since 2012, Sayler said it went well.
"People love coming to Freeman; why wouldn't you?" he said. "We don't have the biggest gym in the region, but we've got a great facility and the atmosphere is so good.
"It gets really loud in there, and people love that."