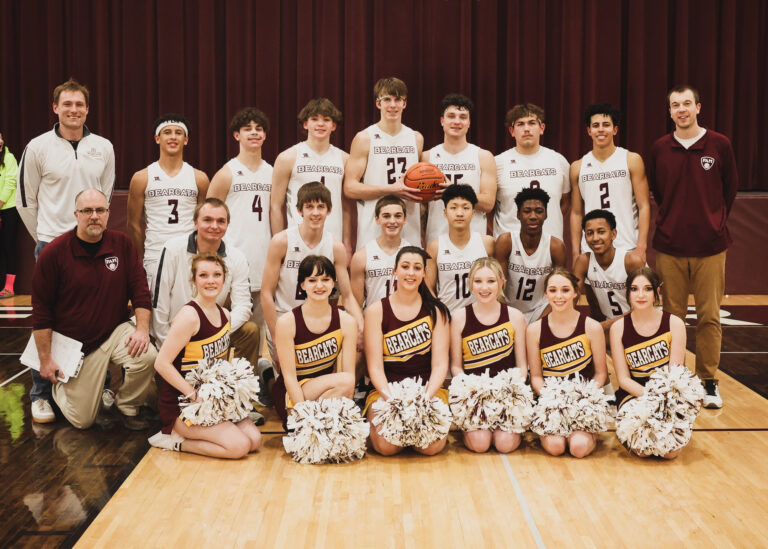 news, sports
FULL REPORT: FAM ADVANCES TO SODAK 16
In the same way the Region 5B final of last year sticks with the Freeman Academy/Marion basketball community, so will the Region 5B final of Friday night, March 4, 2022 — this one for an entirely different reason.
Facing an upset-minded Irene-Wakonda team that had played them to just eight points during the regular season, the top-seeded Bearcats shot and defended their way to a dominating 66-32 win in front of a loud crowd that packed a hot house at Freeman Public. In doing so, the FAM boys advance to their first SoDak 16 in program history after just missing the mark the past two seasons, including last year's heartbreaking overtime loss to Viborg-Hurley.
The Bearcats, now 20-2, are the No. 6 seed in the SoDak 16 and will face No. 11 Timber Lake (18-3) Tuesday night, March 8 at James Valley Christian in Huron. Tipoff is set for 7 p.m.
"A lot of fun," said senior Thalen Schroeder, whose 20 points, six rebounds and intangible defensive play in the middle helped carry the Bearcats to what was an exhilarating win over the Eagles on Friday. "The last time we played them we weren't our best, so tonight we wanted to come out and give them our best stuff, and we did."
And what did their best stuff look like?
How about a 19-0 run to start the second quarter in just under 4 minutes that turned a FAM 10-9 lead into a 29-9 game-changer that had Irene-Wakonda stunned.
"We just shot like crazy," said Quincy Blue, who connected on one of five three pointers that fell during that 19-0 run. "Once those shots started falling, we just ran with it. After that, we knew if we just kept the pedal to the metal, there was no turning back."
How about a defense that included eight steals from Donte Butler, that held the Eagles to just five points in the third period and, at 32 points for the game, their lowest point total against a Class B team all season?
"We were focused and ready," said point guard Connor Epp, who finished with 15 points and six assists. "Coach prepared us all week for our assignments and getting in that defensive mindset and being locked in before the game, and that's exactly what we did, and I believe that's why we had the outcome we did."
In addition to their full-court press, the Bearcats implemented a 1-3-1 defense in the half court designed to prevent Irene-Wakonda from getting opportunities in the middle — specifically from 6-9 sophomore Jake Kuhl, who went down late in the game with what appeared to be a bad knee injury.
"The big thing for us was our interior defense," said head coach Austin Unruh, whose game plan included post-player frontage, effective backside help and aggressive play out front. "Great post defense starts with great ball pressure on the perimeter guards, and we did that. It's hard to make a good entry pass against that kind of pressure."
FAM's 34-point win was the largest margin of victory in any of the eight region games played on Friday night — even bigger than 29-point wins by Class B No. 1 De Smet, which took down Estelline-Hendricks 79-50, and No. 2 White River, which eliminated No. 4 Wall 67-38.
"We committed to a game plan and we executed at a very high level," Unruh said. "I'm very, very proud of the guys, and I will remember that 19-0 run for a long time. The gym, the atmosphere, the connection between fans and the players and the bench — it was electric."
From left: FAM's Dylan Johansen, Connor Epp, Thalen Schroeder, Quincy Blue and Donte Butler break from a huddle going into the fourth quarter. PHOTO BY JEREMY WALTNERSODAK 16 ON THE LINE
While Freeman Academy/Marion was the clear-cut favorite against Irene-Wakonda, which went into the game with a 9-12 record, the Bearcats knew it wouldn't necessarily be an easy task. They didn't play well against the Eagles during the regular season and would once again have to contend with a team that had the edge in size.
And the first quarter didn't exactly go as planned. While FAM went up 5-0 quickly on a Butler three-pointer and a Schroeder jumper from the paint, the Bearcats failed to capitalize on a number of opportunities and actually trailed by a bucket midway through the period before clinging to a 10-9 lead at the quarter break.
"At the end of the first quarter we talked about it," said Unruh. "Our defense was excellent — we gave up nine points — but we were stopping ourselves on offense. We missed layups, we were careless with the ball and had turnovers and we missed free throws.
"We were only stopping ourselves and they knew that; they're such a mature group that they were talking about it before I talked about it — they said it before I said it. They knew what we needed to fix and knew they needed to stay locked in on defense."
Whatever wake-up call the Bearcats needed they got, because that run in the second quarter is one that won't soon be forgotten, if ever. It started with three-pointers from Maddox Kihne, Schroeder and Epp that made it 19-9 in a hurry, continued with a steal and a layup from Epp that made it 21-9 just 1:35 into the second quarter, and got even wilder thanks to a three-pointer from Blue and another from Kihne that made it 27-9 with 5:20 left in the half. By the time FAM extended its run to 19-0, just 3:54 had expired from the second quarter clock.
"I see that all the time in practice," Unruh said of his team's artillery. "I'm just glad that everyone else had a chance to enjoy what I see every day."
"There were a lot of highs," said Epp. "We got the shots rolling in the second quarter and that's what we needed; we just keep feeding off that."
But Epp highlights the team's stout defense rather than the barrage of long-range connections.
"A lot of people are going to see the threes that we hit as the thing that kept us going," he said, "but it was our defense the whole way."
The Bearcats ended up outscoring the Eagles 24-8 in that second quarter and led 34-17 at the half. They connected on eight three-pointers in the first 16 minutes of play, six of which came in the second quarter, to account for 24 of their 34 points in the half.
FAM continued to pull away in the third period, this time not so much by way of three-pointers but rather aggressive dribble-drive penetration, strong moves to the basket and that relentless defensive effort that held Irene-Wakonda to just five points in the third quarter.
It was 52-22 when the fourth period started and it wasn't long before Unruh began pulling his starters to a standing ovation from an FAM crowd that had been so loud that players said later they couldn't hear each other on the court and Unruh said that, at times, he had a hard time hearing the referees' whistle.
"It was incredible," Blue said of the electric environment. "Even last year, when we played against Viborg-Hurley, it was loud but nothing like this."
"The atmosphere was crazy," said Kihne, a junior who is in his first year playing for the Bearcats after transferring to Freeman Academy from Harrisburg. "All the fans, the students; once the second quarter got rolling we couldn't hear anything else."
"Huge environment," said Schroeder. "It was an experience to be playing in that gym."
Unruh noted the widespread support he felt from a FAM system that included fans from Freeman Aademy and Marion, but also from students and adults from Freeman Public who helped fill the Bearcats' side of the gym to capacity and spilled over to the other side.
"It was a joy to see the support from the communities — plural," said the coach. "It was a mixed student section from three schools who were all here for one reason, and that was really special to me."
"There's nothing like Class B basketball in South Dakota," said Epp. "We had a packed crowd and our fans were just as much a part of this as we are. With us making our shots and playing our defense, they get behind us and get us rolling. What can't we do with that?"
The crowd on FAM's side of the court gives the Bearcats a rousing ovation following their 66-32 win over Irene-Wakonda. PHOTO BY JEREMY WALTNER​ONE GAME TO GLORY
FAM's win on Friday night puts them one step closer to their ultimate goal: the State Bs in Aberdeen March 17-19. To get there the Bearcats will have to take care of Timber Lake in Tuesday's SoDak 16 — a matchup Unruh likes.
"I'm very pleased with that draw," said the coach. "I think it worked out well for us."
The Panthers are a senior-heavy team with seven of them, including a dangerous guard in Hank Kraft, but the majority of Timber Lake's wins came against West River teams that finished the season around or below .500. They did, however, defeat Harding County (17-5) 57-45 and Lyman (16-6) 71-67;
Their three losses came against Faulkton Area (16-6), Warner (13-9) and No. 3 Potter County (21-1).
Timber Lake was the top seed in Region 8 and defeated No. 4 Lemmon 65-55 to advance to Tuesday's round of 16. The Panthers average 59.4 points per game to FAM's 66.6 and allow 45.7 points per game to the Bearcats' 43.9.
FAM has a greater average margin of victory (22.7 points) than Timber Lake (13.7).
Epp said he felt some nerves going into Friday night's Region 5B final against Irene-Wakonda and likely will on Tuesday.
"It's postseason basketball, so nerves are going to be there," he said. "Coach keeps reminding us — regular season, yeah, great, 18-2. That's all over now. It's 0-0. Every team is going to be fighting for their lives."
"Tonight we'll enjoy it, but tomorrow we're right back to our mission," Blue said after the win over Irene-Wakonda. "This is just the start. This weekend we'll get some shots up and just try to stay locked in. We'll look up film, watch them and prepare. Honestly, in the postseason, the preparation is the same. You go in and you play your game."
"Hard work every day," said Schroeder. "Keep doing the little things we've been working on all season and come with the mindset that we're going to outwork the other team, whoever steps on the court, and hopefully we'll go far. That's the plan."
"This evening we celebrate, but tomorrow morning we wake up with a new mission," Unruh said Friday night. "We'll wait to see who our matchup is, we get in the film room, we do what we need to do, and we get ourselves ready for another game to meet our ultimate goal — to get to Aberdeen."