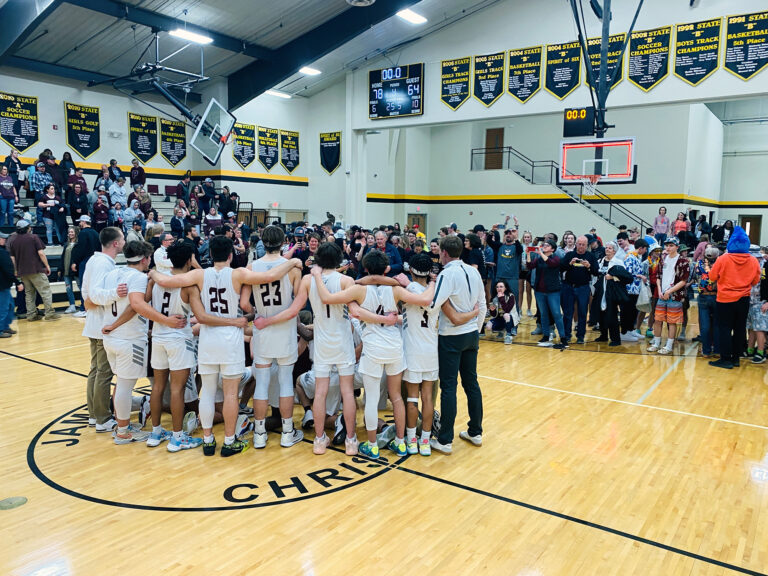 news, newsletter
FULL REPORT: BEARCATS ARE 'B' BOUND
In his written preseason report distributed to area media outlets late last year, Austin Unruh suggested this year's Freeman Academy/Marion team would be "must-see Class B basketball."
He was right.
And now an entire state will be able to watch.
The Freeman Academy/Marion boys reached their goal and advanced to the 2022 State B Basketball Tournament with an unforgettable 78-64 win over Timber Lake in the SoDak 16 Tuesday night, March 8. They head to Aberdeen as the No. 6 seed and will face No. 3 White River in the final game of the first round Thursday, March 17 at the Barnett Center on the campus of Northern State University. Tipoff is scheduled for 7:45 p.m.
The Bearcats take a 21-2 record to state while the Tigers are 19-2.
White River is ranked No. 2 in Class B behind only De Smet.
A team from Freeman Academy has never played in a state basketball tournament and Marion was last there in 1999.
Community pep rally, sendoff planned 
"It's pretty surreal; I can't really get my head around it," junior point guard Connor Epp said in the moments following Tuesday night's win. "I mean, we're going to state. We've been building for this for years and now it's here."
"It's an unreal feeling; I can't describe it," said Matt Hagen, a junior who comes off the bench and whose friendship with Epp through Pentagon League basketball is what prompted him to transfer from Sioux Falls Washington to Freeman Academy last year. "When I came here, I was just hoping to get some minutes on varsity, and here we are going to state.
"I'm a little emotional right now," he continued. "I've never been part of something this big. Playing at a big Sioux Falls school, I've always been the guy who sits on the bench all game, so it means a lot to me to go out there and do what I can to help the team win."
Hagen is part of a highly systematic approach to the game that features strong team play — especially on the defensive end — from seven juniors and seniors. That's what lifted FAM to an 18-2 record in the regular season and to Region 5B wins over Alcester-Hudson and Irene-Wakonda by a combined score of 136-66.
And that's what led to the Bearcats' SoDak 16 game against a Timber Lake team that came in with an 18-3 record and as the No. 11 seed, and with seven seniors on the roster and highly motivated to score an upset.
It didn't happen.
Instead, FAM used five three-pointers in the first quarter to help build a 19-12 lead, held a 33-22 advantage at the half and led 71-45 with under five minutes to play to all but ensure their place at state. Indeed, a late run by the Panthers was too little too late, and all there was left to do for the Bearcats was to celebrate — and smile.
"What else can we do in this moment?" said head coach Austin Unruh, struggling to fight through the emotion of the night, the season, and all that led up to what is arguably the biggest win in Freeman Academy basketball history. "I'm so happy for the guys, that they get to experience this moment — the relationship between the hard work and the payoff. I'm just so glad we found that connection, and they earned it; they've earned it. The way they look after each other on and off the court, the close-knit nature of this group, the way they play together. I'm so proud of them."
FAM sets tone
While Freeman Academy/Marion coaches and players will say that their game is driven by a relentless defense that includes a full-court press and a high-intensity zone defense in the half-court, it's been their high-octane offense that has brought fans to their feet.
That was certainly the case in the Region 5B final against Irene-Wakonda, when the Bearcats rattled off a 19-0 run in the first 4 minutes of the second period thanks in large part to five three-pointers on their first six possessions and finished with 10 for the game.
And FAM picked up right where it left off against Timber Lake on Tuesday.
Donte Butler and Epp both connected on a pair of three-pointers and Quincy Blue drained another as the Bearcats set the tone by way of a 19-12 lead at the end of the first quarter. FAM opened up a double-digit lead at 27-14 early in the second period on back-to-back layups, one by Epp in the half-court and another on a steal and finish by Hagen, and led by as many as 15 in that first half.
But the Bearcats struggled to extend the lead despite multiple good looks at the iron and connected on just one field goal attempt in the final 4 minutes — a runner from the perimeter from Maddox Kihne.
Still, FAM's offensive onslaught in the first 12 minutes of the game, coupled with defensive ball pressure the Panthers struggled to handle, gave them a 33-22 lead at the half.
The Epp factor
"These boys are here to play."
That's what one of the commentators calling the game on the Hub City Radio livestream said in the first half of the Bearcats' effort against Timber Lake.
He was talking about the team, of course, but he may as well have been talking about Epp, whose 10 points in the first quarter was a prelude of what would end up being a career night.
The quick lefthander torched the Panther's defense all night long, drilling threes, slashing and dashing straight to the goal and finding his way to the free-throw line thanks to aggressive dribble-penetration. Epp finished with a game-high 32 points on 4-of-5 shooting from downtown, 7-of-10 from two-point range and 6-of-10 from the charity stripe.
"He is un-guardable," said FAM starting senior forward Quincy Blue. "I've said the only player who has a chance of guarding him is myself — and I stand by that — and he showed it tonight. He was getting to the rim, he was hitting middies, he was hitting everything. The only thing he was lacking was a little free-throw shooting, but he'll get that down."
"I was just having fun," shrugged Epp, who dished out eight assists to go with his 32 points. "We'd prepared for this moment for so long; our program has been building and building and we finally got here. Coach got us prepared for me to do what I do and the team to do what the team does, and we got it done."
The buffer Epp and the Bearcats created in the first quarter-and-a-half helped keep Timber Lake an arms-length away in the third period despite a 7-4 Panthers run in the first three minutes that made it 37-29.
That's as close as it would get, though.
Epp scored four straight points thanks to an alley-oop field goal from Thaniel Schroeder and a layup in transition after a FAM steal that made it 41-29 with 3:49 to play in the third.
The Bearcats opened up their biggest lead of the game thanks to three points from Maddox Kihne and Epp on back-to-back possessions that made it 51-35 with under 2 minutes to play in the quarter, and it was 56-43 going into the final period thanks to another Kihne three-pointer just before the third-quarter buzzer.
Closing out the game
Even though FAM held a double-digit lead for much of the game, the Panthers hung around. They had cut the lead to eight early in the third quarter, and then made one final push late in the game that gave them a glimmer of hope. The Bearcats had continued to find ways to score from multiple players and locations on the floor, building a 26-point lead midway through the fourth quarter, but Timber Lake responded with a 12-0 run that made it a 71-57 game with under 2 minutes to play.
"They were relentless," said Blue. "Them not quitting was amazing to see because that's what we would have done if we were in their shoes."
"They were not going to quit," said Unruh. "They've got way too many senior leaders on that team to ever quit. I mean, they're a great team. They're athletic, they play together, they knew where everyone was on the court, but we ended up on the top of this one. Great win."
In the end, the Bearcats squelched any hopes of a miraculous Panthers comeback by making free throws when they mattered most — two from Epp with 1:42 to play that made it 73-57 and another pair from Blue with 1:20 left that made it 75-57 that all but sealed the deal.
What followed was an ovation from a FAM fan base that included many from the Freeman Public community, smiles on the sideline from Unruh as the final minute ticked off the clock, and an unbridled celebration after the final buzzer sounded that included a storming of the court by the Bearcats student section even though they were not supposed to.
"This is what we've been working toward for six years now, ever since I started playing with these guys," said Blue. "It's an amazing feeling; nothing like it. The energy, the atmosphere, just all the fans. It's amazing. The whole community just getting behind us and supporting us is something special."
Like he said following the Region 5B win over Irene-Wakonda that got the Bearcats into the SoDak 16, Epp said it was the defense that lifted FAM to the win over Timber Lake.
"Absolutely," he said. "That's what we've talked about this whole postseason. The team with the best defense has the best chance of winning, because everyone can score at this point in the season."
Unruh described the defensive approach as "high-octane."
"We knew we had great rotation, we've really amped up our full-court press the last few weeks and felt comfortable with it coming in, and we had them rattled there at the start with our speed, rotation, long arms and fast footwork.
"That made them uncomfortable early and that was to our advantage."
The Bearcats ended up shooting 54% from the field that included 11-for-25 shooting from three-point range. Factoring in their long-range effort against Irene-Wakonda in the region final, FAM connected on 21 three-pointers the past two games.
The Bearcats also had 18 team assists in the SoDak 16 win, with 11 of those coming from Epp and Blue.
In addition to Epp's 32 points, Blue and Schroeder each went for 14 and Kihne finished with 10.
Growth of the program
What Freeman Academy/Marion has done this season is a byproduct of years of work and growth on the backs of players who came before. Unruh said after the SoDak 16 game he talked with Stephen Waltner, who was a senior when Blue, Butler, Johansen and Schroeder were eighth graders.
"He was so happy," said the coach, noting that the Bearcats won seven games in Waltner's final season. "But that group was willing to practice for hours at a time, through the end of the year, because they knew that these guys had the potential to be great and he wanted to help make them better."
Waltner wasn't alone. Unruh also names Brennan Haggerty, Thaniel Schroeder, Gavin Pankratz, Peyton Arbach, Elijah Stahl, Junior Montero …
"They're just as much a part of this as anyone else, because they were willing to help build this program," Unruh said. "These guys are carrying their torch."
All the way to Aberdeen.
Indeed, the next time the Bearcats will face an opponent it will be on the Barnett Center court, and Unruh says he can't wait.
"What a moment that will be," he said. "I'm so happy for these guys that they get to experience it after all these years of work."
"It means everything," Epp said of getting to state. "Coach has brought us to this point; he tells us all the time that, as long as we play together, as long as we have fun, we can do anything, and I believe that. I know we can play with the best teams in the state and we're going to go out there and put our best stuff on the court."
Connor Epp – 32 points, 3 rebounds, 6 assists; Quincy Blue – 14 points, 6 rebounds, 2 steals, 5 assists; Thalen Schroeder – 14 points, 6 rebounds, 1 steal, 2 assists; Maddox Kihne – 10 points, 1 steal, 2 assists; Donte Butler – 6 points, 2 rebounds, 4 steals, 2 assists; Matt Hagen – 2 points, 6 rebounds, 1 steal, 1 block; Dylan Johansen – 1 rebound, 1 steal, 1 assist
EIGHT TEAMS, FOUR GAMES
The State B tournament field is as follows, with first-round games starting at noon on Thursday, March 17:
No. 1 De Smet vs. No. 8 Waubay-Summit (noon)
No. 4 Potter County vs. No. 5 Aberdeen Christian (1:45 p.m.)
No. 2 Lower Brule vs. No. 7 Castlewood (6 p.m.)
No. 3 White River vs. No. 6 Freeman Academy/Marion (7:45 p.m.)
Action continues for all teams both Friday and Saturday, March 18 and 19.