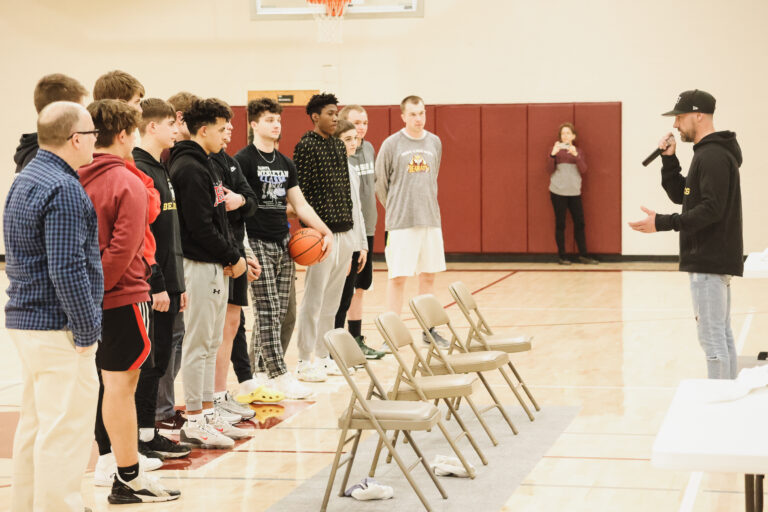 news, photo day
PEP RALLY ENERGIZES B-BOUND BEARCATS
Delmar Ortman sat in the front row of the Sterling Hall bleachers at the Tuesday night pep rally for the Freeman Academy/Marion boys basketball team in a state of amazement. It was a few minutes before the 6:30 p.m. start and the place was crackling with electricity as people assembled on the north bleachers of the Freeman Academy gymnasium to help give the State B-bound Bearcats a proper sendoff.
The 90-year-old shook his head.
"I'm having a hard time believing this," he said. "If somebody had told me in 1949, the year I graduated, that this was happening, I would have laughed them out of the building."
Ortman likely wasn't alone in his state of wonder. The past week has been a surreal one for an entire FAM community anticipating the first state basketball tournament in Freeman Academy school history. While good teams have come and gone over the years and decades, the contagious energy for the program evident in the days since the Bearcats punched their ticket to state with a SoDak 16 win over Timber Lake on March 8 has been hard to quantify. Certainly in recent history, there's been nothing like it for a school that has collectively lost far more games on the basketball court than it has won, hence Ortman's disbelief.
That no doubt contributed to the palpable zeal in the room for Tuesday's pep rally that went well beyond your garden variety school spirit, and the Bearcats got a sendoff they can probably still feel.
The band played loudly, the cheerleaders danced with great animation, Brad Carlson — the voice of the Bearcats — introduced the team and coaches with his usual enthusiasm, Marion sophomore Alexa Gortmaker sang the national anthem beautifully, and the crowd stood and cheered vigorously for the boys on multiple occasions.
The players played games.
And people spoke with emotion and enthusiasm.
Sheila Epp, the wife of assistant coach Nathan Epp, mom to junior point guard Connor Epp, assistant AD and an organizer of Tuesday's pep rally, broke down in her opening remarks. 
"This is truly awesome to see this family that has been created," she said. "So many relationships and friendships have been made in all team sports. This is truly a testament to everyone here."
Head coach Austin Epp reflected on where the Bearcats program has been and how far it has come.
"Six years ago we started playing basketball together as two communities," he said, noting that this year's seniors were seventh graders at the time, "and we didn't win very many games."
In fact, they won four of them, "but we finished that season with a win (in the postseason) and that win started something. They felt something different after that. And what came after that was years and years of hard work, dedication to the craft, and growing closer together as friends, families and communities.
"These guys put in countless hours of work, countless hours of play, countless hours of time together on and off the floor, and that is the work that's being honored this week."
Unruh said the Bearcats are not about a coach and are not about individual players, but rather a collective purpose.
"Hats off to these guys for all the amazing work they have done," he said. "They've taught me how to be a better person, they've taught each other how to be better people, and ultimately they've taught everyone how to come closer and be a tight-knit family, no matter who you are, where you're from, what school you go to or what your last name is. We play for the Bearcats and with FAM on the front of our jersey."
The coach then turned around to address his players directly.
"Tomorrow we head out, and when we hit the road it's going to be the time of our lives," Unruh told them. "But, we are going there with a mission, and I'll be up front right now; our mission as a group is we want to be 2-1 or greater coming out of this tournament. Yes, we've had a great season, but we are not done yet. Let's make it a great three days."
FAM cheer coach Tasha Olson spoke, too, and talked about her cheerleaders and their eyes on the Spirit of Six award that has been handed out at the state basketball tournament every year since 1970. The award was established by the South Dakota Peace Officer's Association to honor six cheerleaders from Rapid City High School who lost their lives in a plane crash returning from the State A Boys Tournament in Sioux Falls in 1968.
"We have a long road ahead of us, too," Olson said. "There are activities that we have to be involved in, meetings that we have to go, practices that we have to go to. So just to let you know that we're not just there to enjoy a weekend away. We are there to encourage the boys, to cheer them on in every situation."
As for the Spirit of Six competition itself, she said cheerleaders are judged on their enthusiasm, how they present themselves, how they decorate, stand up for their school, and handle their crowd.
"There are rules for the spectators," Olson said, "and the cheerleaders are in charge."
The Spirit of Six award is announced at halftime of the championship game.
Thalen Schroeder offered a few words on behalf of the seniors.
"Thank you all for coming; it means a lot," he said. "And thanks to Austin for pushing us our whole career. It's been a blast and we're excited to get on this trip and go."
But perhaps the most inspiring words of the night came from Brian Kihne, whose son, Maddox, transferred to Freeman Academy from Harrisburg to play basketball with his friends whom he had met through Pentagon League in Sioux Falls.
Kihne spoke on behalf of his family and also the family of Matthew Hagen, who transferred to Freeman Academy from Sioux Falls Washington last season, when thanking the Bearcat community for welcoming them into the fold.
"We're outsiders," he said. "I couldn't be prouder of all of you guys for accepting us in. What you guys have done for my son, for Matthew, accepting them in; it's a true blessing."
Kihne recalled his reaction when Maddox first started making noise about going to school at Freeman Academy almost a year ago.
"I was like, 'What? You're going to go to Freeman? You're not driving to Freeman every day; that's not going to work.'"
But getting it all figured out — Maddox lives in the school dorm during the week — has been a blessing, he said.
"After going through the process and meeting all of you, I truly want to say thank you to all of you and to this community," Kihne said. "It's amazing."
He then asked the players to come up and stand behind him as he talked about the team and a personal loss felt in the just the past few weeks, following the funeral of his dad and Maddox's grandpa.
"My dad and I always talked about these guys and this team," he said. "I've never seen a team like these guys; they take care of each other, nobody talks down to each other, if one's not making it through the game the other one picks them up. That's truly a team and what this whole thing is about.
"I've never seen anything like that; my dad always said that. We talked about that all the time, almost after every game."
And then he talked about the coaches.
"If you don't have good coaches, you don't have good players," Kihne said. "That's why this team is so amazing, because of the way these coaches coach. They're on a personal level; I never really had that growing up playing football and hockey. I didn't have a coach that I could go and talk to; there's four coaches here that they could go talk to at any given time. That is unheard of and a reason why Maddox is here today, and I think why Matt is here, too."
And now the Bearcats are going to state.
"This is a very special moment for these guys and we all get to enjoy it," Kihne continued. "Maddox said to me a couple days ago, 'Thanks, Dad, for letting me come to Freeman. It's a dream come true.' I don't know if it's a dream come true to come to Freeman — at least I didn't know it was until now — but what he meant was, it's a dream come true, out of 78 teams in the B league, we're going to the state tournament."
And the crowd went wild.
"This is a truly special moment," Kihne concluded. "It's a lot of work and your toughest road is ahead of you, but I'm not worried about that. With your faith, your determination, your drive and your teamwork, there's no reason we can't get this done."
The crowd went wild again.
And Delmar Ortman, who turns 91 in May, sat in a state of disbelief.