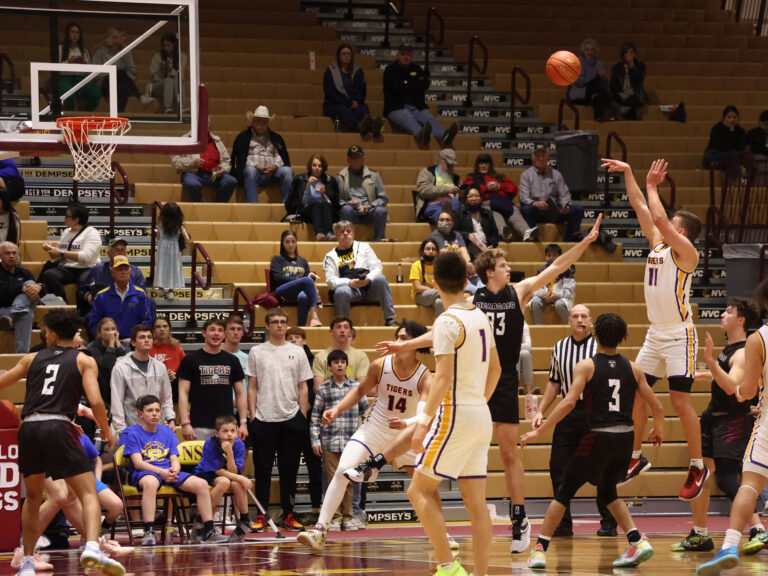 news, sports
FULL REPORT: FAM FALLS JUST SHORT IN UPSET BID
The 70 points posted by Freeman Academy/Marion in its opening game of the State B Basketball Tournament Thursday night, March 18 were more than any of the six teams who played before them produced.
But White River scored 75, and 43 of those came from junior sensation Joe Sayler.
And that's pretty much all you need to know about the Bearcats' first-ever game on the state's biggest stage in Aberdeen.
"Ultimately, Mr. 11 on the other side took care of business," FAM head coach Austin Unruh said of Sayler, who accounted for almost 60 percent of his team's points on 13-of-25 shooting from the field and 14-of-15 shooting from the free-throw line. "He's a phenomenal player; it's pretty hard to imagine (what he did). That was a night."
The Bearcats' loss dropped them to 21-3 and sends them to the consolation round on Friday where they will face Castlewood at 1:45 p.m. Castlewood, 17-7, is the tournament's No. 7 seed and fell just short in their own upset bid against No. 2 Lower Brule Thursday afternoon, succumbing to the Sioux 51-48 in overtime.
The White River Tigers, now 20-2, will face second-seed Lower Brule, 21-3, in Friday's semifinal round in a rematch game scheduled to tip at 7:45 p.m. The Tigers lost to the Sioux by 60-57 in the fourth game of the season — one of just two blemishes on their win/loss ledger; the other came against top-ranked De Smet.
"They're a great team," White River head coach Eldon Marshall said. "We're familiar with them, they're familiar with us; it's going to be a great game. Right now we're going to focus on getting rested up and get ready to go."
As for the Bearcats, they'll need to put Thursday's loss to the Tigers behind them, but they no doubt think about what could have been in an upset that was within reach.
SAYLER, TIGERS OUTLAST FAM
Solid shooting by White River early led to a 12-1 lead in the opening minutes of the first half, and FAM found itself down by double-digits throughout the first two periods. A team that was averaging seven three-pointers a game and had put up 21 in its previous two outings missed on its first seven attempts and struggled from the free-throw line, too, going 6-for-13 in that first half.
"We missed a lot of shots and hurt ourselves," said Unruh, whose team trailed by as many as 14 points late in the second quarter before Quincy Blue connected on the first triple of the night in the closing seconds of the second quarter to make it 33-22.
That was huge, said the coach.
"It reminded us that we can shoot the ball," he said. "We had a little bit of momentum and it carried over. That third quarter was fun."
Indeed, after Sayler opened up the third period with a three-pointer that got White River's lead to 14, the Bearcats began chipping away at the lead thanks to contributions from everybody; a field goal inside by senior Dylan Johansen made it 38-29, a Donte Butler layup made it 38-31, a Connor Epp layup made it 38-35 and a three-pointer by Thalen Schroeder that brought the house down made it 42-38.
Two free throws by Matt Hagen brought the Bearcats to within two at 42-40, and they took their first lead at 43-42 on another Blue three-pointer, and then again at 46-45 on another Schroeder three-pointer, with 1:15 left in the third period.
All told it was a 23-12 run.
"This is a team that never quits," said Unruh. "We're going to go down fighting; whatever the score is, we're never going to quit. These guys showed their heart, they showed their passion; a lot of teams who get down like that against a team that's got a player like (Sayler) just quit, and we just kept battling, down to the last second."
FAM trailed 49-48 heading into the final period but continued to battle, consistently responding to the explosive play of Sayler, who scored 19 of his 43 points in the final eight minutes.
The Bearcats were as close as 54-52 early in the fourth quarter and had a chance at another lead on a good three-point look from Schroeder that missed the mark, and the Tigers extended their lead to 58-52 and then 62-54.
But FAM refused to go quietly thanks largely to the play of Epp, whose 32 points in the SoDak 16 carried the Bearcats to Aberdeen. The junior point guard had another sensational game against White River, scoring 26 points on 7-of-13 shooting from the field and 12-of-15 shooting from the foul line.
Nineteen of Epp's points came in the second half, and he didn't miss a free throw late as he continued to draw contact on dribble-drive penetration in the closing minutes.
"They're a good basketball team," Marshall said of Freeman Academy/Marion. "They're very well-coached and they can all shoot the three, and that got the momentum going for them. Credit to them, but we kept attacking."
White River led 73-67 with under 10 seconds to play when Hagen swished a three-pointer from the top of the key to make it a one-possession game at 73-70 with seven seconds on the clock, but the Tigers finished off the Bearcats with two more free throws from — you guessed it: Joe Sayler.
"He showed why he's of the top players in the state — all classes," said Unruh. "He didn't miss a lot of shots tonight and I think we were playing pretty good defense. We threw guys at him, we threw pressure at him, he had very few open looks tonight, but he made them. Hats off to him; great player, great game."
"When Joe gets the ball and he gets rolling, he can score pretty much at will, and he did tonight," said Marshall, who has taken his team to the State Bs 17-straight times in his 19th-year coaching career at White River. "Makes me look good, makes our team look good and he did what he needed to do."
In addition to his 28 points, Epp had four assists; Hagen finished with 13 points and Schroeder went for 12 points and nine rebounds.
The Bearcats shot 57% from the field in the second half and 45.3% for the game and finished 17-for-25 from the free-throw line.
The Tigers shot 45.5% percent from the field for the game and went 19-for-24 from the foul line — including 16-for-17 in the second half.