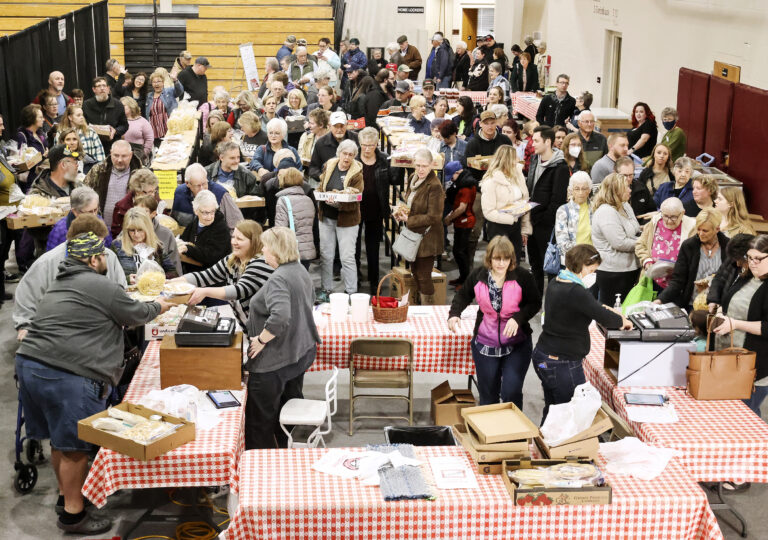 news
DEMAND PUTS SERIOUS DENT IN SUPPLY
JEREMY WALTNER  – PUBLISHER
Late Saturday afternoon, March 26, as they were filling mini meals made up of Schmeckfest sausage, stewed beef, sauerkraut and cheese buttons, volunteers with the Freeman Academy Auxiliary came to a startling realization that made their stomachs drop.
They were running out of food.
Because of a miscalculation in the amount of the food sold in bulk, officials didn't have enough to fill the meals as ordered and were forced to, at first, reduce quantities, then eliminate some of some of the items guests were counting on and, finally, in the case of about two dozen of the 230 orders placed, not deliver them at all.
"Because the demand for those bulk items was so high — on top of the meal — we somehow miscalculated how much was actually going out because it was so busy," said Kathy Kleinsasser, president of the auxiliary's executive committee that oversees Schmeckfest and organized this year's Schmeck Stop.
Kleinsasser said she couldn't help but think back to the first-ever Schmeckfest 63 years ago, when the Freeman Junior College Women's Auxiliary (as it was then known) famously underestimated the size of the crowd and couldn't accommodate the throng of hungry guests, turning many away.
That single-evening inaugural 1959 festival was later described as a "disaster."
"The panic that set in made me think of how the people in 1959 must have felt when they realized they were going to run out of food," Kleinsasser said. "We're in the middle of this rush and you'd say, 'Go get another roaster,' and there wasn't another roaster to get. It was all gone.
"We had to explain to people and take down names and we will make up for it this week," she continued; the second day of Schmeck Stop is Saturday, April 2. "This is something new again. We've never done this; we didn't know exactly how much people would want this."
Kleinsasser said the people whose orders could not be filled were contacted right away and they were, for the most part, sympathetic.
"They were understanding when they saw how crazy busy it was and how we could run into this problem. They could see how that could have happened."
Kleinsasser said on Monday she was personally making deliveries to those who live out of town, and others who missed out on their pre-ordered meal will simply pick up theirs this Saturday, when the Schmeck Stop concludes.
"Most of them are local and said, 'No big deal; we'll just come back next week,'" she said.
Country Kitchen
The to-go meals weren't the only area where the demand outweighed the supply on Saturday. The Country Kitchen was overrun, as well.
"It was chaos," said Amy Waltner, who worked closely with that aspect of this year's Schmeck Stop. "There were people lined up at noon and I turned people away at 11 a.m."
And it didn't take long after the 2 p.m. door opening that the challenges of the situation became apparent. Not only was the space curtained off on the west end of the Sterling Hall auditorium unable to handle the large assembly of those eager for traditional goods — "We thought this looked like the right amount of space, never dreaming there would be that amount of people," said Kleinsasser — but the foods were flying off the shelves, even as the line to get in extended all the way out to the parking lot.
"I would say after the first hour we were down to about half," said Waltner, who notes that by late afternoon kuchen, poppy seed rolls, pies, bierocks, rosettes and gashtel was gone, and the Country Kitchen closed about an hour and 15 minutes early.
"When we have the full-blown Schmeckfest, we know what to expect," she said. "We were just totally clueless. We didn't have any idea. People want homemade stuff, I guess."
Waltner said the challenges produced mixed reactions from the guests.
"There were some pretty disgruntled people," she said, "but there were also some who were very cordial."
In the end, about 50, 1 lb. bags of noodles out of the 235 prepared remained and, surprisingly, one thing the Country Kitchen did not run out of was the food that almost always runs out — cheese pockets. That's because organizers were prepared for the demand and made "an insane amount," said Waltner — about 500 dozen.
Cheese pockets aside, Waltner says the organizers thought they were prepared for the demand. In fact, she and others had gathered around 11 a.m. to price the foods, and several workers commented, "This is a lot of food; we're never going to get rid of it.
"But we didn't know," she said. "We didn't have any idea that it was going to be like this. All of us who were working just kind of looked at each other; we couldn't even get through the crowd to stock shelves. We were just in awe."
Food sales also included the popular Schmeckfest sausage, which was available for purchase both Friday afternoon and during the Country Kitchen hours on Saturday. Les Rensink, who has a long history with the sausage demonstration and sales, said about 5,000 lbs. of the 8,000 lbs. that had been prepared were sold by the end of Saturday.
While family commitments took Rensink out of town during last weekend's walk-in event, he understands there was a "traffic jam" there as well. The sausage folks had reconfigured the space inside the maintenance building to improve production workflow, which he said had an impact on foot traffic and people purchasing the product.
"I guess it was pretty crowded," he said. "It's just something you have to adapt to and something new to learn. But the mission to sell the sausage is going very well."
So what now?
The walk-in food sales and sales of mini meals will continue this Saturday, April 2 from 2 to 7 p.m., and organizers are adapting based on what they learned last week.
"We've got to make it so it's nicer for people to shop," said Waltner, who said the footprint of the Country Kitchen will expand and the cash registers used will be moved so not to interfere with the line of people perusing the goods for purchase. "We're going to have to," she said.
And volunteers will do their best to replenish the County Kitchen items.
Waltner said she spent Monday morning making pumpkin rolls, a reserve supply of kuchen was discovered at the South Church, she knows of another person who is planning to make an additional 60 of the custard-filled desserts, and officials were scrambling to organize another kuchen-making day on Thursday. Otherwise, the auxiliary will rely on donated baked goods coming in from volunteers throughout the week.
"Whatever comes in is what we'll have," said Waltner. "Whatever people can do."
"I hope it's as busy as it was this past Saturday, but we're so worried that everybody came for the first one," said Kleinsasser. "But we will have plenty of food available, so people shouldn't be scared to show up."
As for the bulk sales and mini meals, she said organizers are planning to double the quantities of food for sale, and the number of take-out meals is being limited to 200.
Meals can be ordered at schmeckfest.com as long as they're available.
Bigger picture
In spite of the challenges and necessary adjustments, the 2022 Schmeck Stop is accomplishing what it set out to do: offer an alternative to the full-scale festival that was canceled for the third year in a row as a way to fundraise for Schmeckfest's exclusive beneficiary — Freeman Academy.
"It's a great problem," Kleinsasser said of the demand for the traditional foods. "People want this and we couldn't be happier. That part of it was amazing.
"It was a glorious mess."
Waltner said cash register receipts at the end of Saturday showed $20,333; that includes  bierocks sold for the Chamber Choir and rosettes for the freshman class. But Schmeckfest will profit at least $18,000 based on Country Kitchen sales from Saturday, and that number does not include the mini meals and the sausage sales — and, of course, whatever happens this Saturday.
"We'll see what happens this weekend," said Waltner. "I hope we have another really good turnout. I think we'll be a little more prepared."