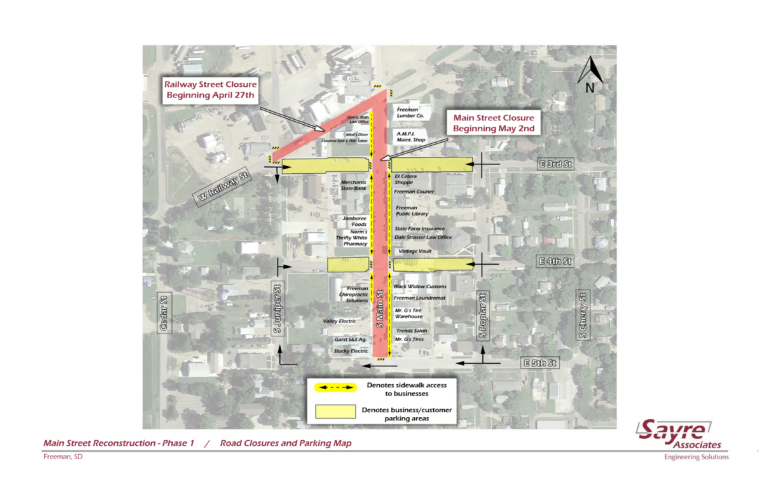 news
MAIN STREET PROJECT: WHAT TO EXPECT
JEREMY WALTNER  – PUBLISHER
Orange and white-striped barricades familiar to construction zones blocked off traffic at the intersection of Railway and Juniper one block west of Main Street starting Tuesday, April 26 in anticipation of work beginning on the city of Freeman's long-awaited Main Street Project the following day.
And, in fact, the project did start as expected on Wednesday, as Slowey Construction began with sanitary sewer work on Railway from Juniper to Main. That marked a three-month stretch that will dramatically alter traffic flow through the primary downtown business district corridor and a more than six-month effort that will see the $5 million project completed.
Here's what you need to know.
Phase 1 of the project — one block of Main Street from Railway south to Fifth Street — is to be completed by July 29.
Vehicle traffic will be suspended throughout this entire stretch starting Monday, May 2.
Those wishing to park downtown are invited to do so on the adjacent Third and Fourth streets throughout Phase 1 of the project, with ADA-compliant sidewalks in place for pedestrians throughout Phase 1. Temporary signage will be in place to direct traffic flow.
The only time storefronts will not be directly accessible to foot traffic will be during the short time the new walkways are being constructed directly in front of that business over the course of a day or two. During this time, individual businesses will adapt on their own terms.
Once Phase 1 is completed, the Main Street roadway will reopen and workers will turn their attention to Phase 2 — one block of roadwork west and east of Main Street on Third and Fourth Streets, as well as Main Street north to the North County Road.
Freeman's Main Street reconstruction project is under the direction of Sayre Associates of Sioux Falls, with Freeman native Paul Korn serving as project manager for the engineering team. Cole Gebhart of Sayre Associates serves as the on-site project engineer. Reede Construction of Aberdeen was awarded the contractor bid, with several sub-contractors also involved in various aspects of this extensive project.
Updated information about the project will be made available online at freemansd.com, and also posted on the city's "Breaking News" section at cityoffreeman.org.
Information will also be provided on the city of Freeman's Facebook page, citywide call and text notification services and Golden West cable channel 90.