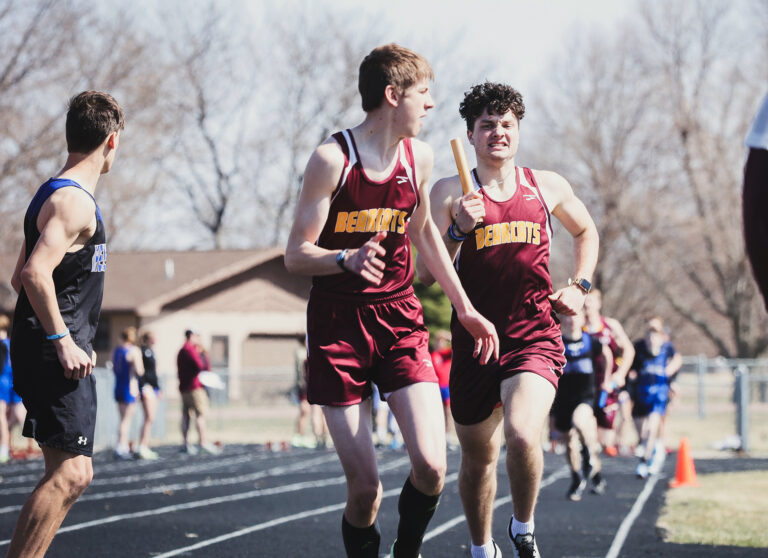 sports
DIEDE, EITEMILLER BREAK RECORDS AT FLYER INVITE
JEREMY WALTNER  – PUBLISHER
What was finally an ideal day for a track meet meant an extra bounce in the collective steps of more than 700 student-athletes from 18 schools taking part in the Flyer Invitational hosted by Freeman Public Thursday afternoon and evening, April 21.
Not only did that extra bounce produce good moods and motivation to take advantage of the mild and relatively calm spring day, it also resulted in a host of personal bests for local competitors, as well as 12 Flyer Invitational record-setting performances, including ones that broke old records in the 100 set by Brennan Schmidt of Freeman Public and Hannah Yoder of Freeman Academy.
And among the record-breakers were Menno's Raygen Diede and Owen Eitemiller who set new marks in the shot put and the pole vault.
Diede's heave of 38-3 ½ in the shot put broke the record of 37-10 ¾ set by Chester's Tiffany Barber in 2001 — the oldest of the Flyer Invitational records — while Eitemiller's vault of 12-0 topped the old mark of 11-9 set by Irene-Wakonda's Garrett Anderson in 2014.
Schmidt's 100 record of 10.89 set in 2015 was broken last Thursday by Chester Area's Jovi Wolf, who dashed to a 10.77 clocking — the fastest in both Class B and Class A and just off the top performance mark of 10.7 in Class AA.
And Yoder's mark of 12.39 was bested by three runners: Parker's Lexi Even won in 12.2, Colman-Egan's Daniela Lee was second in 12.28 and Howard's Melanie Calmus was third in 12.38.
Even's 12.2 clocking was the best in all three classes as of early this week.
Other record-breaking performances at this year's Flyer Invitational were:
Ryan Benson of Chester Area won the 110 hurdles in 14.71, breaking the record of 14.78 set by Oliver Walker of Colman-Egan in 2017;
Benson also set the new record in the 300 hurdles with a 41.52 clocking. The old record was 42.0 set by Hanson's Jim Williams in 2005;
Chester Area's 4×200 boys relay team finished in 1:32.26, breaking Howard's record of 1:32.9 set in 2005;
In the shot put, Hanson's Colton Dillon won with a throw of 50-0, topping Irene's Healy Simon's mark of 48-11 set in 2002;
Calmus, who also broke the record in the 100, set the 200 mark with a 25.57 clocking. The old record was 25.83 set by Hanson's Bethany Gross and set in 2009;
Colman-Egan's girls 4×200 relay team set a new record in 1:50.65, breaking the former mark of 1:50.74 set by Parker in 2004;
And Mackenzie Hemmer of Colman-Egan landed a 36-0 in the triple jump, taking the record from Chester's Janie Sershen who went 35-7 ½ in 2002.
In addition to the records broken by Diede and Eitemiller, there were a number of other highlights for local athletes, including a second win by Diede in the discus. She has the top throw in Class B in both weight events.
The Freeman Academy/Marion boys finished fourth overall behind a win in the high jump by Thalen Schroeder, whose height of 6-4 is second in Class B. Schroeder also was the anchor carry for the Bearcats' winning medley and 3200-meter relays. Other relay team members were Quincy Blue, Seth Balzer, Malachi Myers and Tavin Schroeder.
Freeman seventh grader Rylee Peters won the 100 hurdles in 16.14, which topped the previous Class B best time of 16.31 posted by Colman-Egan senior Mackenzie Hemmer.
Freeman Academy junior Jada Koerner won the 1600 in 5:45.00 and anchored to victory the medley relay team that also included Alivea Weber, Elizabeth Piehel and Sonora Myers.
And Menno sophomore Ashton Massey and senior Bridget Vaith were both triple-medalists in individual events. Massey placed fifth in the 800, sixth in the 100 hurdles and fourth in the triple jump while Vaith was fifth in the 300 hurdles, sixth in the triple jump and seventh in the 100 hurdles.
Here are all the local medalists from last week's Flyer Invitational. Personal bests are identified by an asterisk.
Freeman Public girls
100 – Zenovia Butler 7th, *13.09
200 – Butler 6th, *27.92
400 – Kate Miller 6th, *1:05.88
110 hurdles – Rylee Peters 1st, *16.14
400 relay (Cami Fransen, Butler, Miller, Peters) – 3rd, 54.22
3200 relay (Peyton McCune, Claire Loofbourrow, Rylie Gossen, Ashlin Jacobsen) – 6th, *11:15.71
Medley (Fransen, Butler, Peters, Jacobsen) – 4th, 4:59.30
Freeman Public boys
100 – Justin Wollman 3rd, *11.53
200 – Wollman 3rd, 23.92; Tate Sorensen 7th, 26.29; Dawson Munkvold 8th, 27.09
400 – Sorensen 6th, 59.35
110 hurdles – Munkvold 3rd, 17.25
300 hurdles – Munkvold 6th, 48.77
400 relay (Evan Scharberg, Sorensen, Luke Peters, Wollman) – 5th, 48.64
800 relay (Scharberg, Sorensen, Peters, Wollman) – 5th, *1:39.32
Pole vault – Jorge Baer 4th, *10-0
Mixed co-ed relay (Alyssa Dent, Bradey Kaufman, Ella Waltner, Sawyer Wipf) – 7th, 1:01.24
FAM girls
1600 – Jada Koerner 1st, 5:45.00
400 relay (Alivea Weber, Elizabeth Piehel, Alexa Gortmaker, Emma McConniel) – 6th, 55.85
1600 relay (Weber, Sonora Myers, Estelle Waltner, Koerner) – 5th, *4:36.32
Medley (Weber, Piehel, Myers, Koerner) – 1st, 4:43.87
FAM boys
1600 – Tavin Schroeder 3rd, *5:05.40; Malachi Myers 4th, *5:08.87; Finley McConniel 6th, *5:15.12
3200 – Schroeder 3rd, *10:49.20; McConniel 5th, *11:20.56
400 relay (Liam Ortman, Seth Balzer, Taylor Goodwin, Karter Weber) – 8th, *50.0
800 relay (Ortman, Balzer, Goodwin, Weber) – 8th, *1:43.07
1600 relay (Quincy Blue, Balzer, Myers, Thalen Schroeder) – 2nd,* 3:49.24
3200 relay (Blue, Tavin Schroeder, Myers, Thalen Schroeder) – 1st, *8:45.89
Medley (Ortman, Balzer, Blue, Thalen Schroeder) – 1st, *3:58.90
High jump – Thalen Schroeder 1st, *6-4
Discus – Dylan Johansen 6th, 127-6
Menno girls
800 – Ashton Massey 5th, 2;40.04
1600 – Ellyana Ulmer 7th, *6:15.46
100 hurdles – Massey 6th, 17.28; Bridget Vaith 7th, *17.28; Kaelie Derby 8th, *17.85
300 hurdles – Vaith 5th, *53.46
Pole vault – Bianca Fischer 5th, 6-0
Triple jump – Massey 4th, *31-10 ½; Vaith 6th, *31-2 ½
Shot put – Raygen Diede 1st, 38-3 ½
Discus – Diede 1st, 118-7; Alana Fergen 6th, *101-5
Menno boys
110 hurdles – Owen Eitemiller 2nd, 16.47
1600 relay (Cody Munkvold, Brayden Sattler, Kadeyn Ulmer, Eitemiller) – 5th, 3:59.35
3200 relay (Chris Kessler, Munkvold, Isaac Fergen, Ulmer) – 2nd, *9:13.04
Medley (Sattler, Keyen Fischer, Eitemiller, Ulmer) – 4th, 4:12.20
High jump – Sattler 5th, 5-7
Pole vault – Eitemiller 1st, 12-0; Fergen 3rd, 10-0; Hunter Masterson 7th, *8-0