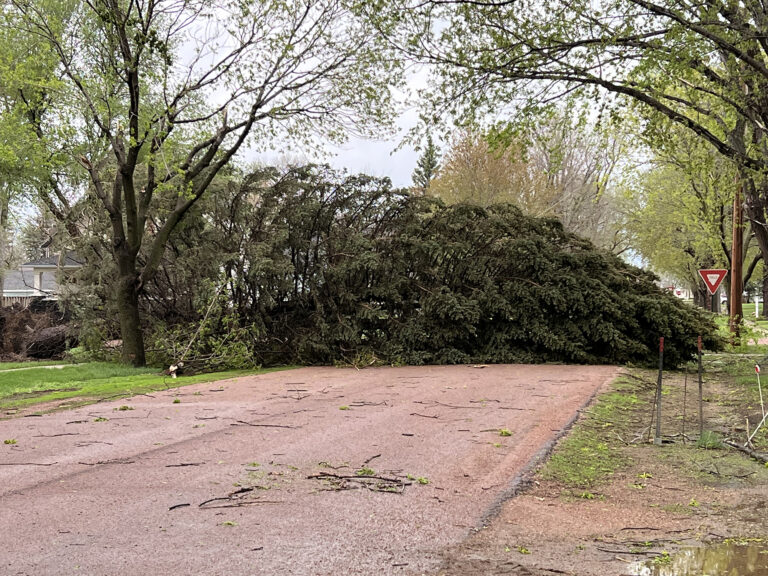 news
MAJOR DAMAGE AFTER WICKED STORM TEARS ACROSS REGION
Trees are down and reports of rural buildings either damaged or destroyed are coming in following a wicked spring storm that tore across eastern South Dakota late Thursday afternoon, May 12.
The Argus Leader reported wind speeds of 84 miles per hour in Freeman and 107 miles per hour at Tripp.
Freeman Police Chief Scott Brewer told The Courier that the city has downed power lines "and lots of downed trees" and Menno Mayor Darrell Mehlhaf said there is tree damage but minimal structural damage there, but that rural areas were hit much harder.
"Everybody is saying, no matter how old or young they are, that they have never seen it get that dark in the middle of the day," Mehlhaff said. "It was like midnight it was so dark; it was incredible."
A line of strong storms had been forecast for the day and in fact moved across the region after 4 p.m. Brewer said he was southwest west of Freeman when he saw it come in and had the warning sirens sounded. He believes it was a straight wind and not a tornado that impacted the community but heard reports of tornadic activity in rural areas.
"It's bad," he said.
"It's pretty tough everywhere," said Mehlhaf, noting a farmer living north of Olivet has only a home still standing.