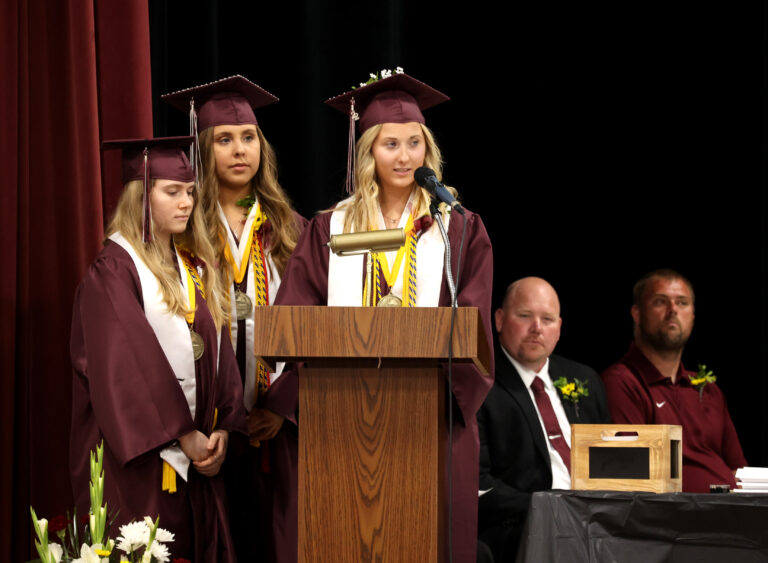 news
COMMENCEMENT AT FREEMAN PUBLIC: 'NOTHING WILL STOP YOU'
JEREMY WALTNER  – PUBLISHER
A trio of valedictorians stood at the lectern on the Freeman High School gym stage to give thanks, offer advice to the students coming up through the ranks behind them, reflect on their class and the memories they made together, and provide perspective on a journey that had come to an end.
"I think back to our first computer class where we asked what the '22' behind our usernames stood for, and our teacher said, 'That's the year you will graduate high school,'" said Lily Wipf, who was joined by Talisa Bodewitz and Ava Ammann in delivering the graduation address Saturday afternoon, May 14. "To us, that seemed like a lifetime ago, but here we are today. I will forever cherish the friendships and memories that have been made since then and wish you all the brightest futures."
Ammann reflected on her years playing volleyball for the Flyers and what that meant for her growth, and encouraged the younger students to take advantage of the opportunities that come their way.
"The thing that has made my high school experience the most memorable is being involved in, not only sports, but other extracurricular activities," she said. "Take advantage of being in a small school and get involved in the multiple opportunities that a school like Freeman offers. I experienced this through volleyball. Being a part of the volleyball team has allowed me to become closer with underclassmen, which may not have happened if we hadn't spent that extra time together through practices, games and team bonding. This team has become my second family and I will carry the memories we made with me after high school."
Bodewitz had advice for the larger student body, as well: Live every day to its fullest.
"I know life can be stressful, or the past may be overwhelming, but please don't forget to enjoy the present," she said. "Soon, whether next year or five years from now, you will eventually be up on this stage and ask where the time has gone. Take lots of pictures, meet new people and don't let fear hold you back from enjoying your life."
"Underclassmen, unfortunately your time in high school does run out, so I encourage you to discover who you are outside of the classroom," said Wipf. "Find what you are passionate about and spend time becoming the person you would look up to. Living each day with a purpose will allow you to become a better student, classmate and friend."
Saturday's address included thanks to Freeman Public staff and family, insight into inside jokes and proud moments laced with humor, like Dakota Hofer, Trevor Mulholland and Caleb Ortman's enlistment in the National Guard.
"When I first heard that they were recruiting in the National Guard, I was kind of nervous," said Bodewitz. "After all, I had grown up with Dakota and Caleb and got to know Trevor since he arrived last year, so I've heard the stupid arguments they've had, like what color a chair is. Thinking that these boys would be guarding our nation was terrifying."
But, she said, I cannot think of anyone smarter (Dakota), more hard-working (Caleb), or more adaptive (Trevor) to be serving in our National Guard. I wish you luck in your futures, and that the National Guard becomes your second family, but don't forget to come back home and tell me all the stories."
"We've shed a lot of blood, sweat and tears through the years," concluded Ammann. "But they have all been worth it and I am so grateful I was able to do it alongside all of you. As we close this chapter of our lives, I want to wish all of you the best of luck. This life is not always easy, but I hope you will carry all of the friendships and lessons that you've learned throughout our time together."
And in her closing remarks, Bodewitz offered both perspective and encouragement.
"At the beginning of my senior year, I didn't think it would be significant, but this year has been the most important steppingstone in my life," she said. "During this year I grew deeper relationships and understanding of my peers and others around me. I remember days where I would help my classmates (you guys) on homework, teaching you trigonometry or Chemistry, but what you may not have known is that you always taught me. The boys taught me to relax and have fun while the girls taught me to take risks and be lively. During this year, I've watched my classmates grow from boys and girls into men and women. My fellow classmates, from our various conversations slash arguments, I know you are all stubborn and passionate. If you bring as least half of that stubbornness and passion to your goals in life, nothing will stop you."
And from Wipf:
"You are not only my classmates, but my brothers, sisters, and closest friends," she said. "God may have only had us in each other's lives for a chapter, but it will always be one of my favorites."
Saturday's commencement at Freeman Public also included a processional played by Claire Hofer and music instructor Sheila Wipf, the Pledge of Allegiance led by Dakota Hofer, Mulholland and Ortman, a welcome and recognition of the valedictorians and the graduation class from Superintendent Jake Tietje, a student recognition and the presentation of senior class diplomas by 6-12 Principal Katie Juhnke, a PowerPoint presentation put together by the senior class and the presentation of roses from graduates to family and friends.