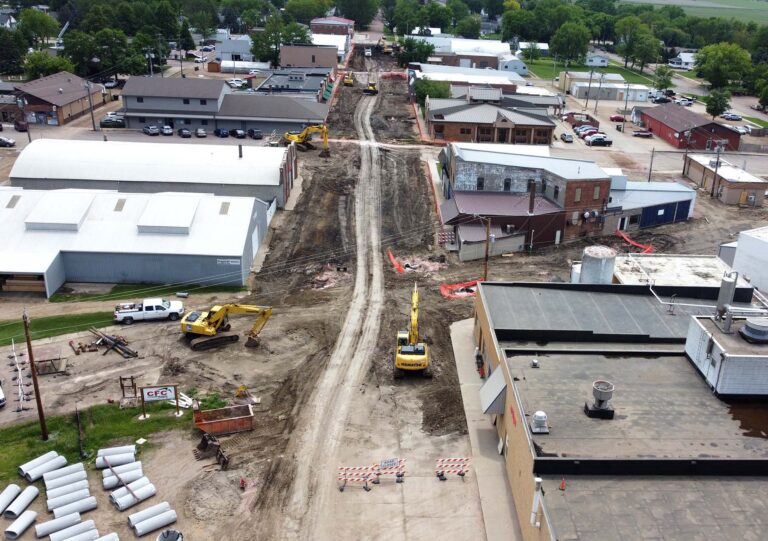 news
CONSTRUCTION ZONE
JEREMY WALTNER  – PUBLISHER
Anybody who has visited downtown Freeman in the past month knows that navigating the streets has been a challenge. With the city's $5.1 million Main Street project now well underway, four blocks are closed to vehicles — from Fifth Street north to Railway and from Railway southwest to Juniper. Parking is available on side streets and alleyways adjacent to Main Street and pedestrian traffic is being maintained in front of all business storefronts.
The work began on Railway Street the last week of April, the 200 block of Main Street closed to traffic starting May 9 and the 300 block closed one week later. By mid-May, the full three-block stretch of Freeman's primary downtown business corridor was closed, and Juniper Street — which runs parallel to Main Street one block to the west — hasn't been a through street since the project began.
During that time, workers from Slowey Construction have spent their days tearing up the roadway and a portion of the sidewalks, putting up temporary fencing along those walkways and replacing water and storm sewer lines.
And Paul Korn of Sayre Associates, the engineering firm overseeing the project, said so far, so good.
"Things are going very well from our perspective," he told The Courier Tuesday morning, noting that utility work is close to being wrapped up on the first phase of the two-phase project that will see the entire roadway rebuilt from Fifth Street to the North County Road by end of the year. "The rain has had some impact; we had a meeting last week just to review the progress and (Slowey Construction) indicated they might be one to two weeks behind schedule. But there are no major concerns with that."
Korn said grading and shaping of Main Street and the installation of a gravel surface is up next, and within three to four weeks, the project should be ready for curb and gutter and main line concrete, he said.
"And then they'll come back in and work on sidewalks," said Korn, who is in Freeman for inspection of the project at least once a week. "To what extent they'll do a whole block at a time, or a little more piecemeal, I can't speak to that at this point."
Korn, whose involvement with Freeman's Main Street project goes back to an engineering study that was conducted in 2012 but abandoned by city leadership at that time in the interest of pursuing other projects, is excited to see the project underway.
"It's always rewarding to see it get to this stage, when you see it under construction, but the other reward is seeing the project go well," he said. "And from our perspective it's going well."
Of course the ultimate satisfaction, Korn said, will be the finished project. Phase 1 is scheduled to be completed by the end of July and Phase 2 — which includes side streets on Third and Fourth — by the end of November.
"That's will be the greatest reward," he said. "It's going to be pretty much brand-new from storefront to storefront, with improved accessibility, drainage and lighting. I think the community of Freeman will be very pleased with the end result."
The Hangar
The rebuild of Main Street isn't the only project underway in the Freeman community.
Another can be seen on the campus of Freeman Public Schools as workers are in the early phases of building The Hangar — a wrestling and multi-use facility attached to the east side of the elementary school gym.
Site prep on the $1.1 million project being engineered by Puetz Design+Build began the last full week of May with a ceremonial groundbreaking held Wednesday afternoon, May 25.
"It's been good to see dirt moving," said Jake Tietje, the school district's superintendent. "It feels like we've got a lot of planning put into place and it's nice to see that becoming a reality."
And, he said, "we are sitting good."
Tietje noted that two key components, the steel and precast materials, are scheduled for an on-time delivery. In fact, he said, "we've been told that the steel is scheduled to arrive ahead of schedule. That's very exciting for us; we're more than happy to set that aside so when the time comes, we'll be ready to roll.
"We're still waiting to hear on the precast, he said, "but every indicator is that that is on schedule, as well."
Prep for water has been done, electrical work is taking place this week and next, after which work will begin on the footings. The project is scheduled to be completed by the end of November.
The Hangar will be home to the Marion/Freeman Rebels, but will also be available for other uses for both the school and larger community.
"We don't know exactly what that will look like yet, but (this district) has taken on a role of being a place where anybody in the community can come — not just our student-athletes," Tietje said.
"Our school board has taken a lot of pride in this community and the policy we've put in place that says anybody is welcome to come in and use our facility," he said. "We have a beautiful campus and we want to see it get used."
Youth ballfields
One other project that has been discussed for more than a year now is the possibility of constructing new youth ballfields on the northeast/eastern portion of the Freeman Public campus.
While the district chose to prioritize the wrestling/mutli-use facility, Tietje said conversations are continuing about the fields.
"That is definitely still on the mind of the district and very much a topic of discussion," he said.
And if and when the ballfields get built, Tietje said it wouldn't happen in time for the spring of 2023, when the South Dakota High School Activities Association rolls out its first season of sanctioned softball.
"That's just a completely unrealistic timeframe," he said.
Still, with the city pledging financial support to the tune of $150,000 and interest among the board to keep the conversation going, Tietje is hopeful the project will see the light of day.
"But it's going to take a (financial) partnership outside of what the school and the city will commit," he said. "If there are any individuals or businesses who want to be part of that conversation, they should let me or one of the board members know."
Westward View housing
Yet another project that is well underway in Freeman is the Westward View housing development off Cedar Street that will make 18 lots, fully serviced with city utilities, available for new construction.
Site prep on what had been farmland began last fall after the city of Freeman awarded a bid in the amount of $506,441.80 to Menning Excavation for the first phase of the two-phase project. That work is largely completed, giving way for Black-top Paving to come in and begin building what will be W. Fifth Street and Westward View Circle — the cul-de-sac that will provide access to the four northernmost lots — and the curb and gutter that goes along with it.
That is scheduled to be completed by the end of July.
"We're still very much on track budget-wise and time-wise," said Carol Eisenbeis, the city's marketing and development coordinator who has been watching the Freeman project closely.
Eisenbeis said gravel is expected to be brought beginning either this week or next, with paving and other concrete work to follow.
"It's looking very optimistic that we're going to be able to beat that end-of-July deadline, but in reality, you just never know with weather and other possible delays," she said. "But we're pleased that this project remains under budget and on track time-wise."
All that will be left to do after that is sell the lots; any and all information relating to that is available under the "business and development" section found at cityoffreeman.org.
The property is owned by the Freeman Community Development Corporaiton, which purchased the ground from Lee Larson last year. That purchase was made possible through funding by the Freeman Growth Foundation and an agreement by the city to develop the infrastructure — all as a way to address a significant housing shortage.
"We've had a lot of interest — a lot of inquiries — and we're hoping things will really move once everything is in," said Eisenbeis, who notes one down payment on a property has already been made. "I think it will be very helpful when people actually see curb and gutter and the roads — that this is a good place to build, whether it's people moving into town or people who already live here and want to upgrade. Those (existing) homes would then become available."
"Housing is foundational to workforce recruitment," she continued. "Just look around town; we have businesses that have had to adjust their hours because workforce shortages are just a reality.
"People want to live in Freeman," Eisenbeis said. "We just need to give them a place to live."
Not in neutral
There are other projects in Freeman either in the works or being pursued behind the scenes.
The first two of a series of housing duplexes are being constructed on the property south of the Freeman Community Center; the city of Freeman is actively pursuing a dog park in the greenspace just northeast of the community center; and Freeman Regional Health Services (FRHS), the Salem Mennonite Home and Avera continue to discuss building a new joint campus to replace the existing facilities in town. Courtney Unruh, CEO of FRHS, confirmed that she and board chair Lori Uecker continue to be in conversations with Avera leadership that will help determine the timeline of the project.
Michael Walter, who just began has second consecutive two-year term as Freeman's mayor, strongly encouraged his city council to pull the trigger on the Main Street project  and also was instrumental in bringing all parties together for the Westward View housing development project.
He says all that is taking place in the city demonstrates a forward-thinking mentality that is critical, not just in the interest of surviving, but thriving.
In a spot produced by South Dakota Public Broadcasting that aired on May 26 on the news program, South Dakota Focus, he spoke to what is happening in his town.
"I've always believed that, whether it be business or whatever avenue, you cannot be in neutral; there's only forward and reverse," he said. "And if you think you're in neutral, good chance you're in reverse."
Walter, who served a single two-year term as mayor 30 years ago, told SDPB that he chose to revisit city government because he felt there was work to be done.
"I just felt Freeman was in neutral," he said. "I've lived here my whole life, I know the people, I know what it's capable of, and those things weren't being utilized to do those things that I know can be done."