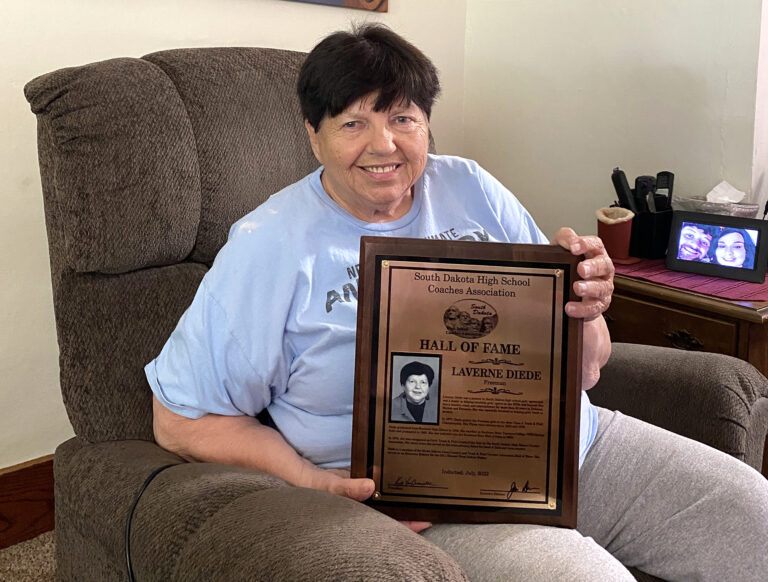 news
'WITH TRAILBLAZER LIKE LAVERNE, WE CAN'T GO WRONG'
JEREMY WALTNER – PUBLISHER
Laverne Diede didn't have any notion that she would become a coach.
The Scotland native had come to Freeman Public in 1960 to teach sixth grade and took over as the district's first-ever elementary school principal a decade later. Not long after that she was named girls track coach at the encouragement — no, the strong urging — of the district superintendent.
"I don't think I would have become a coach if Ron Bennett hadn't had his thumb in my back and said, 'You need to coach track,'" says Diede. "I didn't really want to do it, but I'm so glad I did. It was such a great part of my life."
That part of her life was fully recognized and honored on July 17 when Diede was inducted into the South Dakota High School Coaches Association (SDHSCA) Hall of Fame at a banquet in Mitchell. The 84-year-old was one of six to make up this year's class that was recognized at the Highland Conference Center on Sunday afternoon; "I think I was the oldest person there by 20 years," she laughs.
Diede's most recent accolade comes for the years she gave to track and field, 10 months after she was inducted into the South Dakota Sports Hall of Fame, and more than two years after she was named to the South Dakota Cross-Country and Track and Field Coaches Hall of Fame.
"I said (in my remarks on Sunday) that I really think I have received these awards because I was on the ground floor for girls athletics," said Diede, whose coaching career included cross-country and began around the time of the groundbreaking Title IX that was part of the Educational Amendments of 1972 and guaranteed female athletes the same opportunities as their male counterparts. "I coached in those early years and I saw the program grow. And when I look at all these coaches out there coaching our kids, I realize that our South Dakota kids are getting great opportunities."
Jo Auch, who is the assistant executive director with the South Dakota High School Activities Association, is more straightforward when it comes to Diede's impact.
"What an amazing woman," Auch told The Courier. "I still think to this day, even though she isn't as involved as she used to be, she still is a trailblazer. Everybody looks at her as one of the pioneers who helped shape women's athletics. She continues to lead the way and we can't thank her enough.
"With trailblazers like Laverne, we can't go wrong."
Diede's 40-year career at Freeman Public came to an end following the 1999-2000 school year, but not after she impacted countless lives through her role as a teacher, administrator and, yes, a coach.
"We had so much fun and the kids worked together so well," she says. "I was always so encouraged that parents didn't complain and were always very supportive. I never had one parent complain about anything — at least not when it came to coaching."
Diede never had the chance to compete in athletics herself, but she was certainly around sports thanks to three brothers: Don Baker, who incidentally was part of the very first Hall of Fame class honored by the SDHSCA in 1976; Wayne Baker and Ron Baker.
"I had a pretty good athletic background only because I followed my brothers," she said. "There was nothing for girls, but I learned things because I didn't miss many of my brothers' activities."
Diede said she also felt strong support from Bennett, a coach himself, as well as her husband Don, a popular teacher and coach who at one time or another was at the helm of the school's football, boys track and wrestling programs. She learned a lot from her oldest brother Don, who was a track coach at Southern State Teacher's College in Springfield; and from Bruce Mueller, who was at the end of his coaching career at Freeman Academy and Freeman Junior College who had two daughters that played key roles on her teams.
And while she may have felt some self-imposed resistance to being a coach initially, it didn't take long for her students to buy into the program and her teams to find success. She tells two stories that reflect the spectrum.
Diede says her first-ever track meet as the girls coach was at Hurley and being upset with her student-athletes, who appeared to be more concerned about catching some sun than competing.
"I think they even had suntan lotion on," she says, "but there were a lot of firsts like that, because they were new and I was new."
Fast-forward nearly a decade, to the Robin Schamber and Lisa Mueller era and the year Platte scheduled a track meet on the same day as Freeman's junior-senior prom. But rather than attending the local event that carries with it perhaps more social capital than any other, nine girls who were part of the team opted for track instead.
But Diede's success as a coach went beyond the buy-in she created. It also presented itself in wins. The Flyers won their first region title in program history in 1975 and went on to claim both the region and Class A state championship in 1977, the year Diede was named girls track coach of the year.
And while Sunday's honor was specifically for track and field, Diede found success at the helm of the girls cross-country program, as well, leading the Flyers to multiple conference and region titles.
Of course, Diede says, she had outstanding athletes working for her, and in that, she is quick to deflect any success and give it to the kids.
"If you don't have good athletes, if you don't have good kids, you're not going to go very far," she said. "It's the kids that make your program."
Among the standouts Diede coached was Jane Wipf Wiebe, who has lived in Homer, Alaska with her husband, Bill, since 1986. Wiebe says if there's one thing she remembers best about Diede, it was her comfortable presence.
"She was never overbearing — always gentle encouragement," Wiebe says. "She never made you feel bad. It was just a solid presence that helped make it all happen. It's kind of an art form and she sure suited me in that way."
Wiebe, who graduated from Freeman Public in 1976 and went on to run at Utah State University, says there was incredible growth in high school girls athletics during that time. When Wiebe first started running track, she said, girls weren't allowed to run anything longer than a 220. By the time she graduated, she was a standout 2-miler.
"It just changed so much over the years I was in high school," Wiebe says. "And she was there at the helm during this really important transition in girls sports.
"I still call her Mrs. Diede," she continues. "You have to call her Mrs. Diede. That's who she was."
While athletes like Wiebe were a blessing to coach, Diede did say that she worked hard on teaching technique, and in those early years of girls high school athletics, there was a steep learning curve.
"You have to start where they were at and work with them, and most of the time they were willing to learn," she said, noting also that successful coaches are ones who are both dedicated and fair, "because if kids don't think you're fair, you're done."
Being fair is one of the things that earned her husband, Don, such respect from his student-athletes, who, like the entire community of Freeman, was devastated when he died of a heart attack in 1979 at just 43 years old.
"That was hard in many ways," said Diede, whose son, Cory, was a freshman at the time and whose daughter, Kim, had just started college. "We were all very much impacted; I was angry for a while and of course went through all the stages of grief."
Diede said her husband lived in his coaching world and she lived in her own; "Some people probably thought I was on his coattails, but I don't think I was. I did my thing and he did his."
If anything, she says, Don's death may have resulted in a closer relationship with her brother Don and his coaching career in Springfield.
Diede's coaching career never went beyond track and field and cross-country, although she helped Bennett with girls basketball some, "but only because they needed a woman in the locker room."
Much has changed since then, of course, as girls athletics have evolved into a very high level of skill and involvement.
"The things that our girls are doing nowadays compared to what they use to do, it's amazing," says Auch. "It's because of coaches like Laverne and the schools that are willing to give the kids opportunities to succeed. And now to finally get to softball, it just makes my heart smile."
"I just never would have thought that women's athletics would come this far," says Diede. "It amazes me."
And she is quick to credit all the coaches who have played a part in cultivating success, some of whom were recognized at Sunday's banquet in Mitchell through the other hall of fame inductees and the many who were recognized as coaches of the year.
"We have so many good people working with kids in South Dakota," Diede said. "It really is something."
And what gives her the most pleasure in these later years of life? It's not the awards or the accolades or stories like this one. It's when she runs into her former students.
"That is so rewarding," Diede says. "When you see kids who you taught and coached and you see that they have become successful — that's what matters. That's what's so meaningful."