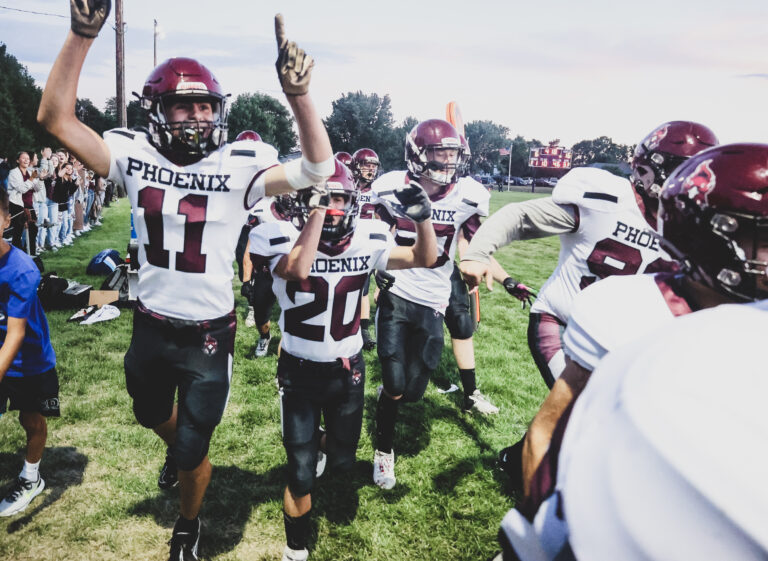 news, sports
PHOENIX WIN IN PROGRAM OPENER
The Freeman/Marion/Freeman Academy Phoenix are 1-0.
Competing in Burke Friday night, Aug. 19, the brand-new football cooperative shrugged off a slow start and cruised to an impressive 34-12 win over the Cougars less than nine months after the Canistota School Board dumped Freeman Public by voting to dissolve the Pride cooperative.
The Phoenix fell behind early on Friday but led 8-6 at the half and then scored four touchdowns on four possessions in the second half to take a 34-6 lead — more than enough to carry them to the two-touchdown victory.
"Way to show up and compete," head coach Dustin Tschetter said in the postgame huddle. "This is what we expect every single day of the week. Heck of a good job!"
F/M/FA was led Friday night by freshman quarterback Riley Tschetter, who threw for 242 yards and three touchdowns without an interception, and senior Maddox Kihne, who rushed for 64 yards and a touchdown (he averaged 9.1 yards on seven carries), caught four passes for 59 yards and another touchdown, and also returned three punts for a total of 69 yards.
Junior Rocky Ammann caught three passes for 111 yards and a touchdown, and the Phoneix also saw touchdowns from Matt Hagen and Dominic Sperling in what was an energizing win.
Trappers 14, Sioux Valley 34
The Jim River Trappers — the Menno/Scotland football cooperative — also opened their season on Friday and fell to Sioux Valley in Volga 34-14. The Cossacks, ranked No. 4 in the Class 11B preseason poll, led 7-0 after one and 21-7 at the half. Both touchdowns by the Trappers came from Logan Sayler — a 14-yard run in the second period and an 87-yard kickoff return in the fourth.
Stephen Johnson ran for 58 yards, Kadeyn Ulmer threw for 86 yards and Bradyen Sattler caught three passes for 85 yards to lead Jim River's offense.