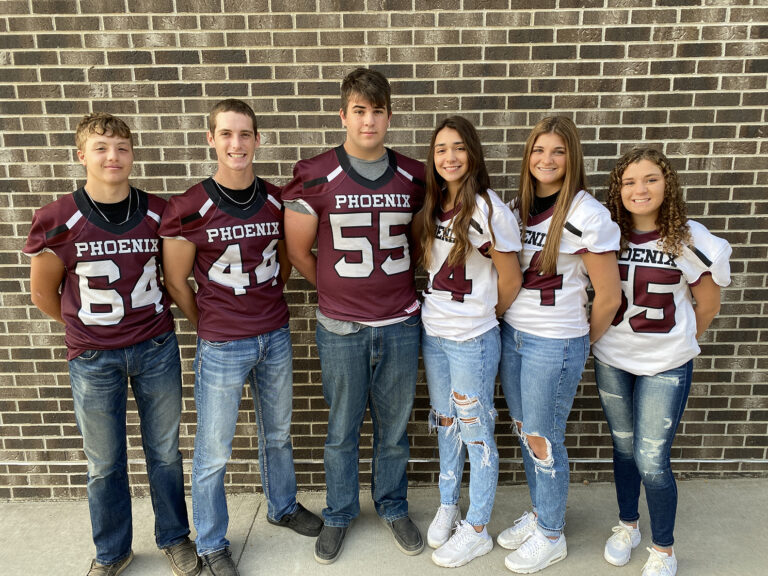 news
FREEMAN CELEBRATING HOMECOMING NEXT WEEK
JEREMY WALTNER  – PUBLISHER
The first homecoming in the Phoenix-era of football arrives next week.
Freeman Public Schools will honor school spirit in the traditional way beginning Monday night, Sept. 19 at coronation. The formal start to homecoming week will begin at 7:30 p.m. inside the Freeman High School gym. Candidates for king are Jayden Jacobsen, Jonathan Law and Zac Sayler, while Brooklyn Mendel, Kate Miller and Erin Uecker will stand for queen. Ava Andersen and Evan Scharberg will serve as junior emcees.
The burning of the "F" follows coronation.
Homecoming will then be highlighted on Friday, Sept. 23 with an 11:30 a.m. parade — the theme is "Decades" — and a 2:30 p.m. football game against Colome. The Freeman Music Department will be hosting a tailgate meal at the stadium prior to and during the game.
School will be dismissed at 11 a.m. on Friday; a sack lunch will be served and there will be no bus service.
In-between Monday and Friday will be a number of activities designed to bolster the school-spirit experience.
Spirit days include the following:
Monday – Country vs. Country Club (7-12) and Country Day (elementary)
Tuesday – Toga and Dawgs and Toga Day
Wednesday – Adam Sandler Day and PJ Day
Thursday – Anything But a Backpack Day and Future Career Day
Friday – School Colors Day
In addition to football on Friday, a number of other home athletic activities are planned.
Volleyball against Scotland will take place on Tuesday, Cornbelt Conference cross-country will be held at Valley View Golf Course on Wednesday and the soccer team will host West Central at 5 p.m. on Friday.
Menno homecoming
The Menno community will observe its homecoming week the final week of September. Standing for king and queen are Ajay Herrboldt, Brayden Sattler, Cody Munkvold, Daniel Sayler, Owen Eitmiller, Abby Bender, Madelyn Kludt, Alana Fergen, Julia Buechler and Halle Van Hove. Royalty will be crowed Monday night, Sept. 26. More details will be printed next week.