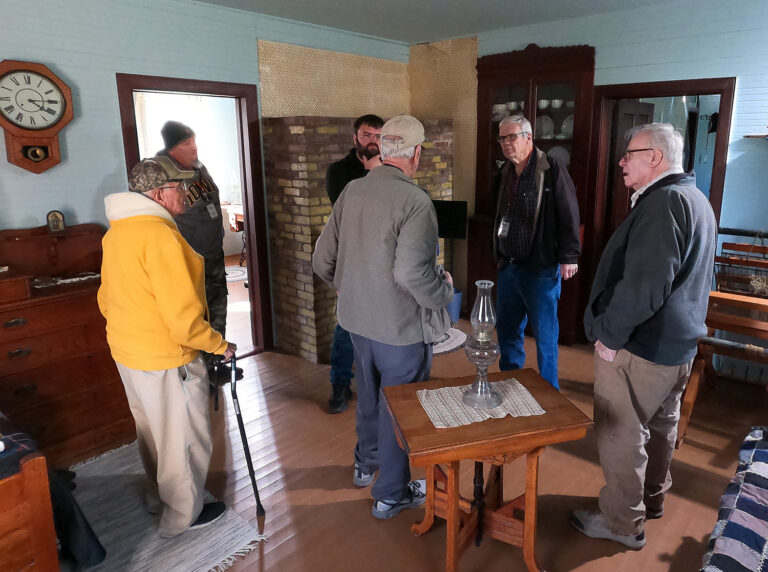 news
SPECIAL WEEKEND AT HHM&A A SUCCESS
JEREMY WALTNER – EDITOR & PUBLISHER
"I couldn't ask for much better."
That comment from Marnette Hofer summarizes a celebration weekend at Heritage Hall Museum & Archives centered around the reopening of the Ludwig and Susanna Deckert House that has been part of the Freeman museum's campus since 1979.
"It was fun to have a focus like that for the weekend," said Hofer, who is the executive director and archivist and HHM&A. "It's also fun to have it done."
From an open house for descendants of the Deckert family inside the renovated historic pioneer home on Friday night, Oct. 14 to extended hours at the museum and special programming at the historic Bethel Church both Saturday and Sunday, the response was outstanding.
"It was a great weekend; it really was," said Hofer. "We had people come from a number of different states, most of those were family members — descendants of Ludwig and Susanna. It was fun to see those connections made and stories told. Some of them never knew each other; they were cousins separated by states."
The two dozen who gathered at the open house were great-grandchildren and great-great-grandchildren of Susanna and Ludwig Deckert. Hofer admits she had hoped to learn a little more about the house and Ludwig and Susanna Deckert, who arrived in America during the migration of 1874, "but I think that opportunity is gone," she said. "Too much time has passed."
Yet there was a strong educational component to the weekend. Hofer and Ryan Mews, a graduate student at the University of South Dakota who was a summer intern at the museum in 2022, presented a program focusing on the Deckert family Saturday afternoon.
That evening, Rod Ratzlaff, a Low German Mennonite historian, talked about the Deckert's roots and family history tracing all the way back to their time in Volhynia.
And on Sunday afternoon, Dr. Lauren Friesen presented a lecture titled, "The Dutch Golden Age — Mennonite to the Core." In that presentation, Friesen, a distinguished professor emeritus at the University of Michigan and brother of Freeman resident Marlyce Miller, detailed an era in the Amsterdam region of western Holland (1585-1732) that saw economic stability and comfort for the average person, and in which Mennonites thrived in areas like literature, art and music.
For each of the three programs, the church was full.
"I couldn't have asked for better attendance."
For a more extensive recap from the weekend activities, watch for a column from Hofer in next week's Courier.