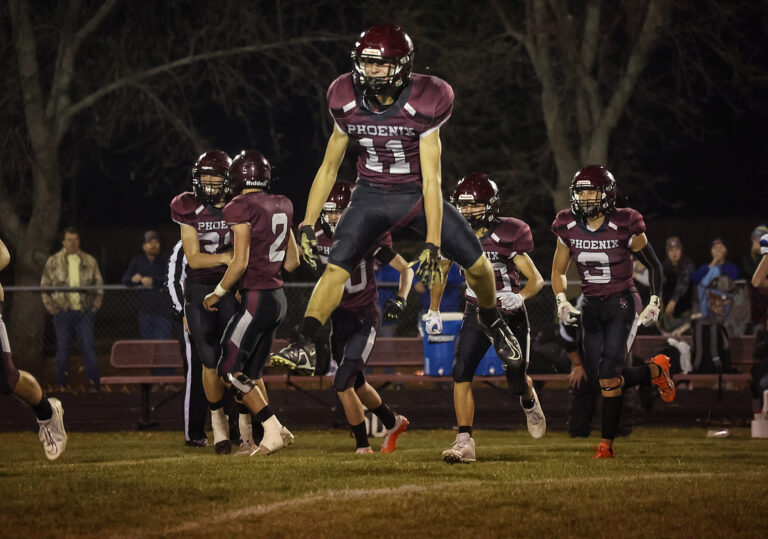 news, sports
PHOENIX EDGE FALCONS IN GAME FOR THE AGES
This story is being made available to all members and non-members of The Courier. If you appreciate this kind of community journalism, please consider signing up for the award-winning newspaper. 
 
by Jeremy Waltner | Editor & Publisher
In a game of high stakes and sudden momentum swings, it was the Phoenix who got the last word.
Facing Florence/Henry in the first round of the 9AA playoffs, Freeman/Marion/Freeman Academy won a wild affair on a movie-worthy final play of the night — a 39-yard touchdown screen pass from freshman Riley Tschetter to junior Evan Scharberg that broke a 30-30 tie and lifted the Phoenix to a thrilling 36-30 win in Freeman Thursday night, Oct. 20.
F/M/FA, the 9AA seventh seed, improved to 7-2 and will travel to second-seed Elkton-Lake Benton (9-0) for a quarterfinal matchup Thursday, Oct. 27.
Florence/Henry, which the Phoenix defeated 36-14 in the final game of the regular season, was the No. 10 seed and finishes the season 4-5.
"A win's a win," head coach Dustin Tschetter said after the game, which saw F/M/FA give up a 30-14 halftime lead due in large part to turnovers and an inability to move the ball that set up the dramatic finish. "They show up, they play, they fight; it's not always pretty but we find a way."
It wasn't always pretty on Thursday night, but the Phoenix did find a way, as improbable as it may have been. Freeman/Marion/Freeman Academy fell behind early when the Falcons utilized quarterback Tegan Sumner and the wishbone to march downfield on a 4½-minute opening possession and punch it in, and the extra point kick gave Florence/Henry the 7-0 lead early.
But the Phoenix responded with a 5-yard touchdown pass from Tschetter to Matt Hagen, and the two-point conversion on a pass from Tschetter to Chris Aasen gave F/M/FA an 8-7 lead. The Phoenix would go on to use multiple weapons to score touchdowns on each of their final three possessions of the first half — a 1-yard run by Tschetter, a 7-yard run by Dominic Sperling and a 10-yard pass from Tschetter to Maddox Kihne that made it 30-14.
The solid first half and two-possession lead made for an energized and relaxed huddle at halftime — particularly since the Phoenix would get the ball to start the third period — but the coaching staff reminded the players multiple times that there was another half to come.
"If we can score 30 points in a half," said assistant coach and offensive coordinator Austin Unruh, "so can they."
And on the first possession of the second half, the momentum began to shift. Tschetter threw an interception deep in F/M/FA's own territory that was followed by a 7-yard touchdown run by Mehki Keller and successful two-point conversion that made it a one-possession game at 30-22 with 10:07 to play in the third.
That was the score midway through the fourth quarter when, with the Phoenix driving deep in Falcons territory and threatening to make it a two-score game again and regain control, Tschetter threw another interception, this time to Keller who took the ball all the way downfield for a touchdown. And another successful two-point conversion tied the game at 30-30 with 6:41 to play.  
Momentum was clearly on the shoulders of the Falcons.
And when the Phoenix were forced to punt on their ensuing possession with 3:25 left to play, Florence/Henry was set up for a would-be game-winning drive. But a penalty forced the Falcons into a third-and-12 from their own 29-yard-line, and a Rocky Ammann interception on a deep pass gave the ball back to F/M/FA with less than 2 minutes to go.
A dramatic finish was in the cards, but it wasn't easy.
The Phoenix faced adversity multiple times on that final drive but somehow found a way. That included a completion from Tschetter to Ammann to advance the ball downfield; a beautiful two-handed sideline catch by Hagen on a third-down play — which followed a spectacular one-handed grab earlier in the game — to get his team into Falcons territory; and a successful scramble by Tschetter on a fourth-and-4 to moved the ball inside the 30 with 1:06 to play and gave his team a chance.
But two penalties followed — F/M/FA was flagged 11 times on the night — which backed the Phoenix up to the 39-yard line, and that's where things stood with 3 seconds left.
A timeout followed to set up the play to Scharberg — a call that Tschetter insisted on.
"We designed it together, but Dustin pushed for it," Unruh said. "He wanted something safe and we both agreed that it was our best option."
Working from the shotgun, Tschetter took the snap and quickly dropped back in the pocket, finding Scharberg on the short screen across the middle.
"It felt like forever before the ball was caught, because that's the most scary part; what happens before the ball is caught?" Unruh said. "But once he had it I saw a line of blockers and I thought, 'Oh, this has a chance.'"
"They laid some pretty darn good blocks," Tschetter said of the boys out front. "They knew what was at stake on that last play."
Scharberg eluded desperation tackles, got the edge around the 10-yard-line and dove into the endzone for the game-winning score before being buried by coaches and teammates in a celebration unlike anything Unruh has experienced.
"In all my years of sports, I've never been in a dogpile and felt that much joy," he said after the game. "I'm still tearing up."
Watch the final play
"It was crazy," Scharberg said. "Hearing my name called on the last play, knowing the coaches trust me, it's a great feeling to know that the guys you've been with all year are trusting you on a big play in a playoff game."
The Freeman Public junior said that, after making the catch and turning up-field. he saw "all my boys in front of me making great blocks; they knew the game plan and I couldn't have done it without them."
Unruh said Scharberg was the right man for the job.
"Evan is a fantastic athlete," he said. "He's got the size, the strength and the speed to be a dynamic player. Hats off to him for answering the call; we had a hard time getting him the ball earlier in the game, but he stepped up and got it done when it mattered most."
Thursday's win was a signature one in a season that few saw coming. Freeman Public was forced to find a new path forward after being dropped by Canistota late last year and quickly put together a new co-op with Marion and Freeman Academy.
The Phoenix won their first three games, finished the regular season 6-2 to earn the No. 7 seed and home playoff game in the first round — something that seemed unlikely early on.
But tight synergy between the coaching staff and the players has resulted in an inaugural season few will forget — one that was highlighted by Thursday's wild finish — and one that has the makings of a run similar to what the Freeman Flyers did in the late 1990s.
"They're buying into what we're telling them," Tschetter says of his team. "We're changing the culture here week by week. It's been a process, but for a team that's been together for six months, and these other teams have been together for six years, we're making progress.
"I told the guys in the huddle that I love them," the coach continued. "I wouldn't trade these kids for anybody."
Tschetter, the freshman phenom who has quickly gained attention in the 9-man ranks, ended up throwing for three touchdowns and 300 of F/M/FA's 469 yards and ran for another 100 yards. Hagan caught eight passes for 130 yards and Maddox Kihne caught six passes for 66 yards; both are seniors at Freeman Academy.
Dominc Sperling, a Marion sophomore, gained 63 yards on 15 carries and Freeman Public freshman Tate Sorensen had three kickoff returns for 44 yards.
The Phoenix ran 76 plays against the Falcons' 41 and held a dangerous Florence/Henry offense to 227 yards.
Freeman senior Ethan Balvin led the defense with four solo tackles and four assists while Freeman freshman Dom Grear had three solo tackles, including one for a loss.