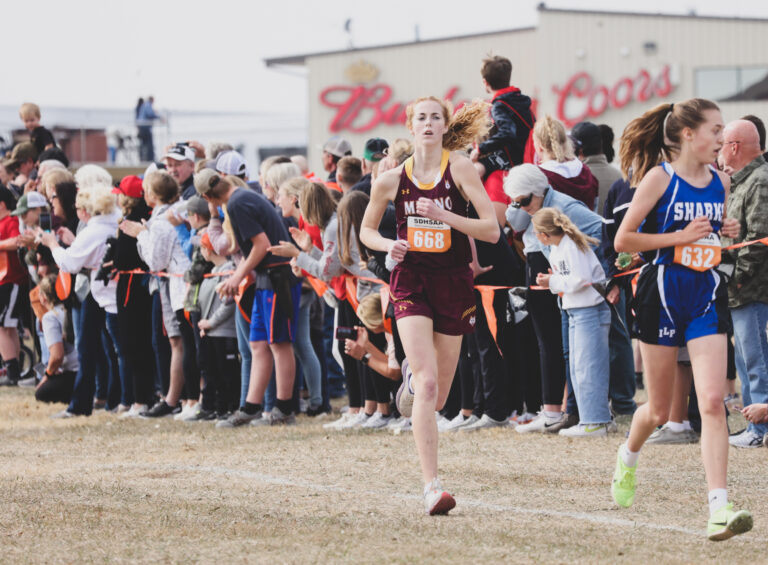 sports
NEW: MASSEY BEST FOR WOLVES AT STATE
JEREMY WALTNER – PUBLISHER
Her 46th place finish may have been further back in the pack than she was hoping for, but Ashton Massey accomplished something on Saturday that is certainly worth celebrating: Her fifth state cross-country meet in as many years.
Competing at Broadland Creek Golf Course in Huron Saturday afternoon, Oct. 22, the Menno junior finished in the front half of the pack of 113, crossing the 5,000-meter course in 22:22.22. Massey was one of three from Menno to compete on Saturday; she was joined by Zoe Schaeffer, who finished 95th in 24:30.79, and Erick Buechler represented the boys, placing 76th in a time of 20:15.41.
"I'm honestly kind of disappointed," Massey said. "The first 2½ miles I felt really good and was somewhere in the top 25. But I hit a wall with a half-mile left. I didn't finish the way I wanted to, but I'm grateful I was there and had that experience."
And Massey's finish was considerably better than in 2021, when she struggled with health issues and ended up 108th. Not only did she pick up 62 places over a year ago, Massey cut 2 minutes and 20 seconds off her time.
She credits her former teammates — specifically Morgan Edelman and Joe Grassmid — for pushing her to be better in her earlier years, and praises the program of which she is part.
"The team is so amazing," Massey said. "They are the best support system ever. The little sixth graders and seventh graders and eighth graders, they are my biggest cheerleaders. They make cross-country such fun."