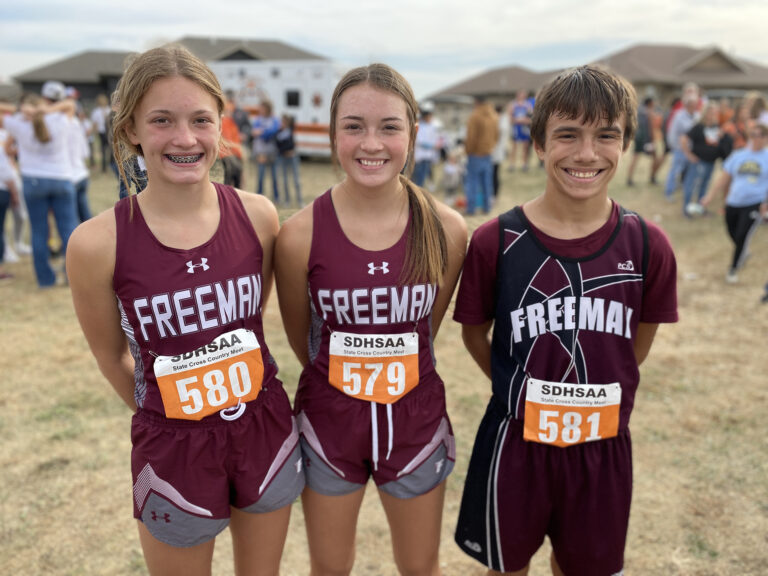 sports
NEW: PETERS, MCCUNE, MANGEL FINISH SEASON IN HURON
JEREMY WALTNER – PUBLISHER
For two underclassmen girls from Freeman Public who compete in what can be a big and intimidating world of varsity cross-country, they're just glad they have each other.
"I'd be scared if I ran by myself," says Peyton McCune, a sophomore.
"We would probably cry," added Rylee Peters, her eighth-grade counterpart. "There was a girl who was balling because she had to run by herself and I was like, 'Yeah, we'd be balling too."
That McCune and Peters were once again side by side at the start line of the 2022 State Cross-Country Meet on Saturday made the biggest race of the season just a little easier.
Peters ended up 70th (23:17.27) and McCune was 88th (24:00.57) in the 113-runner field at the Oct. 22 race, just beyond their finish from 2021 when Peters was 60th (22:17.16) and McCune was 86th (23:14.30).
Still, McCune said the race felt better than last year.
"It was pretty good; the golf course is better than running on a bunch of soccer fields," she said, a reference to the course at Yankton Trail Park in Sioux Falls.
"I could have done better, but it was OK," Peters said of her effort on Saturday. "It felt fast at the beginning but not so much in the middle. I need to learn how to keep the pace, which I'm not very good at."
Freeman Public was also represented in Huron by seventh grader Brayden Mangel, whose 62nd-place finish in the 114-runner field was the best for the Flyers. Mangel crossed the 5,000-meter course in 19:49.15.
"The race felt good; there were a couple of hills I didn't like and a lot of nerves, but I'm happy with how I finished."
Mangel was one of just four seventh-graders in the field and the top finisher among them.
"It's a great thing for a seventh-grade boy to make it and do that well," said Flyers head coach Sherry Rembold.
Mangel says he enjoys running cross-country because of what it means for his overall effort in athletics.
"I enjoy getting into shape," he says. "This will help me with track and my other sports — running up and down the court, running down the field, around the bases, stuff like that."
"I'm super proud of them all," said head coach Sherry Rembold. "They worked really hard all year long — a lot of early mornings running around the track or running out in the dark. They definitely earned their way here."
Even better, she says, is that "there's a lot of talk about positive attitudes and working hard and running through that adversity."
And it's not just the state qualifiers, either. Rembold is proud of her entire team and excited about the potential that lies in the younger runners; this year's roster included two sophomores, a freshman, two eighth graders, five seventh graders and seven sixth graders. And she notes that seventh-grader Lane McCune nearly joined his classmate in the boys race at state, missing his spot by one place in the region after making a strong move in the second half of the race.
"It was awesome," Rembold says. "The amount of effort that he put in and the amount of ground he made up was super inspirational. As a runner myself I couldn't get over it; you could see the pain on his face. He was so close. If he had another 100 yards, he'd have gotten him. Again, a seventh-grader working really hard. I'm excited about next year.
"Hopefully we can build on this and keep those younger kids going."