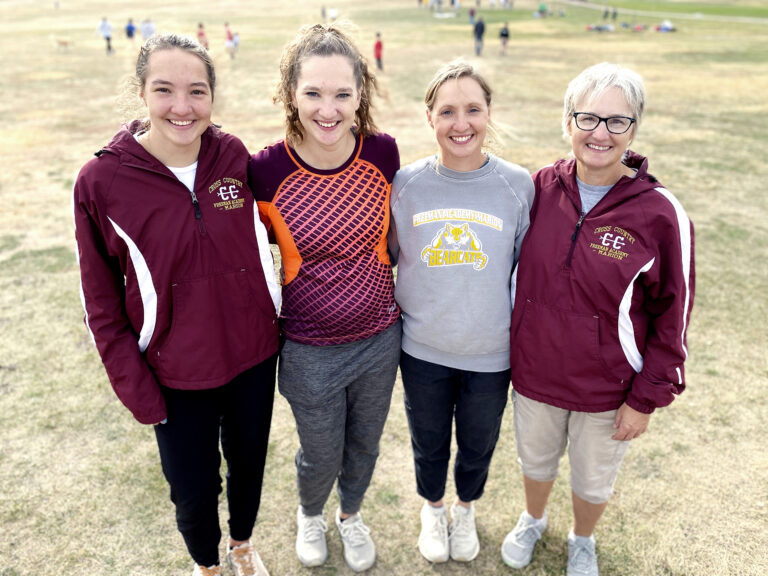 news, sports
NEW: THE KOERNER LEGACY
JEREMY WALTNER – PUBLISHER
Long before her children were even a glimmer in her eye, Suzanne Brockmueller became a state cross-country champion — not once, not twice but three times. After finishing second in her freshman season, the Freeman Academy standout won state titles in 1981, 1982 and 1983. It was a time when the girls were running 3,000-meter courses, and one in which female athletes — especially cross-country female athletes — weren't getting the attention of their male counterparts.
Still, the Argus Leader gave Suzanne the ink she deserved that senior season by running a photo of her just moments after she crossed the finish line in Mitchell, being helped along as she made her way through the chute.
Little could she or anybody else know the legacy for which she had laid the foundation.
Suzanne would go through a name change after marrying Todd Koerner in 1987 and the two started a family with the birth of Andrew in 1991.
Three daughters followed: Lillie in 1993, Clara in 1997 and Jada in 2005.
Oct. 23, 2010: Broadland Creek Golf Course just north of Huron.
Lillie Koerner is running the final race of what has been an outstanding cross-country career. The oldest Koerner daughter has enjoyed a successful stretch as a top distance runner for the Bobcats, busting on the scene with a 21st-place finish at state her freshman season. Lillie finished fourth the following fall and eighth as a junior in 2009.
Now there's just one last 4,000-meter race left and it's a lovely October afternoon at Broadland Creek Golf Course — both literally and metaphorically, as in, a lovely afternoon to win. Koerner runs with the top runners most of the way before pushing her way to the front with about 400 meters to go and outlasting Kadoka Area's Tia Carlson — the Class B favorite to win — by 5 seconds. Lillie smiles as she crosses the line, makes her way through the chute, grips the steel gate at its end and then collapses in a mix of exhaustion and delight. It's not long before Suzanne, unaware of what her daughter has just done, meets up with her and hears the news. Both can't seem to believe it.
"This has been a fantasy," says Lillie, who joins her mom as the only two state cross-country champions in the 107-year history of Freeman Academy. "I didn't think it would actually be possible."
Oct. 25, 2014: Return trip to Huron.
Now it's Clara Koerner's turn to run the final race of her high school cross-country career. It hasn't always been easy for the Koerner's middle daughter, whose state cross-country career had been rocky at times. Like Lillie, Clara had shown great promise as a seventh grader, finishing 29th at state, and then more promise came the following season when she shaved 41 seconds and two placings off her previous effort on the state's biggest stage.
But a 41st-place finish as a freshman followed and then, after an encouraging 18th-place finish in 2012, Clara faltered and ended up 69th at state her junior season with the slowest time yet.
But here she is again at that starting line ready to cap an inspiring season in which she exceeded expectations thanks to a newfound love and joy for running. And how about this; Clara finishes fifth with the fastest time of her career! Making it all the sweeter is that she finishes right beside Cailey Roth, an outstanding distance runner and senior contemporary from Freeman Public whom she has grown up with, and who places fourth in her own final race that 2014 season.
"I don't know what happened," a bewildered Clara says after the race that saw her cut 2 minutes and 47 seconds off her previous state effort. "God gave me so much strength; I never would have imagined it."
Oct. 23, 2021: Yankton Trail Park in Sioux Falls.
Jada Koerner stands at a crowded start line on a chilly fall day for the final race of what has been an outstanding junior season. The youngest of the three Koerner sisters has enjoyed a state meet medal each of her previous four seasons, including a third-place showing on a snowy course in Rapid City the year before.
Now, Jada knows what she wants to do. She wants to join her mom and oldest sister as the only cross-country runners in Freeman Academy history to finish first at a state meet.
Jada wants to win.
But she doesn't. Despite the fastest clocking of any of her state meet races, she doesn't even get second. Instead, Jada gets fourth in a super-talented field of runners. She is upset.
The start of that 2021 race had been great, but the three runners in front of her she had kept up with early began pulling away and Jada lost confidence. Her mom was worried as the race unfolded.
"Midrace I had a bad sinking feeling when that gap happened," Suzanne said afterward. "I got really worried because there were a lot of good runners behind her. That's a bad spot to be in, where you're leading a chase pack for so long."
But Jada's toughness prevailed. Only one of those runners passed her, and Jada caught her on the home stretch to secure fourth place. It wasn't a win, but the junior's smile eventually reappeared, and she found some perspective.
"A lot of it is, this is a mental sport," she said, "and I just wasn't there today."
Oct. 22, 2022: One more trip to Huron.
Jada is on the tail end of another outstanding cross-country season in which she has won more times than not — including her second-straight Region 3B title the week before — and at the end of a terrific prep career. She still doesn't have that state championship like her oldest sister and her mom, but she appears to be OK with that. In fact, Jada doesn't have any aspiration about winning her final race — at least she doesn't say so publicly. Instead, she just wants to enjoy her final 5,000 meters and run a solid race. And she does.
At approximately 1:20 on a comfortable fall afternoon last Saturday in the last high school cross-country race any of the four Koerner  women would run, Jada finishes eighth. And then she cries as she collapses into the strong arms of her father. The tears aren't because of her finish, she says, but because it is finished.
And everybody is there: Todd and Suzanne, Andrew, Lillie and Clara and others from the Freeman Academy/Marion cross-country community, all holding Jada up in the same way that her older sisters and her mom were lifted up back in their day.
Someone who is not there is Jada's grandfather and Suzanne's dad, Gordon, an outstanding distance runner in his own right at Freeman Academy and Freeman Junior College, who passed away in 2009 at the age of 74 — the year before Lillie won it all.
"Wish my dad was still alive through all of this," Suzanne says, reflecting on a comment he once made: "You don't want to win at everything or people won't like you so much," she recalls. "That always makes me smile."
As for Jada, Saturday may have been her final high school cross-country race, but the 17-year-old isn't done. She has a track season ahead this coming spring and wants to run in college, just like her older siblings. Lillie enjoyed a successful college career running at Dordt and both Clara and Andrew — who won his own state cross-country medal his senior season of 2008, when he finished 14th — suited up for the University of Sioux Falls.
You know who didn't run in college?
The three-time defending Class B champion.
"Biggest regret of my life," Suzanne says.
•••
After it was all over last Saturday afternoon — after the emotions settled down and it started to feel like just another Saturday afternoon, the four Koerner women gathered for a photo commemorating a legacy four decades in the making.
"It's a lot of hours of training when you add it all up," said Suzanne. "I'm just so proud of them."
So, what is it about running?
"I don't know; tradition like anything else," says the mother first and coach second. "You know how it is with different families and different sports — they all kind of latched on to it. I hope I didn't force them; I tried not to. There were some moments for each one of them where they had to decide if they really wanted to do it, and then they also had to decide if they were really going to try to get to the next level. And they all found that at a little different time."
"There was a lot of pressure and expectations that you placed on yourself," said Clara, whose husband, Billie Beseman has been coaching alongside Suzanne the past two seasons. "I feel like our family did a good job of not pressuring in a way where we were feeling expections, but just walking in the footsteps of greatness, that's always going to be there. But I think that's a good thing to experience and to motivate you."
"It's a very special thing to be a part of — to have such a good strong family to support me through everything," said Jada. "Just to be part of something like this — it's what we do."
Clara said she remembers Jada biking with her a few times when she went out on runs.
"She was probably in lower middle school or upper elementary school and she would ride beside me," said the 25-year-old. "I don't think she even knew what she was saying, but she would repeat things that she heard Mom say in practices, like, 'Pick up those knees! Pump those arms!' So, it's definitely a family affair."
"It's always fun coming back to Huron," said Lillie, 29. "We all have our own memories of this course. There have been a lot of big emotions here, so when we come here, all those memories come back."
Still, as seriously as the Koerners have taken cross-country all these years, when it comes right down to it, it's all part of growing, learning and being better. All four of them say that.
"Usually after a bad race it feels like it's the end of the world — like I'm dying," says Jada. "How am I supposed to move on from this? And then an hour later it's like, 'Huh, one bad race.' And then you keep going."
"And then years later, it's all part of the bigger perspective," says Lillie.
"One doesn't want to take oneself so seriously — that this is the be-all and end-all to everything," says Suzanne. "We just want to make some good memories, move on and hope that's part of a building block for other experiences in life."