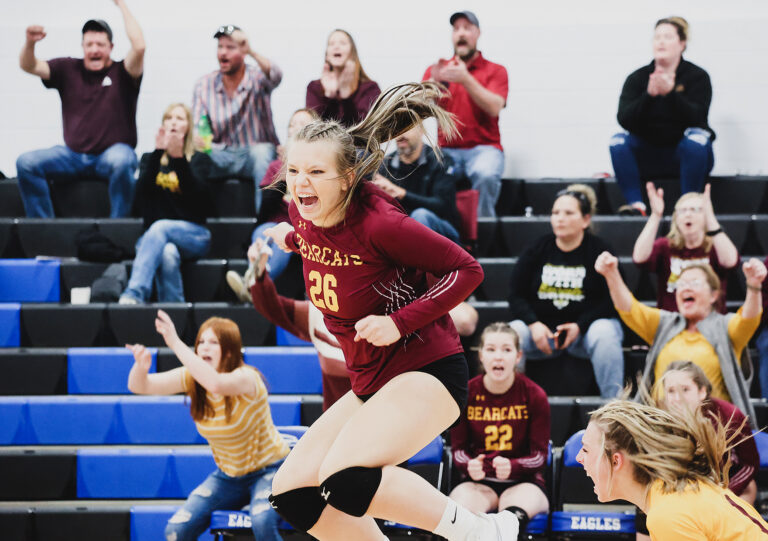 sports
NEW: SOMETHING TO CELEBRATE
JEREMY WALTNER – PUBLISHER
When Alivea Weber thinks back on her time playing  volleyball for Freeman Academy/Marion, she knows what she'll remember best.
"This game," she said.
The Marion senior said so following the Bearcats' Region 4B battle against Irene-Wakonda in Irene Monday night, Oct. 31. Weber and the FAM girls didn't win, but they put up the fight of their lives and played the match of the year in what ended up being a loss in five sets. After falling behind 0-2, the ninth-seeded Bearcats battled back to knot the score at 2-2 and then almost completed the comeback in the fifth and final frame, only to come up just short against the eighth-seeded Eagles.
Set scores went the way of Irene-Wakonda 25-13, 25-16, 22-25, 15-25, 15-12.
"It felt good to finally play all together, because we've had our struggles throughout year," said Weber, whose Bearcats team won just twice this season against 24 losses. "It felt really good to come together as a team and want to win. We've never fought this hard."
Early on it looked like it would be a three-set loss for the Bearcats, who couldn't muster any momentum against an Eagles team playing on their home court. Irene-Wakonda had little trouble against FAM in the opening frames, but the Bearcats hung tough in the third set, building a lead at 13-10 and then 15-11. The Eagles answered with a 10-2 run to go up 21-17 but FAM stayed alive by closing out the set on an 8-1 run of their own to force a fourth game.
"We were just joking with each other and having fun out there," said first-year head coach Jen McConniel, "and it paid off."
That continued in the fourth set as the Bearcats put together perhaps the best frame of the season. A 4-1 lead turned into an 8-5 advantage, and before long it was 14-7, then 19-11 and, finally, 25-15. Not only did FAM tie the match at two games apiece, they did so with an abundance of energy and enthusiasm.
"The fact that they were out there having fun was the best," she said. "They really struggled this year but tonight they showed when they were capable of."
Indeed, while FAM's carefree play turned Monday's match into a thriller, the Bearcats were fundamentally solid when it mattered most, whether it was Weber's 16 digs and 10 kills, Emma McConniel's 30 digs and four aces, Isabelle McConniel's eight set assists or Anna Olson's two blocks.
"They were able to come together as a team and show what they've been working for all year," said the coach.
But it wasn't quite enough.
Irene-Wakonda regained some momentum in the fifth and decisive set and built a 6-1 lead, but the Bearcats hung tough. Trailing 4-8, FAM put together a 5-1 run to tie the set at 9-9 but they couldn't get over the hump. The Eagles closed out the match by scoring six of the final eight points and advanced to the next round, taking a 5-22 record with them.
And Weber and classmate Leah Goodwin, the two seniors on the team, walked off the volleyball court for the last time.
Weber was emotional afterward.
"I'm sad that it's over," she said. "With all the hard work we put in and the fight that we had, this is a sad loss."
"It's unfortunate that we're going to lose the seniors, but that's how life goes," said McConniel, who was quick to praise their leadership. "They were really good with the rest of the girls; the younger girls really looked up to them.
"They know a lot about the sport, which is very helpful, but they're also genuinely good people," the coach continued. "You can be a good player, but to be a good person on top of that, it's a big deal."
While they will be impacted by the loss of Weber and Goodwin, the Bearcats return a solid bunch in 2023.
"Very much so," she said. "This was a learning year and we're not done. I think these girls are going to go a long way."