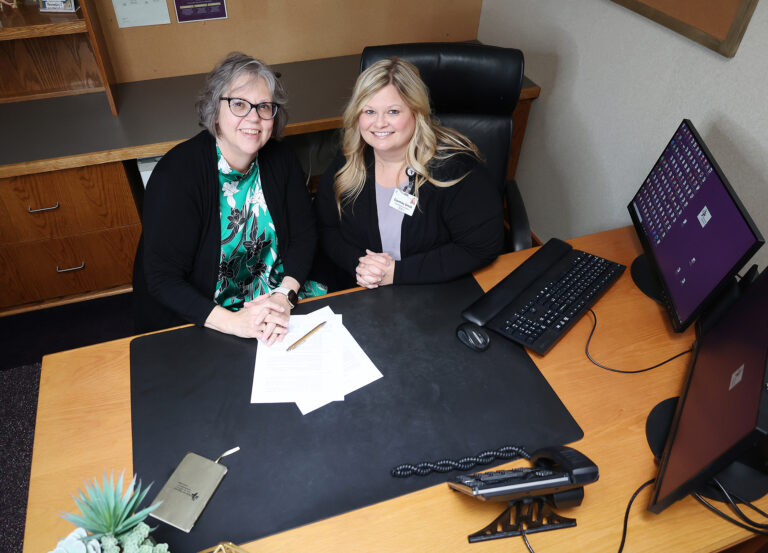 news
FRHS, SALEM HOME TO MERGE
JEREMY WALTNER – EDITOR & PUBLISHER
In an effort to provide a continuity of care and strengthen its commitment to the larger Freeman community, Freeman Regional Health Services (FRHS) and the Salem Mennonite Home have announced plans to merge.
A date has not been finalized, but FRHS CEO Courtney Unruh said the Salem Home will become an extension of FRHS after the final agreement has been signed — a formality — and that she is hopeful that all resources can be combined by the first of the year.
"Our goal is to complete this by the beginning of the year," Unruh said, who refers to the merger as "coming together, caring for all."
"We want to protect what we have in Freeman and provide the best healthcare facility we can for our community."
"This is a true partnership between Freeman Regional and Salem Home and is something to celebrate," said Shirley Knodel, who will retire as the Salem Home administrator on Dec. 16. "We both have one common goal: to take care of Freeman."
Amanda Mettler, who has worked as the director of social services at FRHS, will take on the role Knodel has been serving at the Salem Home as FRHS Senior Living Assistant Administrator.
Leadership at both FRHS and the Salem Home has been laying the foundation for the merger for several years through internal conversations and joint meetings. That effort began shortly after both entities independently became an affiliate of Avera in 2020 and Salem Home began using FRHS for accounting services.
Early the following year they entered into a United Health Care Campus Collaborative Agreement with Avera to begin exploring the possibility of building a new campus, which has been followed by meetings between Avera, FRHS and the Salem Home toward that end.
In September of 2021 both FRHS and the Salem Home signed letters of intent to work together through shared resources, and in March of 2022 the administration and board of directors from both FRHS and the Salem Home decided to move forward with a merger.
"We believe it is in the best interest financially and otherwise to become one entity," said Unruh, who has been CEO at FRHS since January of 2021 after working for the facility as its director of nursing. "The only way we can contain costs and provide that continuity of care is to partner together with services, people, equipment and supplies."
The agreement was finalized at the Salem Home's annual meeting last week, which included six board members, 26 members of the corporation and four representatives from FRHS. Knodel said the Salem Home board of directors presented the key provision of the agreement, a recommendation for the merger, "and we had no negative feedback from anyone."
The FRHS board of directors, which approved a letter of intent to work with the Salem Home last September, will ink the deal when the agreement is finalized — a formality, Unruh said.
With the merger, the facility will take on an identity as an assisted living facility that is part of a Freeman Regional Health Services network — a network that includes a critical access hospital and nursing home, clinics in Freeman, Bridgewater, Marion and Menno and congregate living quarters at Dewald Street and Walnut Street villages.
Steve Schmeichel and Shane Vetch, who are currently board members with the Salem Home, will join the board of directors at FRHS. The remaining Salem Home board members — Norm Kaufman, Jim Rigo, Dawn Stahl and Nathan Walter — will be part of a FRHS Foundation Advisory Council that will work hand in hand with the board of directors moving forward.
"This is the best board I've ever worked with, so I'm thrilled they're continuing to lead," said Knodel.
The FRHS board of directors includes chair Lori Uecker and Jason Aanenson, Cameron Becker, Steve Fuhrmann, Jim Julson, Cindi Mutchelknaus, Glenn Roth and Cory Schrag.
"It's exciting," said Unruh. "We have boards that care about this community and want to take health care into the future in a positive way. It's all in God's timing; we can't force things and all good things come from above, and this is truly a really good thing."
Building for the future
Unruh and Knodel both agree that establishing a formal partnership and working together in all areas is critical in meeting the needs of the greater Freeman area, and that includes the construction of a brand-new campus on land east of Stadium Drive and Wynken Drive, which is owned and paid for by FRHS and the Salem Home.
FRHS and the Salem Home have both been looking at building new facilities independently for years.
"Throughout this whole process, from when both of us started looking at building projects prior, we have heard from our community loud and clear that they want us to be together — that they don't want to have two separate projects," said Knodel.
"Our community is fiscally responsible and wants to make sure we have those efficiencies in place," added Unruh, who says that Avera invited FRHS to the table this past April to begin exploring capital criteria to determine which of four communities Avera would prioritize for a building project.
In addition to Freeman, Avera — which manages but does not yet own or lease FRHS — has also identified the communities of Dell Rapids; Tyler, Minn.; and Granite Falls, Minn. for a building project.
"We're looking at a project that is going to cost a lot of money and Avera has to prioritize," Unruh said. "It's not if, it's when, but we want to be first."
Freeman Regional Health Services is currently in the process of "scoring itself" to show Avera its "probability of success and probability of value," which Avera will then evaluate against the other three communities. The criteria being used ranges from current and projected financials, workforce availability, culture, stability of the leadership team, size of the medical and specialty staff and overall need.
"These communities all need buildings," Unruh said. "But success and value of the project will help the overall Avera system.
"We do feel like we have an upper hand because we have such a wonderful community," she continues. We are strong in terms of economic development, schools, housing opportunities — all those things that will help set Avera up for success."
Unruh said Avera will also look at community progressiveness and support; "How much can the community get behind this?" she said. "The faster we can get support, the sooner we can see this project happen."
Knodel notes that any money that has already been given for a building project will be used as part of the capital campaign that will be launched once Avera has identified Freeman as the community in which it will build.
And the fact that land has not only been identified but is paid for is also in Freeman's favor, Unruh said.
"I truly believe we are going to score high for prioritizing Freeman above those other communities," she said.
In the meantime, FRHS and the Salem Home are focusing on finalizing the merger.
"All we can do right now is promote ourselves and continue to grow with our strategic plans and bring our best assets to the table," Unruh said.
As for Knodel, she's thrilled that she will be leaving the Salem Home, of which she has been the administrator since March of 2016, in good hands.
"It makes me feel wonderful because I love every resident we've ever had and the ones that will be coming, and I love the staff we have," says Knodel, who plans to travel and see friends and family with her husband, Steve, following her retirement before circling back to Freeman. "To know that they're in good hands and that the assisted living that is so valuable — to have the faith and the trust in Courtney and Amanda and the entire leadership team makes me feel wonderful.
"I wouldn't have it any other way."
FRHS hopes to share additional plans at the FRHS Foundation Gala on Jan. 21. And watch The Courier between now and then for more news about the transition, the history of both the Salem Home and FRHS, and an exit interview with Knodel.