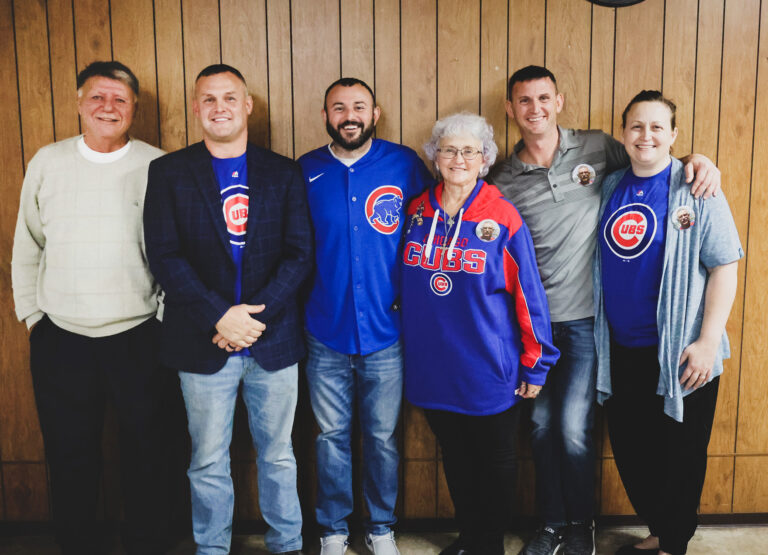 news, sports
BAKER, SCHERSCHLIGT HONORED
JEREMY WALTNER – PUBLISHER
It was the summer of 1976 — Ron Baker's first year playing amateur baseball in Freeman.
The Scotland native had spent the previous seven seasons playing for his hometown team and helped lead the Highlanders to a Class B state championship the summer before.
But a teaching and coaching job had brought his family to Freeman, and that meant new digs on the diamond. It also meant new teammates. Baker says he knew most of them well, but there was one younger player whom he had only heard of by name — Bob Pidde, a player who would quickly make a name for himself on the baseball field in the same way he had done so on the basketball court at Freeman Public who last year was inducted into both the South Dakota High School Basketball and South Dakota Amateur Baseball Hall of Fame.
"They had this 18-year-old kid that I didn't know anything about," Baker said. "First game I ever played with him I'm batting cleanup and he's batting third. I'm the power guy; Bob's just a kid. We're playing against Vermillion and I'm in the on-deck circle and I reached down to pick up the donut and I heard a noise coming off the bat that was so loud I couldn't believe it. And Bob hits the Quonsets in right-centerfield. The next game I'm batting third and Bob's at cleanup."
That was one of the stories Baker shared in his remarks at the 2022 South Dakota Amateur Baseball Hall of Fame banquet in Tabor Saturday night, Nov. 5, where another player with ties to the Freeman community — Warren Scherschligt — was also inducted.
Warren, who died from cancer in 2019 at the age of 57, played almost his entire career for his hometown of Lesterville and was represented Saturday night by his immediate family: Wife Janet, daughter Jennifer Tschetter and sons Brett, Lee and Allen.
"He was a baseball guy through and through," said Brett, who accepted the award and offered remarks on his dad's behalf Saturday night. "He thought baseball was the game of games; he played his whole life and he watched his whole life."
Brett, who remembers watching Warren play in his final season when he was 12 years old and enjoyed an outstanding amateur career himself until he stepped away in 2019, said his dad played on some good Lesterville teams and some not-so-good Lesterville teams, "and every night, there was Warren with two or three hits."
Warren played 18 years for the Broncs, one season for Chamberlain and finished his career with a .382 batting average. He hit multiple home runs in a single game on a number of occasions, twice hit two home runs in a single inning and, in his final season at the age of 38, led the South Central League in batting with a .387 average — a season in which he did not commit a single error at first base. Warren joins his father Les, uncle Ray and father-in-law Joe Walters in the Hall of Fame — a family linage unlike any other represented at Lake Norden.
"I lived at the baseball park," said Jennifer, the oldest of the four Scherschligt children, who has fond memories of watching her dad play. "A summer without baseball? I don't ever remember one. He loved the game; the whole family did. It was in our blood."
"I remember cheering him on and watching the kids," said Janet, who married Warren in 1981 and whose family farm is what brought the Scherschligts to Freeman in 1994 after they purchased the estate. "I also remember he always wanted to go to the bar after the games and I would sleep in the car because I had to work the next day. He loved everything about the game of baseball."
Joe Van Goor, whose career in radio out of Yankton and Vermillion spans nearly 50 years and who was the emcee of Saturday's banquet, remembers Warren playing for Lesterville.
"He always had such great hustle; there are lot of guys playing amateur baseball who would break an arm or break a leg to play, and Warren was one of those guys," Van Goor told The Courier. "He left everything out on the field."
Lee Scherschligt, who spent a few years with Freeman's amateur team, was a batboy for the Broncs when his dad was playing but was too young to remember any specific stories — but he's heard plenty about his dad.
"Being a lefty obviously gives you an advantage pitching, and I guess he had a screwball that ultimately ended up messing up his elbow," Lee said, "but I guess that pitch was absolutely unhittable."
Lee also noted that Warren was a pickup player as a teener for Canova and was the winning pitcher for five of six state tournament games over two seasons with the Gang.
Allan Scherschligt, the youngest of the four children and who still plays with Freeman's amateur team, remembers that screwball while playing catch with his dad.
"He hurt his arm a few times and had some elbow trouble, but he could still throw that screwball," he said. "Because he's a lefty you're expecting it to dive one way and then it goes the other way. It was crazy. You're like, 'What the heck is going on?'"
And the guy could flat-out hit.
"He was a lefty who had some power, but he was a pure line-driver hitter," said Brett. "Day in and day out he was going to get you a couple of hits no matter what, and in baseball, when you do the math, that's going to get you a pretty darn good career."
"He definitely had talent to pitch, and when that went away he could still hit the ball," said Lee. "When you look at his stats — I did not know that my dad was that good of a player."
All three sons say Warren was their biggest fan when they played in Freeman after graduating from Freeman High School — firm but gentle at the same time, always encouraging and interested in what was going on.
"He was a big fan," said Allan. "He would always talk to us about the little things."
"He never harped, he never pushed too hard," said Brett. "Obviously my brothers and I love baseball, too, so whatever he did, it worked."
"There's just something about baseball in the summertime, especially in small towns," said Allan. "The lights signify that, hey, we're here. Let's go to the game and have some fun. There's nothing better than that; on a nice summer night, enjoying the lights and a cold beer — fantastic."
That the Scherschligt baseball legacy has been extended through Warren's induction into the hall of fame is indeed special.
"It's great," said Allan. "Both our grandpas are in the hall of fame, and now to have our dad, that's something special. This is a great night."
"It's a privilege and honor and humbling at the same time," said Brett. "I'm proud of him; I know he'd be proud to get in."
"It's a little surreal," said Lee. "Obviously I wish he was here for it, but it's well deserved. He earned this. The imprint that dad had on baseball in Lesterville, and in Freeman, as well, is unmatched."
More on Baker
For Ron Baker, his arrival on the Freeman baseball scene in 1976 was an extension of what had started in Scotland seven seasons before and became the second act of a hall of fame career that spanned 18 years.
"Ron and I go back a long ways," said Larry Anderson, who was the manager of the Freeman amateur team when Baker arrived and is also a member of the South Dakota Amateur Baseball Hall of Fame. "What I remember most about Ron is that he played hard. A real competitor."
"He just has so much baseball smarts," said Bob Pidde, who was inducted into the hall of fame last year and was among the contingent from Freeman attending Saturday's ceremony. "He would direct the team from second base and just had so much knowledge of the game. A lot of fun to play with."
And Baker had the skill to go along with that competitive fire and high IQ of the game. He was a consistent .400 hitter who also had power, slamming a career-best 21 home runs in a single season. Remarkably, he played in every state tournament during his career either with his own team or as a pickup player, and his .526 batting average at the state tournament in 1975 helped lead Scotland to the Class B title; the Highlanders edged Renner 7-6 in the championship game.
Baker said he had signed a contract to teach at Freeman Public starting with the 1975-76 school year but saw something special in that Scotland team and stayed with it one final season.
"I wasn't going to give up that '75 team with Dave Gassman and all those other guys — I had a lot of friends there — and there were Freeman people who were upset," he said. "And when we played against Freeman that year I didn't play; I didn't want to make any more enemies. But then in '76, since I was teaching there, I stayed to play. And I didn't know how much longer I was going to play but I had such a good time there. It was a lot of fun."
For Baker, that's what it was all about.
"That's the only reason I did it," he said at Saturday's banquet. "You don't play to be a hall of famer or any of that stuff."
Baker remembers the power on those Freeman teams he played on early on; he notes his 21 home run season, but that that didn't even lead the team.
"Pidde had 23," he said. "Reno (Huber) had 19 and Ted Pidde had 10. We hit a lot of home runs; we had to because we didn't have much for pitching."
That eventually changed, Baker said, "and we were pretty good."
Van Goor said his association with Baker was more on the basketball side when he was coaching in Freeman. "I remember when I was at WNAX doing a lot of Freeman games, and that hallowed gym in Freeman which is now the community center, that was a lot of fun. Always a great atmosphere. Especially when the Hutchinson County Tournament would come around, boy, you talk about battles that will never be forgotten, and Freeman was certainly a part of that, as was Ron Baker."
Saturday's ceremony also included the induction of Chris Brown (Brookings), Gary Kortan (Tabor) and Jay Kusler (Aberdeen/Redfield).