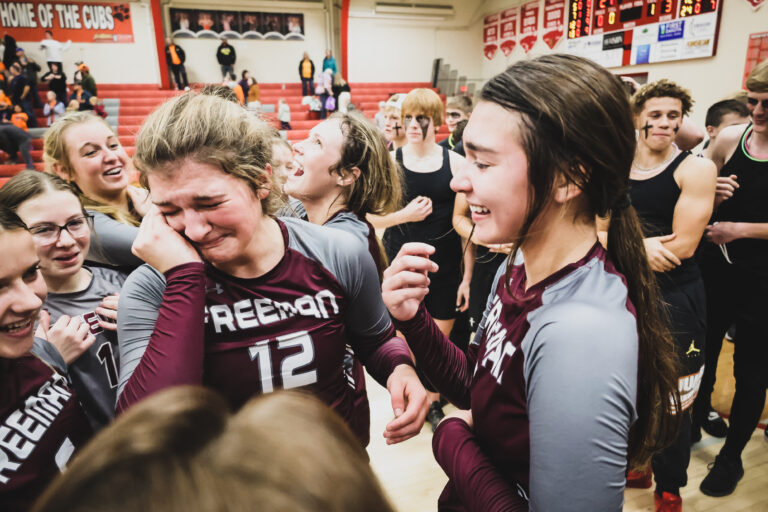 news, sports
YES THEY CAN! FLYERS FINALLY BREAK THROUGH
For Freeman High School seniors Kate Miller and Erin Uecker, their high school volleyball careers aren't over quite yet.
No, they've got a trip to Sioux Falls to make first.
Miller, Uecker and the Flyers scored the win of their lives at the Chamberlain Armory Tuesday night, Nov. 8, upsetting Jones County in the SoDak 16 and earning a spot in the 2022 State Volleyball Tournament next week at the Premier Center.
Freeman went into Tuesday's match as the No. 12 seed but handled the No. 5 Coyotes with relative ease to come away with a 25-21, 25-15, 25-21 win. It was just Jones County's second loss of the season while the Flyers will take a 22-9 record into the state tournament that will be played over three days next Thursday, Friday and Saturday.
They will be the No. 8 seed and will face No. 1 Warner (33-2) Thursday at 11:30 a.m.
A Freeman volleyball team has been to just one other State Volleyball Tournament — in 1998, when they upset No. 1 Sioux Falls Christian in the opening round and finished fourth.
"There are no words — there are no words," Miller said repeatedly after being caught up in an emotional celebration Tuesday night. "We wanted this so badly. We've been to the sweet 16 so many times and we've always gone home crying."
There were tears again this year, but tears of another kind.
"I've never been this happy in my entire life," said Uecker, her voice cracking from the emotion of the moment. "It's a dream come true. We've been working so hard for this and we finally got there, and me and Kate as seniors are just so proud of everyone. We can't wait until next weekend."
For fourth-year head coach Kendra Peterson, that Miller and Uecker get to play in the state tournament their final season is poetic.
"They were the youngsters I started with when they were freshman and we have come a long way together," she said. "They've been great leaders for these girls; they just always push them to be better and they try to better themselves. It's just awesome to see it all come together for them."
Photos from the SoDak 16 win
'Another level'
Freeman went into Tuesday's SoDak 16 with a lot of confidence — and for good reason. After dropping three straight matches from Oct. 4 to Oct. 17, the Flyers won their final three of the regular season and then swept Irene-Wakonda and Scotland in the Region 4B Tournament to qualify for their fifth SoDak 16 in row. And Jones County was the draw the team was looking for.
While the Coyotes appeared to be salty on paper with a 30-1 record and No. 5 seed in the state, the Flyers liked the matchup. The speculation in Freeman's camp was that, because the Murdo-based team faced mostly sub-.500 competition during the regular season, and based on the scouting report coaches received from the one team that did beat them — Belle Fourche — Jones County would struggle to handle Freeman's strong offensive attack led by Miller.
Plus, the Flyers had zeroed in on a working rotation and were playing their best volleyball of the season, having won their previous 12 sets played and 13 of their last 14.
"We finally hit our peak late in the season," said Peterson. "These girls have unlocked another level of volleyball and it felt like nobody was going to stand in their way."
"They're a good team," first-year assistant coach Jessie Ahlers said of Jones County, "but I felt that what we've been showing and everything we've been doing was going to put us on top. Everything has come together so well that I had a calm feeling that everything was going to work out."
And it did. While the Flyers struggled early on against Jones County in both the first and second set — they fell behind 0-3 in both frames — they used solid team play and committed few errors in what ended up being an exhilarating 60-minute match.
And that offensive attack that was supposed to put the Coyotes on their heels? It worked like a charm. Freeman had 41 kills as a team, with six different players swinging at the net that kept momentum on the side of the Flyers most of the match.
In the first set the Flyers turned a 7-10 deficit into a 13-11 lead and came away with an energizing 25-21 victory.
In the second set Freeman trailed 9-10 but then went on an 11-2 run that sent the Flyers and their fans into a dizzy, and they delighted in a 25-15 win and 2-0 advantage.
And in the third set the Flyers never trailed, using kills by Miller, Zenovia Butler, Uecker and Ashlin Jacobsen to build an 8-4 lead. Freeman led by as much as 15-7 in that third frame, but Jones County didn't go quietly, finally finding some momentum of its own to draw as close as 22-20. But the maroon and white scored three of the next four points, the last one coming on a dig from Ella Waltner, a set by Cami Fransen and a gentle tip over from Miller that the Coyotes couldn't safely return. Game, set, match, and the party was on.
Watch the match-winning point
"I'm just so happy for Kate and Erin," said junior Cami Fransen, the team's setter who finished Tuesday night with 36 assists. "It's their last year and they get to go to state — one of their biggest dreams. I'm so proud of them for attacking and never giving up."
"Pinch me I'm dreaming; we finally got over the hump," Peterson said after accepting the state qualifier plaque and presenting it to the girls who launched into a wild celebration with their fans. "We really did our homework, we pushed them in the gym all week and these girls accepted the challenge. They were ready to go and weren't going to let anything get in their way — you could tell by their energy and intensity all week. There were a few nerves, but these girls were excited to play tonight."
"This is the first year we really excelled when we needed to," said Miller, who led the team with 16 kills. "My sister (Emily) and all my friends before us, they all wanted this for us so much and everything came together in the end."
Chemistry
The rise of this year's volleyball team at Freeman Public has been made possible by girls who play their positions well, a supportive and enthusiastic bench and genuine friendships that run deep through the squad.
"All the credit is theirs," said Peterson. "They just kept getting better and better and nothing was going to get in their way. I have cried so many happy tears for them. This group is so deserving."
Ahlers said she struggled containing her excitement on the bench as she watched her players play the match of their lives.
"I've told these girls that I've coached before and have seen a lot of really good teams, and this is honestly one of the most fun teams I've ever been around," she said. "I'm so proud of them, and to be part of this really makes my heart so happy. I am so thankful that I'm here experiencing this with them, because this is a great group of girls that truly deserves this."
Butler, a junior who came to Freeman as a transfer from Marion last school year, iterated what it means to the seniors to get to state and talked about the entire team as a sisterhood.
"This team means everything to me," she said. "I'm super close with all the girls; we all get along and I would do anything for any one of them."
And Jacobsen, also a junior, said the Flyers have had a "now or never" mentality that has carried them all the way to state.
"It feels amazing," she said. "We just gave everything we had every single game. The seniors wanted this, we wanted this for them, and now we're going to state. This is everything."