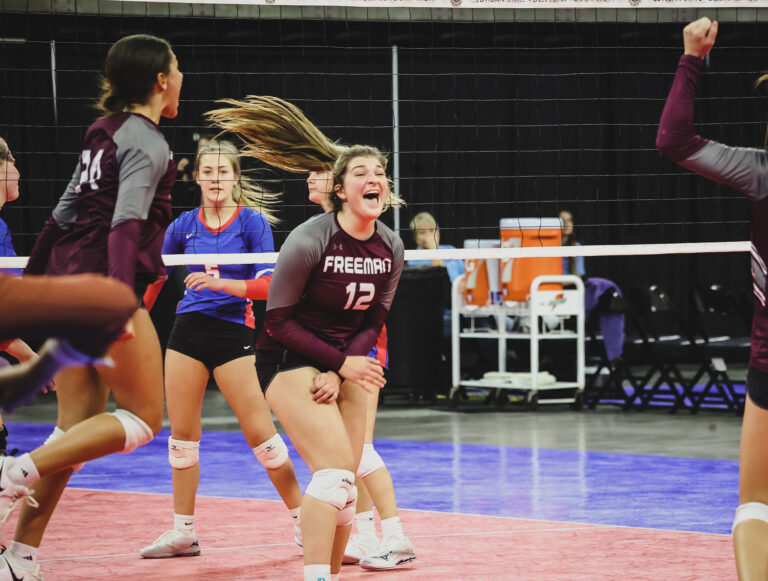 news, sports
MILLER: WE 'PROVED WE DESERVE TO BE HERE'
In February of 1998, when South Dakota high school volleyball was still played in the winter and sets were played to 15 in a best-of-three format, No. 8-seed Freeman High School knocked off No. 1 Sioux Falls Christian in the opening round of the Class B state tournament. 
Almost 25 years later, the Flyers were looking to repeat history and catch lightning in a bottle against the state's top-ranked team, and for two-and-a-half sets, they looked like they might just pull it off.
Playing in the opening round of the 2022 State Volleyball Tournament Thursday morning and into Thursday afternoon, No. 8 Freeman had defending champion and No. 1-seed Warner on the ropes in the first set, came away with a victory in the second set and played with them almost point for point midway through the third, only to see the Monarchs pull away from there and survive the upset-minded Flyers.
Warner won 25-21, 25-27, 25-16, 25-11 and will take a 35-2 record into the semifinal round against No. 5 Wolsey-Wessington (28-4) Friday evening. Freeman drops to 21-10 and will face No. 4 Northwestern (27-8) at 11:30 a.m. in Friday's consolation round.
"It's honestly just a privilege to be here and to get to play against the best of the best," said Freeman senior Kate Miller. "Even though it was a loss we still took a set from them, played our hearts out and proved that we deserve to be here."
Warner head coach Kari Jung told The Courier after Thursday's match that her team suspected that, even as an 8-seed, Freeman wouldn't be an easy solve.
"We knew watching them against Jones County that they were going to come ready to play," said Jung, who since taking over as head coach in 1998 has led the Monarchs to either a Class B state championship or runner-up finish 11 of the past 15 seasons. "I knew they were solid with consistency at hitting and we knew they had desire."
And, in fact, the Flyers had the edge early. 
Freeman scored the first point of the game and surged ahead to an 11-5 advantage using solid play at the net that included kills by Kate Miller, Erin Uecker and Ashlin Jacobsen, and then went up 12-5 on an Emily Mendel ace. The Flyers went up 18-13 on another kill, this time by Zenovia Butler, and took a 23-20 advantage on another swing by Butler to draw close to what would have been a statement set win against a storied program — but it wasn't to be.
Warner finished the first frame on a 5-2 run and took a 1-0 lead, yet the Flyers didn't flinch. 
And what followed was perhaps Freeman's best set of the season.
The Flyers and Monarchs exchanged points in thrilling fashion for much of the second set; no team led by more than a single point until a Uecker block gave Freeman a 17-15 advantage, and the underdogs eventually came away with a thrilling 27-25 win to knot the match at 1-1.
"We were doing the little things right," said Flyers head coach Kendra Peterson, who noted the outstanding play of her defense. "Erin (Uecker) did great all the way across the net, and then Kate (Miller) really started picking up on those big hitters. I told them, 'Find out where they are, get in their face,' and they really did. They had that attitude that, 'I'm going to be there,' and it really showed."
"They had us," said Jung. "Defensively they were outstanding. And we knew they were going to tip, but we just could not figure out where it was going."
The back-and-forth battle continued in the third set, with the game standing at a 9-9 tie on a Jacobsen kill, but Warner finally found some momentum with a 5-0 run, and the match wasn't the same after that.
"We had to make a few adjustments," said Jung, which included pulling offside blockers in and defensive positioning for better coverage. "And I feel like our block got a little better late."
The momentum created by the defensive execution translated to an offensive attack that was simply too much for the Flyers. Warner ended up with 68 kills to Freeman's 36, including 17 from Lauren Marcuson, 14 from Kyra Marcuson and 12 from Kamryn Anderson. 
The Monarchs ended up winning the third set 25-16 and the fourth set 25-11 to walk away with a 3-1 win.
"They really started hitting the ball and sucked the momentum out of us," said Peterson after the match. "It wasn't anything we couldn't defend, but we just lost momentum and that became a cancer for us. If you can't keep the energy and intensity throughout the match, you're not going to win against a team like this."
While disappointing, Peterson was exceedingly pleased with the team's "no fear" effort.
"It was awesome," she said. "I told them, 'You know what, you made it here, you're the underdog and you have nothing to lose with No. 8 next to your name. So you may as well go out there and play with no fear,' and they really did. And they took a set from the No. 1 seed in the tournament, which is definitely something to be proud of."
The Flyers return to the court late this morning against Northwestern, another Class B powerhouse that has won state championships in 2020, 2019, 2017, 2016, 2011, 2006, 2005, 2004, 2003, 2001, 2000 and 1999.
Peterson says she expects her team to show up, play hard and work together.
"We need to work out those momentum and attitude and intensity issues and keep fighting until the game is over," she said. "They made it here and it took all six, seven, eight, 12 on the roster to get here and we need to quit playing for ourselves and play for each other."
Miller is excited for the next two matches.
"I feel like if we can take a set from the No. 1 team and almost beat them," she said, "we can beat anyone."