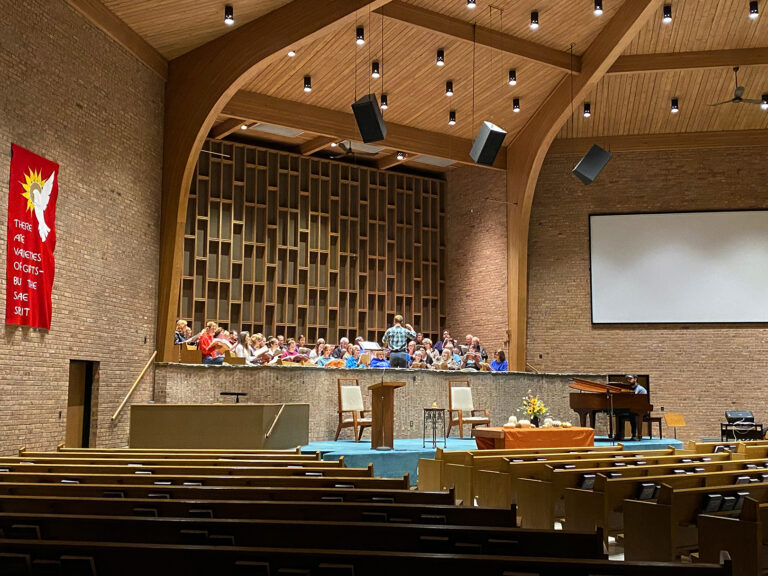 news
'TO SING AGAIN!'
JEREMY WALTNER  – EDITOR & PUBLISHER
When Maria (Tschetter) Paff moved back to Freeman with her husband, Brian and their two young sons in July of 2021, they did so primarily to be closer to family.
But the opportunity to enjoy the fine arts that runs so deeply through Maria's home community was certainly part of the appeal, which is why the 40-year-old couldn't contain her excitement following the first rehearsal of the Swiss Choral Society the third Sunday night of October.
"Oh goodness, to sing again!" Maria wrote in a Facebook post on Oct. 16. "Our first rehearsal of Handel's 'Messiah' was wonderful."
In the month-plus since, Maria and a chorus of 50 have been preparing the first section of the famous sacred oratorio for a Thanksgiving-season concert that will take place this week. Under the direction of Dan Graber and accompanied by a string quartet from the South Dakota Symphony, "Messiah" will be presented Friday night, Nov. 25 at the Salem-Zion (North) Church beginning at 7:30 p.m. There is no charge for admission; "Messiah" is being corporately sponsored by Rural Manufacturing.
In addition to the two violins, viola and cello, Brett Eisenbeis will accompany the group on keyboard and the first and second chair trumpets from the 2022 South Dakota All-State Orchestra will participate.
For the Swiss Choral Society, which began in 1932, Friday's concert will be the first since 2017 — a combination of waning interest coupled with the impact of Covid-19.
"Everybody is on board," said Dan Graber, who is directing "Messiah" as a Swiss Choral Society work for the third time. "The response that I've heard from people is they are just glad this is happening again; it needs to before people lose interest, and it slowly dies."
Paff, for one, couldn't be more into it.
"Since we've moved back here people ask me, 'So what it's like to be back in Freeman?" she said. "And this is definitely one of the things I'm so very excited about. You could just feel the excitement in the room that first practice; everybody was happy. Coming together with an excellent group of singers, an excellent director and an excellent accompanist, it just has felt so good and so soul nurturing.
"Yeah, we all missed this."
Graber, who serves on the Swiss Choral Board of Directors with Eisenbeis and Patrick Hofer, feels the same way.
"It feels great," he said. "I've been directing choirs for quite a while, and when the chairs are all full, that's a good thing."
Friday's concert will feature the first portion of "Messiah," an oratorio written in three movements by George Frideric Handel in 1741 during the Baroque era — a period when composers like Handel used music as a new creative form.
Friday's concert will run a little more than an hour and will focus on the first portion of "Messiah" — the Advent/Christmas season — and will include solo work by community native Joshua Hofer (bass/baritone), Whitney Werner (soprano/alto) of Sioux Falls, a friend of Graber who lives in Sioux Falls; and Greg Billion (tenor), a friend of Eisenbeis who lives in California who will be around for Thanksgiving).
"Oratorios were the first example of composers telling a story in a dramatic way without any movement or choreography, but instead with a longer choral work," Graber said. "This tells the story of Jesus' foretold coming and arrival."
Indeed, there's a reason "Messiah" was presented by the Swiss Choral Society from 1932 through 1956, before other scared choral works were considered.
"The music is stunning; it's timeless," Graber said. "I had a conversation with the first violinist in the string quartet, and she plays with South Dakota Symphony, and they do 'Messiah' every December. And I asked her if she gets sick of it, because they play it every year, and now they're playing it for us out here, too, and she just looked at me and smiled and said, 'It's strikingly beautiful music. What else can you say about it?'
"I don't try to get too sentimental and play up people's emotions with music, but for so many people, hearing some of these Messiah movements from that first section — 'For unto us a child is born' and 'The glory of the Lord' — it's not Christmas without some of these songs."
The fact that the local community can carry on the tradition is special to Graber.
"When I was growing up, Swiss Choral was a big deal. When I look at it now, it's community people — all these faces I know and love that are capable of singing this difficult music — it's great. It's local and we have the talent to do it here. That's pretty special."
"Particularly for people who are singers, there's something that stirs deep within your soul when singing this kind of music," said Paff. "It speaks to you, and it hopefully speaks to the audience."
"Messiah" will be presented Friday night free of charge and is being corporately sponsored by Rural Manufacturing of Freeman.
The Salem-Zion Mennonite Church is located four miles east of Freeman.