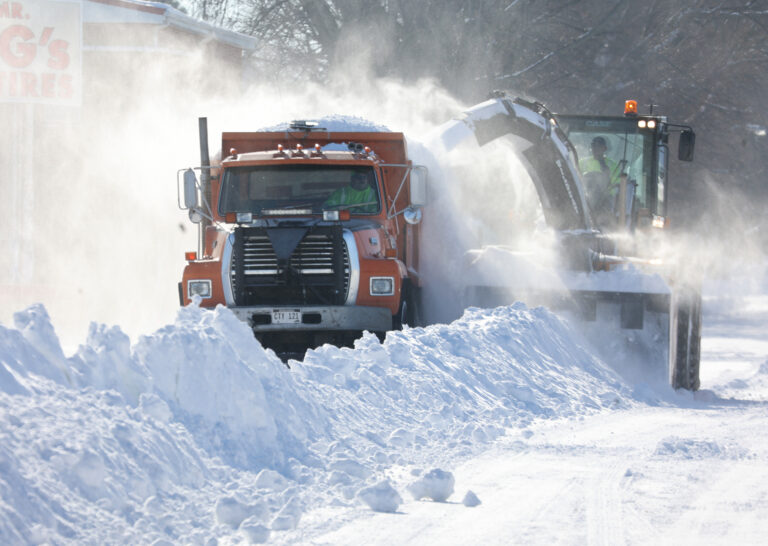 news
BLIZZARD CRIPPLES GREATER FREEMAN AREA
JEREMY WALTNER – PUBLISHER
The coldest of the four seasons officially began just three weeks ago, but already it feels like the area has received an entire winter's worth of weather.
As had been in the forecast leading up to it, Mother Nature and all its fury consumed the region last week in what many are calling one of the most severe snow events in years. Moisture began falling Monday afternoon, Jan. 2, and 24 hours later Freeman and the surrounding communities found themselves in a full-on blizzard. Travel remained difficult to impossible well into Wednesday and the impact of the storm lingered through Thursday. It wasn't until Friday, Jan. 6 that the system had moved out entirely and the region could really dig in and dig out, sunshine and all.
"It was just a lot of snow — the kind we haven't seen in a while," said Freeman Mayor Michael Walter. "It created a lot of work for our city and a lot of frustration for the people, but our guys did an excellent job. I don't know what more you could ask for."
Snowfall totals locally weren't as high as further west — Armour received 26 inches — but they were high enough to cause a major inconvenience. Reports in Freeman and Menno were north of 16 inches; that coupled with high  winds on Thursday made travel impossible on rural roads, prompting schools in Freeman, Marion and Menno to suspend the return from the holiday break until Friday, and to postpone all games that had been scheduled for Tuesday and Thursday.
"This was a pretty good shot of snow — unlike anything we've seen in 15, 20 years," said longtime Menno Mayor Darrell Mehlhaf. "This storm crippled everybody: city, county, state, the whole works. But we were fortunate; as you go west it just gets deeper and deeper."
Newly elected Hutchinson County Sheriff Maurice Waltner confirmed that the western portion of the county was, in fact, the worst, and that he and several other deputies spent Tuesday night helping clear out semis and other vehicles stuck on Highways 37 and 18.
"The state closed interstates and people were looking for alternate routes," said the sheriff. "I bet it took a good five, six days to get all the semis out and get the roads cleared back up to what they should be."
The clean-up in town was an ongoing process beginning early Wednesday morning, when the city of Freeman declared a snow emergency beginning at 2 a.m. Duane Walters, who has logged several decades as an employee with the city of Freeman, spearheaded the plowing and snow-removal effort that included help from a number of others, including former city employees who were called in to help.
"This one here, pretty much everybody who used to work for the city was back," said Walters, who noted that four trucks were used to haul snow to the area north of the city's Street Shop off Cedar Street. "In a lot of years, I've never had to move that much snow off Main Street. This was one of them that I've never seen piles so big."
So big was the windrow of snow on Main Street that the city actually shut down traffic for about 90 minutes on Thursday morning so crews couldn't safely haul it away.
Walters and his team were commended for the effort by city officials at the Jan. 10 meeting of the Freeman City Council.
"We haven't seen a snow like this in decades," said council president Blaine Saarie. "My hats off to you guys; you did a great job."
Walters said clearing the city streets is a 24-mile job per time, and during the blizzard the third week of December, when 6 inches of snow was accompanied by high winds, crews covered all city streets three times.
Asked how many passes through were made last week, Walters responded, "A lot more than that."
"I looked at the timecards and there's not an eight-hour day," said Mayor Walter at Tuesday's council meeting. "When the work is there, you do the work, and that was a lot of work. Kudos."
Walters and Mayor Walter both acknowledged that it was frustrating for residents who had cleared their own driveways only to have the plows make another pass and blow snow back in.
"I get that," Walters said. "But it's a foot-and-a-half of snow and we've got to get the roads opened up."
"When you do that there's frustration and I get that," said Walters. "That's one reason we like to go out at 2 in the morning."
Saarie said at Tuesday's city council meeting that he knows of several instances in which residents blew the snow on their driveways back onto the roadway after it had been cleared, and vehicles became stuck because of it.
"Don't blow your snow back onto the street," he said. "That is a no-no."
Freeman Police Chief Scott Brewer said that, despite the amount of snow, there were no major problems in the city, but there were a number of instances of drivers mishandling the situation.
"Everybody knows how to drive," Brewer told The Courier. "You know which side of the road to drive on; you don't drive against traffic just because there's a snow windrow right there, and that was happening.
"This town isn't that big," he continued. "You can get anywhere on any road."
Brewer also offers the reminder that, when city plows and trucks are out, "they have the right-of-way."
And he says travel advisory warnings and bans are put in place for a reason.
"It means don't go out, wander around, look at the pretty snow," said Brewer. "It means stay off the roads. This is a safety issue."
Safety was the priority in Menno, too, which meant opening up the emergency routes as quickly as possible — Fifth Street to Highway 18 and then in town to allow for access to the Menno-Olivet Care Center.
"We didn't have the wind with this one, so if you move it, you only move it once," Mehlhaf said, noting that James Mettler provided equipment to help haul the snow to the Pioneer Acres site just north of town. "With a snow like this you need a lot of equipment."
Like in Freeman, all city streets in Menno were cleared by Friday, but the work continued.
"Now we'll be spending the rest of this month pushing out intersections — making them safer, hauling that snow away because they are so tall," said Mehlhaf. "We haven't seen anything like this in years. It created quite a setback, and in the country it's even worse. Those township roads — the resources aren't as readily available as they are in town. It's crippling."