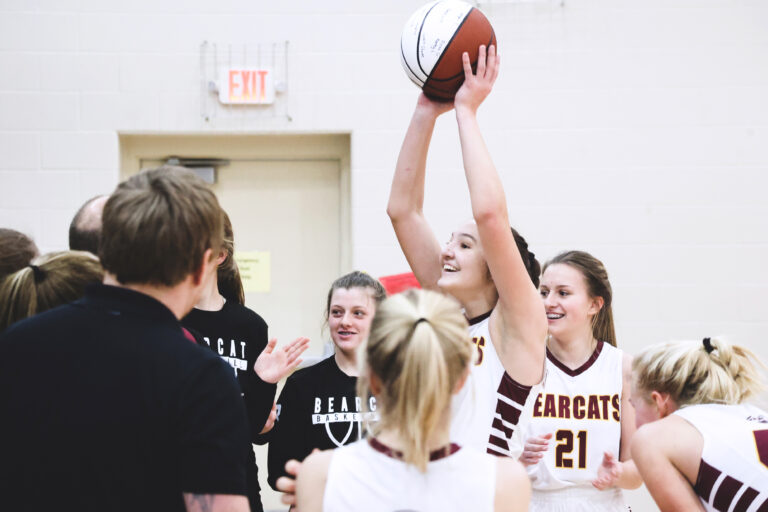 news
KOERNER REACHES 1,000: A GRAND MOMENT
JEREMY WALTNER – PUBLISHER
Ever since her freshman season, when the points really started pouring in, Jada Koerner has wondered if she would reach a milestone that doesn't happen to most basketball players — the 1,000-point mark.
Fast-forward through her sophomore and junior seasons and into her senior year and, sure enough, the scoring she had done in those high school years had her on the brink of 1,000 points by the second week of January.
Jada was told she was close, but she didn't want to know exactly. Instead, she wanted it to be a surprise.
"I figured I was maybe within 10 points, but I wasn't sure," she told The Courier. "I just tried to focus on getting through the games."
Jada was within striking distance going into the Bearcats' Jan. 13 contest against Flandreau Indian, but that game and three others that followed passed without it happening; call it a mini slump that worked out in her favor.
That's because, when the moment finally came, it came on her home court and in front of a large home crowd that included quite a few family members — something that tipped Jada off going into last Thursday's game against Irene-Wakonda.
"I wondered," she said.
Needing just four points to get to 1,000, the senior connected on a field goal and a free throw in the second quarter to get to 999 and then scored on a layup underneath with less than a minute to go in the first half for points 1,000 and 1,001.
"I kind of hoped that was the shot, but I didn't know," Jada says. "But then I heard the crowd cheering, and it was pretty obvious."
The game was stopped shortly thereafter to properly acknowledge the milestone and Jada was presented with a commemorative ball, which she lifted high above her head and smiled widely in the direction of her family and fans.
"They had a little sign that said 1,000 points," she said. "I thought, 'How embarrassing.' But it was cute and I appreciated it."
Freeman Academy/Marion head coach Nathan Epp says Jada deserves the milestone and the recognition that goes along with it.
"One of the best ways to be a leader is by the example that you set, and she's such a great kid," said Epp. "She works hard all the time and never backs down, and that's a great leader. She's not the most vocal person on the team, but everybody respects her."
The coach says Jada is defined by her work ethic.
"She comes to open gyms, she works in the summer league — she's always there," Epp said. "That's what we all love about her, and one of the reasons  ´she's been so successful. She puts in the time."
"This is something I've worked a long time for," Jada said. "Nathan can attest to this; I've struggled to fill the role of leader and have felt that pressure ever since I was a freshman, but it feels really good to reach this in my final season."