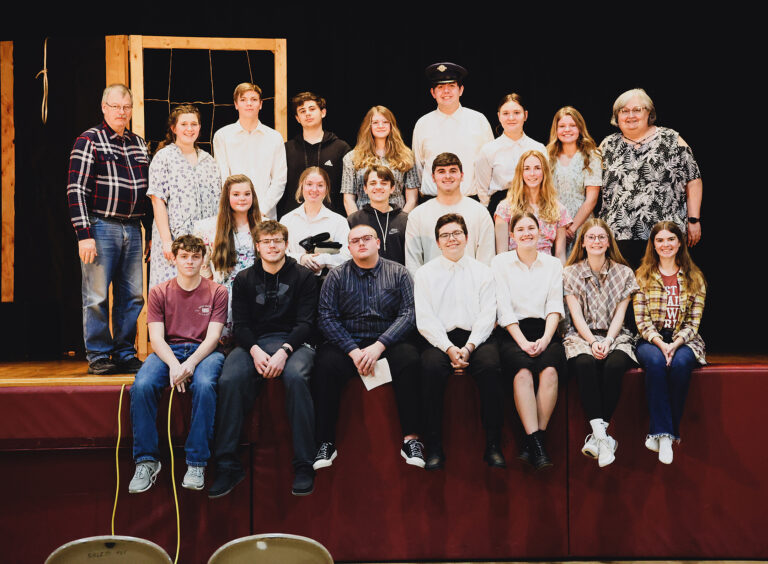 news
MENNO TAKING 'DARK ROAD' TO SIOUX FALLS THURSDAY
JEREMY WALTNER – EDITOR & PUBLISHER
The one-act team from Menno is taking its spellbinding story of Nazi Germany and the Jewish persecution told through the eyes of two sisters to O'Gorman High School this week after qualifying "Dark Road" for the state festival at the region competition last week.
The 13-member cast was scheduled to present its short play Thursday, Feb. 2 at 1:45 p.m. as part of the three-day festival.
Menno and Sioux Falls Lutheran were the two schools out of six to advance from the Region 1B competition, which was hosted by Sioux Falls Lutheran Wednesday, Jan. 25.
Director Betsy Knodel, who is in her final year working with the performing arts at Menno, says watching her team bring, learn, develop and excel in telling this story.
"A director always envisions what a play will become from the first read-through to the performance on the stage," said Knodel, who is joined by Martin Sieverding in directing the show. "I knew this was the year for 'Dark Road' to come alive on the Menno stage. The kids showed me I was right when we advanced to this week's state competition."
"Dark Road," a short drama written by Laura Lundgren Smith and published in 2016, is told through the eyes of a character named Greta, who takes a job as a guard at Ravensbruck, an all-female concentration camp, so she can earn money to provide for her and her sister, Lise, who is in school at the time.
Not only that, Greta tells her sister, but "I'd wear a uniform. I'd be somebody."
Greta's story is recounted through an interview with a journalist named Daimler, who is played by senior Chandler Dant. Greta is played by Kaelie Derby and Lise is played by Alexis Hogeland; both are juniors at Menno.
"It can get pretty emotional," Hogeland says of the play, which reaches its climax when Greta turns Lise in for helping a prisoner — an offense that is punishable by death. "The first time I read the piece and we were trying out, I cried. I've dialed that back a little bit, but it's very emotional. (Kaelie) is my best friend so sometimes it can get a little giggly, but it's a special moment between us."
Hogeland said she tried out for the role of Lise — "Greta is too cruel a part for me" — and did a lot of research about Nazi Germany in preparing for the show.
"I've learned a lot about the Holocaust from Mrs. Knodel," she said. "I've watched a lot of shows and interviews with people about that time and really took what they had to say and put that to heart. This character, Lise, she wants them to be free so I put all my emotion into that."
Knodel said watching the performances play out has been rewarding.
"I am so incredibly proud of all of the cast and crew, but watching Kaelie, Chandler, and Lexie bring their characters to life on that stage has been so much fun," she said. "The supporting roles also bring the story to life. Watching Julia (Buechler), Maggie (Miller) and Ella (Rempfer) as the prisoners gives me shivers as I think of the atrocities that were done to those who perished during the Holocaust. They all truly tug on a persons' heart strings.
Knodel notes that, in addition to the actors, the technical crew can also receive awards.
"I'm excited to see what Alex (Fischer) and Hayden (McNinch) can do after four years of running sound and lights for us," she said. "They're training Jaxen (Mettler) to take over and Seth (Ahalt) and Hunter (Masterson) have been learning about what it takes to be on the stage crew."
Knodel also says "Dark Road" is personal.
"My dad was a World War II vet," said the director. "He told me so many stories about his time overseas. This play is a way to honor not only my dad, but all the World War II veterans that can only tell about the horrors of the Holocaust that they experienced while serving our country. I hope that in some small way, we have been able to tell the story so that future generations will not make the same mistakes."
In that regard, the last impact of "Dark Road" on those who experienced it is a fitting way for Knodel to go out. After 35 years of bringing characters to life, stories to the stage, and helping actors and actresses build their confidence, this is her final year as director.
"I have been blessed over those years to direct great individuals," she said. "I have especially been blessed over the last 25 years in Menno to be able to bring to life so many fun stories, as well as great life lessons to the stage. I am so incredibly proud of all the young men and women who have taken on roles on that stage and brought their characters to life.
"We have talked about Alzheimer's disease, how to break up with somebody, the death of a teen, and the holocaust to name just a few. I guess you can say that's my legacy. However, that legacy would not be if it weren't for all the people who have supported the fine arts, and the students at the schools I have had the pleasure in directing."
As for the state performance on Thursday, Knodel says they're ready.
"I know that the kids that make up this cast and crew can bring this story to life again and leave a lasting impression on all those who join us," she said. "I know that they can bring home a superior play and individual awards, but my reward lies in watching each one of them blossom on stage as they tell a story that needs to be told."