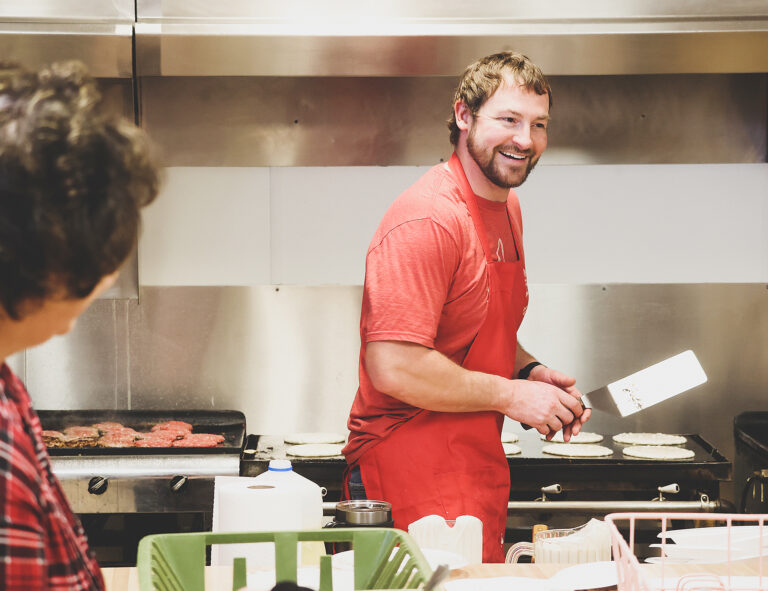 news
PANCAKES, SAUSAGE AND 'THE WORK OF THE LORD'
JEREMY WALTNER – PUBLISHER
The tiny town of Olivet nestled in the James River Valley 5 miles west of Menno doesn't experience much hustle and bustle.
Sure, it's home to the offices, chambers and courtroom for Hutchinson County — has been since 1871 — but other than those coming and going with county business, Olivet doesn't have a lot to say for itself.
And the population of 64 (2020 census) and outlying area probably prefer it that way.
But every February, just as the doldrums of winter are settling in, the town of Olivet — rather, a church in the town of Olivet — turns the county seat into the place to be for area residents.
Now and then
Look, there's Andrea Hora, a loan officer at Menno State Bank, dropping by to pick up her to-go order: 14 Styrofoam containers filled with just-made sausage and pancakes for her co-workers at the bank — and their families.
Better be on your best behavior, because the newly christened sheriff of Hutchinson County, Maurice Waltner, just showed up with two of his deputies and the game warden. So did Jai Walter, fire chief for the Menno Volunteer Fire Department, and there's a crew of hungry construction workers; you can tell by the neon yellow pullovers they're wearing.
Over there is the commander of the Rames-Bender Post 152 of the American Legion, Robert Rennolet (who everybody knows as Bob), and across the way is Michael Hecht, pastor of the Salem Reformed Church of Menno and one of the most familiar faces in town.
All and many more have come to the basement of the Olivet United Methodist Church on Wednesday, Feb. 1 for the annual Groundhog Day Sausage and Pancake Feed — a fundraiser for church missions that has been hosted by the men of the congregation for a remarkable 68 years.
As is the case with many small-town fundraisers here in God's Country, there's nothing fancy or even fascinating about the Olivet church's sausage and pancake to-do, but that's what makes it so stinking delightful. When it comes down to it, all this is — all it has ever been — is a group of men, now in their third generation, getting together to make sausage and pancakes and serving them to the good folks of the area in exchange for a donation. The proceeds? They go toward the ongoing missions of the church, whether that means supporting those who are doing God's work overseas, supporting youth who want to attend a church camps or whatever needs arise in the church and/or the larger community.
Is this an example of the Lord at work?
"Is that a rhetorical question?" says Arlyn Coalter, pastor of the Olivet United Methodist Church. "I don't think that needs an answer."
This is Coalter's second stint as pastor of the Olivet church; he served the congregation from 1993 to 1996 and returned to the James River Valley congregation three years ago, "because the position was open and I was retired."
Coalter was one of the men working in the kitchen at this year's sausage and pancake feed and was primarily stationed standing over a hot and greasy flattop stove tending to the spattering sausage patties, of which an estimated 1,000 would be served. Because it's hot and greasy, sausage management isn't the most desired job in the kitchen, some of the men say, but somebody's got to do it, and Coalter says he doesn't mind. After all, everybody has their place, and that is his.
All told, at any given time, there are anywhere from six to nine men turning raw meat and pancake batter into tasty eats, serving the food to the turnstile of people passing by the counter, washing dishes, restocking the refrigerator with sausage patties and mixing more batter for the flapjacks, all from the basement kitchen — the central nervous system of the larger organism that has been feeding on itself since the Dwight D. Eisenhower administration.
Menno resident Kleo Steffen was alive back then and has worked at every Groundhog Day pancake and sausage feed except three — one year because he was working, one year because he was sick and the other year he can't remember.
What he can remember is how it started — how Marvin Cox, a member of the congregation, learned of the idea of a Groundhog Day feed from his home church down in Kansas and brought it to the Olivet congregation, which took the idea and ran with it.
The fundraiser those first few years was held in a church building one block over from the current Olivet United Methodist Church, which was built in 1959 and dedicated the following year. (The church became known as Olivet United Methodist in 1969 when the Wittenberg Evangelical Church north of Olivet and Evangelical United Brethren in Menno disbanded and joined the Olivet congregation.)
Anyway, Steffen was hard at it again last week making sausage patties from the pork produced from donated hogs and ground by the Kaylor Locker — 225 lbs. that will be cooked and consumed at the feed itself and another 1,100 lbs. presold in bulk for a donation.
Steffen was joined by three other men, Duane Jonas and Mark Roti from Freeman and Daryl Miller from Menno, inside a small, dimly-lit room just off the main dining area of the basement. This was their station and this was their job, but not until after having their morning breakfast of — you guessed it — pancakes and sausage.
"We have to sample it before the crowd comes," Steffen says.
Says another: "Make sure you put in there, 'Not for hire.'"
Like Steffen, Vic Bush, a lifelong member of the chuch, has memories of the Groundhog Day fundraiser from his childhood and, like Steffen, recalls some of the history — including the top-secret sausage recipe still being used that Cox brought up from that Kansas church.
"Originally when they started doing it they had electric frying pans — blew a lot of fuses," says Bush, who notes that in the earliest years proceeds from the fundraiser went toward kitchen improvements before shifting to church missions.
And, back then, the event was a lot smaller than it is now, he says.
"We didn't get nearly as big a crowd because it was something new."
Who could have guessed in those earliest years what it would become, and what it would mean to those working the event, those enjoying it and those benefiting from it?
Workforce
Today, as has been the case for generations, if you're from the Menno/Olivet area, visiting the Groundhog Day fundraiser is just something you do.
And if you're part of the congregation, working the event has just been part of the deal — if you were a man, that is.
Historically, all elements of the pancake and sausage feed have been organized and carried out by the male population of the church. Nobody can say why, exactly; perhaps it's because women typically took care of the cooking and this was the one day of the year the men could take charge, or maybe it was because that's how it was done in Kansas and, by golly, that's how it was going to be in Olivet, too.
Regardless, that was how it was for the first 67 years.
But history was made last week when the women of the congregation were invited to take part — not in the kitchen, of course, but as floaters carrying out additional sausage patties to those who still might be hungry, cleaning up the tables or restocking supplies.
"Just to help out where needed," says Sandra Fischer, who has lived in the Menno area all her life. "Pick up and wash the tables while the guys are cooking — they always do that. It's been a man thing all these years.
"They just needed more help," said Fischer, who attended Our Savior's Lutheran Church growing up and married into the Olivet United Methodist Church congregation. "People are getting older and there are fewer people in our church."
Deb Massey was one of the women pitching in and thoroughly enjoyed watching her husband and son, Jim and Justin, standing side by side cooking pancakes on the flatiron stove.
"It's fun to see them working together," she said. "I think they actually know what they're doing."
Just as Jim and Justin Massey manned the pancakes, and just as Kleo Steffen, Duane Jonas, Mark Roti and Daryl Miller made the sausage patties, so do others have their place.
For Dale Hora, one of his jobs is to wash dishes, just like his dad, Robert, did years ago.
"He used to stand on (the side of the island facing the serving counter) so he could see the people who come in," says Dale, who on Wednesday was joined by his own son, Josh, in a kitchen that had the feel of an ant farm. "That water was so hot that nobody could put their hands in, but that's the way he liked it. I do about the same thing."
"We have a good time," he continues. "It's fun to see new people and familiar faces of the people who have been coming for years."
While last Wednesday was go-time with service lasting from late morning into the evening, setup for the big day began 48 hours earlier, when Vic Bush and Jim Oplinger got to work Monday morning hooking up the propane, checking the equipment — "sometimes a spider decides to camp out somewhere," Bush says — and setting out coffee pots and pancake batter mixers "so the other guys can get to work when they get in."
Groceries are brought in early in the week, too, and table setup extends into the next day.
"We're kind of old and slow, so we had to finish up on Tuesday," Bush says. "We've got to pace ourselves."
By Wednesday morning, all there is to do is put the finishing touches on before the crowd arrives.
"See, what happens is we tell the guys to come down here around 9:30 to finish setting up so we're ready to go by 11," says Bush. "Then, around 10 or 10:15 we start the grills and they can eat their breakfast quick and get to work. That's the only pay they get."
Impact
Nobody knows for sure how many people attend the big fundrasier on any given year; "We don't count and it really doesn't matter," says Dale Hora.
When pressed, however, the guys in the kitchen estimate as many as 500 will come through during the day, whether it's for a late breakfast, lunch or evening meal. If that's the case, based on Olivet's population, that's an influx of close to 800%.
Look at what little old Olivet can do!
"That would be the definition of a paradox," says Rev. Coalter. "The church has gotten smaller in size, but the event goes on and the people still come. This touches everybody and that's what makes this community what it is."
Rev. Michael Hecht, whose own church, Salem Reformed, hosts its own fundraisers for various missions, says it's great to come into another congregation doing the same thing.
"It's exciting to be part of the church community here, working together and getting along," he says. "We know most everybody in the other churches; we support them in their mission work and they support us. All the churches around here do that. It's neat to see."
And the net result?
Impossible to say.
But let's speculate.
Say 450 people have been coming every year for 68 years, and if, on average, $10 has been donated per person, that means the Olivet United Methodist Church Groundhog Day Sausage and Pancake Feed has generated $306,000 in its lifetime. And that says nothing of the money raised from bulk sausage orders in more recent years. And that says nothing of what will be in the year's to come.
That's a God-sized footprint in the world of Good News coming from the basement of a little church in a tiny town, and by the looks of things, if the men and now the women of the church have anything to say about it, this won't be slowing down anytime soon.
And everybody said Amen.