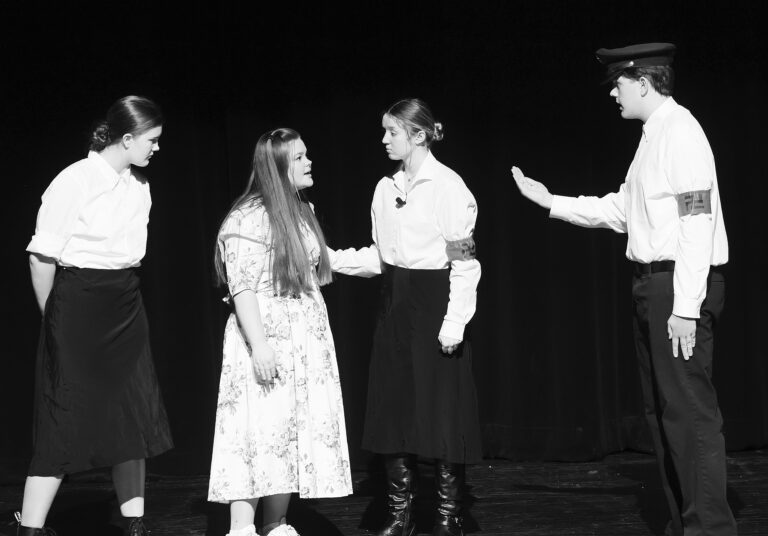 news
STATE ONE-ACT PLAY: SUPERIOR IT IS!
JEREMY WALTNER – EDITOR & PUBLISHER
Students from Menno received high marks for their presentation of "Dark Road" at the 67th annual South Dakota High School Activities Association State One-Act Play Festival in Sioux Falls last week.
Presenting the short drama about life inside an all-female concentration camp called Ravensbruck on the stage of the Lorang Theatre at O'Gorman High School Thursday afternoon, Feb. 2, the Menno cast and crew was one of just five Class B schools to receive a superior rating from the judges. Additionally, senior Chandler Dant and juniors Kaelie Derby and Alexis Hogeland — the show's three leads — took home individual acting honors while Julia Buecher, Maggie Miller, Ella Rempfer and Samantha Allvin won a superior ensemble award for their adaptation of the Jewish women being held inside the Nazi Germany prison.
"I was proud of the kids," said Betsy Knodel, who directed the show with Martin Sieverding and is in her final year leading the theater department at Menno. "They worked hard and I'm glad we were able to share the story with that audience."
This is the fourth time in the last six years that Menno has won a superior at the state festival, and Knodel's students have been regulars there in the more than 20 years she has been leading the troupes.
For her personally, she said it's nice to go out with a top honor.
"Sometimes, when you don't win a superior, you wonder why and wonder what you as a director could have done differently," she says. "This year I don't have to think about that."
The state one-act festival featured 46 one-act plays presented by Class B, Class A and Class AA schools over three days. It was the 67th annual State One-Act Play Festival.