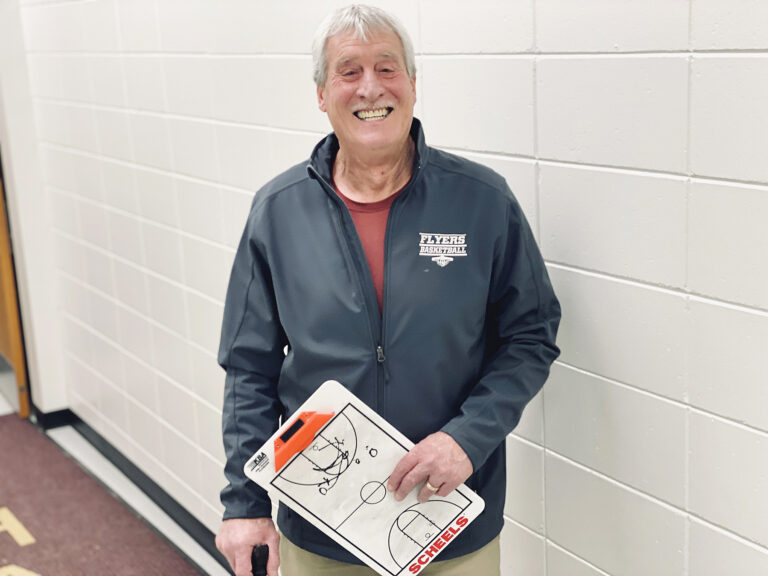 photo day
PHOTO OF THE DAY: COACH MUELLER
Kent Mueller is featured in the 5-Minute Interview published in this week's Courier. Here it is.
Kent Mueller (pronounced MILL-er) is a 1976 graduate of Freeman High School who built his coaching resume primarily at West Central. He started there in 1990 and coached the Trojan football team to 15 state championship games and 12 titles, and in 13 years with the boys basketball program, led West Central to five state tournaments, four title games and won back-to-back championships in 2000 and 2001. Now, he's back on the sidelines as the assistant girls basketball coach at Freeman Public — and loving it.
Why the new adventure?
I've characterized it as a labor of love. As you get older you have a little time to reflect on things, when you're done raising a family and chasing a career. It just felt right. I've had other opportunities, but they just weren't right. And it's crazy because I wasn't looking for a job, but after working with the girls this summer it presented itself. And after talking to Lynette (wife) and Josh (son), of course, they said if it feels right, do it, and here I am.
Why did it feel right? Because it's Freeman?
Without question. As I've gotten older, I just can't put into words what growing up in the Freeman community meant to me and how it impacted my life. I spent 40 years away, but it's still part of me.
What's it been like? A little different than West Central football?
Yes, it is — or West Central basketball, for that matter. And it's crazy because I actually had a girls summer team for four years, so it's not that I'm totally unfamiliar working with young women. I don't know if I'd classify it as different, though; they're athletes and you want to treat them as such. But there are different ways of approaching girls versus boys, I guess. I had forgotten what the daily grind looks like and I came in wanting to contribute the best I can. And as I've gotten older I've come to realize that it's kind of naïve to think that the only way to measure success is in wins and losses. I've had really, really good teams where the season didn't end in a win, and so you look back — did you help them become the best team they can be? Sometimes that doesn't translate to wins, but if you allow them to achieve their best, then you've had success. And I think we're on that path here and I'm really, really excited about where we're at and the growth we've shown.
What have you seen in the program?
(Head coach) Jenny (Peters) was one of the big reasons I was comfortable doing this. She accepted me and recognized that some of the things I could bring to this program were philosophically similar to hers. She is a much better, concise communicator than I am at times, and she's a big reason we're achieving like we are right now.
What were your expectations?
Coming in I might have been guilty of thinking maybe this would be a little easier than it was going to be. What I quickly realized is that Class B girls basketball on the girls side is alive and well in South Dakota. It's very well coached by coaches who have been around for a long time and are huge parts of their communities, where this is what you do in the wintertime. And I think we've made progress and improved game in and game out regardless of what the outcomes are. And we're very, very close. The Hanson game is a classic example. I don't know if I've ever coached a team that played a better first quarter. And you knew Hanson was going to come back, but then to have the composure to close it out, where in the past it might have slipped away …
A lot of people surprised to see you on the sidelines?
Yeah, I think word has spread quickly, but I still get some of that. And I appreciate the fact that I'm back in it and I hope they're happy with what my contributions have been. I certainly am.