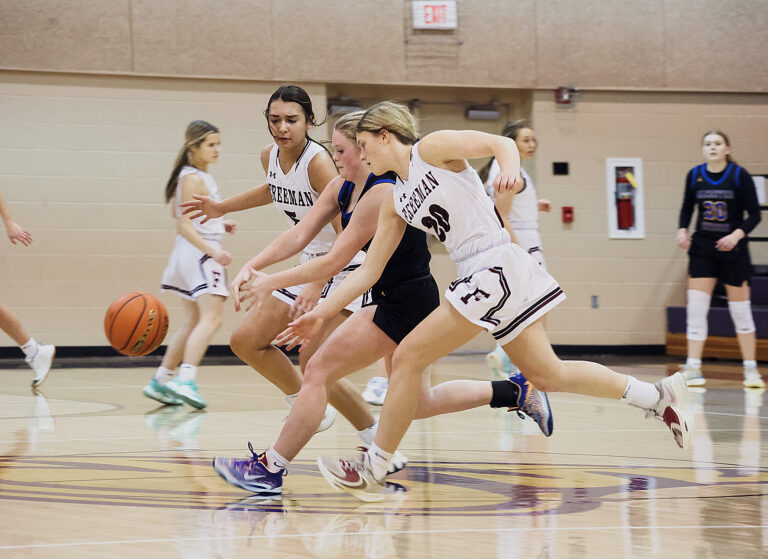 photo day, sports
PHOTO OF THE DAY: TOUGH D
A solid defensive effort, like this shown by Rylee Peters (20) and Erin Uecker helped lead the Freeman Public girls to a 62-36 win over Alcester-Hudson in the Region 4B Tournament Tuesday night in Centerville. Here's the full report.
BY JEREMY WALTNER
On paper, the Freeman Public girls had the advantage over Alcester-Hudson going into Tuesday's Region 4B contest in Centerville. Not only did the Flyers have a better record (13-7 to 6-14), they had more seed points (42.3 to 38.9), averaged more points per game (51.8 to 41.6) and gave up fewer points per game (42 to 48).
As it turned out, Freeman had the advantage in person, as well, and took care of the business at hand.
Playing for a spot in the third and final round of the region tournament, the No. 3-seed Flyers had little trouble with the No. 6-seed Cubs and emerged with a 62-36 win. Freeman (14-7) will now play No. 2-seed Centerville (16-5) for a spot in the SoDak 16. That game is scheduled to take place Saturday at 7 p.m. in Irene after being postponed from Thursday night. 
Centerville advance to the third round with a 66-32 win over Menno on Tuesday.
Freeman will be looking to avenge back-to-back losses to the Tornados. Centerville defeated the Flyers 55-43 during the regular season and, more critically, 52-50 in the third round of last year's region tournament — in spite of a strong come-from-behind effort.
"We remember that, so the girls have a little revenge on their minds," said second-year head coach Jenny Peters, who emphasized the importance of aggressive, sound play against a good Tornadoes team.
"We have to come out with full energy and we have to play smart," said Peters. "We can't get into foul trouble with this team — we can't send them to the free-throw line because they're good free-throw shooters — and we have to play really good pressure defense. We have to know where every girl is at all times, because they all can shoot.
"We just have to be mentally sharp and focused."
While Freeman handled Alcester-Hudson with relative ease on Tuesday, that "mental toughness and focus" wasn't entirely there early on as the Flyers struggled with turnovers and foul trouble. The Cubs scored first and Freeman held just an 8-6 lead late in the first quarter before back-to-back layups in transition from Ashlin Jacobsen and Erin Uecker gave the Flyers a little bit of breathing room and momentum. And a three-point play by Lindsey Maske on Freeman's final possession of the opening quarter made it 17-8.
"It took us a little while to get started; they changed some things up from the last time we played them," said Peters, recalling her team's 53-27 win over the Cubs on Feb. 2. "And I feel like this time they handled our full-court pressure a little better. But once we settled in and slowed things down on offense, things went better for us."
Indeed, a field goal underneath from Erin Uecker midway through the second quarter made it 24-8 and a three-pointer from Peyton McCune on Freeman's next possession made it 27-10.
It was 36-20 at the half and, with 4:50 to play in the third quarter, Freeman opened up its biggest lead of the game at 44-23 on a Jacobsen three-pointer. The Flyers led 50-28 going into the final period and won the final frame 12-8 to bring the contest to its final score of 62-36.
Nine players scored for Freeman, including Jacobsen who had a team-high 19 points. Erin Uecker had 8 points and 10 rebounds, Kate Miller had 8 points and 2 steals and Rylee Peters had 3 steals for the Flyers, who shot 44% from the field, 62% from the line and outrebounded Alcester-Hudson 36-30.
In other Region 4B action on Tuesday, No. 8 Freeman Academy/Marion lost to No. 1 Viborg-Hurley 84-14 while No. 4 Scotland slipped past No. 5 Irene-Wakonda 47-44.